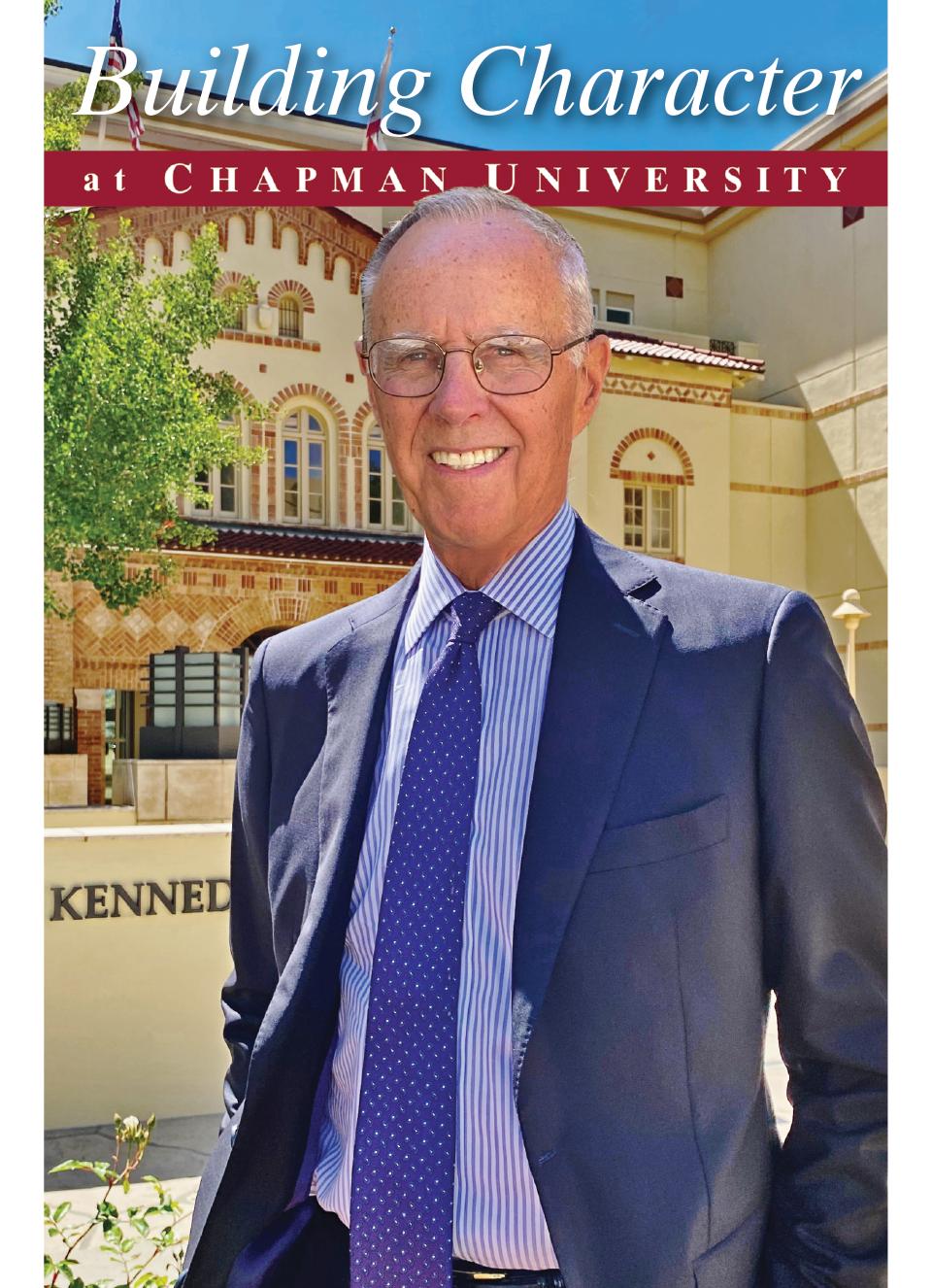 Park Kennedy
Behind every great leader you will find wise counsel. If you're fortunate to have guidance from a parent, even better. Such is the case with Park Kennedy, Chair of Chapman University's Board of Trustees and Chairman and former CEO of the Fortune 500 company, First American Financial Corporation.
After graduating with a law degree in 1973 and working as a lawyer for a few years, Park joined the family business in 1977. For a time, he worked under his late father, Donald Kennedy, then in 2003 took the helm of the company that his great grandfather started in the late 1800s.
"My father was my mentor," says Kennedy, also a member of the Board of Advisors for Chapman University's Fowler School of Law. "He was a visionary, who saw great opportunity and responded by building First American into something from very little. He was decisive, but fair, and treated people the way he would want to be treated."
Paying it Forward
Talk to those who have sought Kennedy's counsel and experienced his own brand of leadership, and it becomes clear that he took to heart his father's influence. In recent years, First American ranked in the "Fortune 100 Best Companies to Work For" five years straight. In 2003, Kennedy was recognized as one of America's top chief executives on Forbes Magazine's prestigious list of "Best-Performing Bosses." Ranked at number five, Kennedy was one of only 10 executives from the nation's 500 largest companies to receive an A+ efficiency grade for pay versus performance.
Dennis Gilmore is CEO of First American and has known Kennedy since Gilmore joined the company in 1994. "Park is an incredibly smart, ethical man and an outstanding leader," he says. "He is a genuinely nice human being, and he treats everyone with respect. By treating employees well and allowing them to do their work without unnecessary micromanaging, he has fostered an environment where employees excel and are loyal. It's not uncommon for us to celebrate 20-, 30- and even 40-year anniversaries."
According to Kennedy, "the hallmark of the company has always been to pick good people and leave them alone. We trust good managers," he says. "Of course, we verify their numbers and ensure they are operating within regulations, but within those parameters, we allow them to figure out how to make a good profit in their community. Because of this and similar management strategies, our employees tend to stay. As a result, we generally promote from within."
Sharing Wisdom with Chapman
It is experienced counsel learned from running a thriving business that Kennedy offers to Chapman's Board of Trustees as its Chair, and to the University's Fowler School of Law, where he also serves as a member of the Board of Advisors.
"My dad was instrumental at the beginning of Chapman's Law School," says Kennedy. (Donald P. Kennedy Hall, where the law school presides, was named for his father.) "I've always felt that the law school and Chapman's other graduate schools make the university better by providing a well-rounded education. The law school has had an impressive trajectory. I particularly like how the school trains students to be practicing attorneys. The current Dean Matt Parlow and his predecessor, Tom Campbell, have worked hard to make the school one that graduates attorneys ready to practice."
Kennedy also takes his role as Chair of Chapman's Board of Trustees very seriously. "The Board of Trustees oversees the president, ensuring that processes are in place for a well-functioning university," he says. "Through various oversight committees, we ensure that the numbers we provide to bondholders and trustees are accurate. Our focus is to make sure that Chapman University continues to grow and remains solvent. The current president is terrific, as was his predecessor. That makes my job as Chair easy and enjoyable."
President Daniele Struppa comments on Kennedy and his performance as Chair of the Board. "Park is a wonderful and very involved Chair, and I'm blessed to have such a great partner in this important position," he says. "Park understands the unique nature of an academic institution and the unique role of the president. He is always inquiring how he can help me and the institution. He is a true gentleman, and that is something that is becoming rarer to see. He is also committed, thoughtful, highly intelligent, business savvy, generous and experienced with board matters. Chapman is very lucky to have him."
Orange County Beginnings
Kennedy was born in 1948 at St. Joseph Hospital in Orange. At the time, his family lived in Santa Ana, where they resided for the first decade of his life. "Back then, Santa Ana was a small, sleepy town filled with open space and orange groves," says Kennedy. "We lived near Santa Ana College, and I would ride my bike around the area. About a mile from where I'm now sitting at my desk at First American, my dad would take me duck hunting. Back then, it was a natural paradise. You could ride horses in the orange groves and fish in the local lakes."
The family moved to Tustin when Kennedy was 10 years old. When it was time for high school, he attended Foothill High, graduating in 1966. He went on to USC (University of Southern California), where he graduated in 1969 with a Bachelor of Arts in social science and communication with a concentration in economics. From there, he went on to earn a law degree from Hastings College of the Law, San Francisco, graduating in 1973. After graduation, he practiced law for four years with Levinson & Lieberman in Beverly Hills, then decided to join his father's company.
"I had thought I'd be a lawyer my whole career, but I saw the success my dad was making of the title company and decided I'd enjoy working with him, which I did," he says. "My father had started to expand the business in 1957, and by 1987, First American became the largest title insurance company in the country. (Today, First American is located throughout the US and some foreign countries and is one of the top two largest title insurance companies in the nation.)
When he joined First American, Kennedy started out working in the LA office to learn the ropes. From there, he went to run the company's Ventura County office. He returned to Orange County as National Sales Director, working directly with his father. Eventually, he became CEO and Chairman of First American in 2003. In addition to his work with First American, Kennedy created and built a second company focused on real estate data. For a time, he also served as Chairman of First Advantage Corp., a NASDAQ company, until they decided to sell the company to private equity in 2010.
Since 1980, Kennedy has lived in Orange with his wife, Sherry, who he married in 1975. They have two children and four grandchildren. He enjoys a variety of hobbies, including following college sports, surfing and trout fishing in Montana where he owns a cabin.