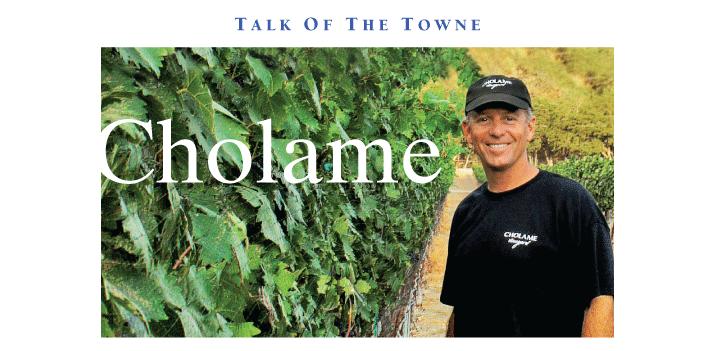 When Orange Park Acres landscape professional David DuBois and his wife decided to buy property in 2005 in San Miguel, he found the land well suited to growing wine grapes, so he prepared 10 acres and planted the best grape varietals for the location.
"It took me four years to plant the acreage, and we had our first harvest in 2010," says DuBois, founder and vintner, with wife Donna, of Cholame Vineyard. "Initially, I planned to just grow grapes and sell them to winemakers, but during a conversation with accomplished winemaker Andrés Ibarra, I discovered that it would be a good idea to barrel the first phase so that winemakers would be able to taste the quality of wine the grapes would produce."
With Ibarra doing the winemaking, their first vintage blend turned out so well that they bottled it, and the wine won a gold award in the Sunset International Wine Competition. Cholame has continued to bottle and garner awards ever since, including their 2012 Chardonnay, which won a Double Gold at the 2015 San Francisco International Wine Competition.
Early Awards Unusual
Winning awards is uncommon for new vineyards, notes Ibarra, who is now Cholame's winemaker. He started out in 1980 pruning and picking grapes and in 1989 began making wine in Santa Barbara County. "Successful winemaking starts with a vineyard that dedicates time and detail to grape production and follows that with making and bottling superior wine," he says. "We are blessed to be getting noticed for our wines."
DuBois agrees. "With a vineyard, it's all about the quality of the soil and the resulting grapes. When you plant the right grape varieties for your environment, you get the best harvest. That coupled with the skills of a superior winemaker results in the finest wine possible. Andrés never strays when it comes to winemaking. I like to joke that compromising is for relationships, not wine, and he will not compromise. Every decision we make is to ensure the highest quality."
Wine consultant Troy Evans has enjoyed Ibarra's wines for several years. "Andrés is a rock star when it comes to winemaking," she says. "He creates wines for people with refined palates, who enjoy wine. When I drink his wines, I can't stop thinking about them."
Cholame wines are superior, agrees Kelly Jordan, who lives in Villa Park and hosted a wine tasting party for Cholame. "I love to cook 'gourmet' meals and find the right wine to pair with the food, and that's easy to do with Cholame wines."
Off the Beaten Path
In order to help ensure that Cholame, which is considered a small production vineyard, stood out in a crowded wine market, DuBois chose to grow some lesser known grape varieties. "We wanted to offer something different, so we grow grape varieties like Tempranillo, which is widely grown in Spain," he says. They also have varietals of Chardonnay, Grenache Blanc, Grenache, Mourvedre, Syrah and Zinfandel.
Wine bloggers David and Tonya Landry of Winery Explorers (http://wineryexplorers.com) comment on the unique nature of Cholame wines. "Their red wines come from their vineyard in San Miguel, which immediately makes them unique," says David. "Add experienced winemaker Andrés Ibarra to the mix and the passion that both him and David have for wine comes through with each bottle produced. These wines are of superb quality and offered at reasonable prices."
Orange Park Acres resident Anne Cilani notes how she appreciates the Cholame approach. "I really admire David's philosophy of blazing his own trail and creating new taste blends rather than doing the same old thing."
Harvest Celebration
To showcase their wines, Cholame hosts offsite wine tasting events, such as their upcoming Harvest Celebration. Attendees enjoy appetizers and wine tasting of current and new vintages. DuBois and Ibarra are generally on-hand to chat and answer questions.
As a community service, DuBois also provides Orange Lutheran High School's Lancer Alumni Association with a private label wine. Proceeds from those wine sales go to the school's financial aid fund.
As Cholame wines continue to be enjoyed by more and more people, DuBois feels immense gratitude. "When I see photos on social media of families breaking bread and drinking the wine, I feel like I think musicians must feel hearing their music enjoyed," he says. "It's a lot of work to run the winery, but it's so rewarding to see people appreciate the results."
Upcoming Cholame Vineyard wine tasting events:
• Cholame Vineyard Harvest Celebration: November 7th from 2 to 5 pm, Rancho Las Lomas, a private resort and zoological center in the foothills of Orange County.
• Balboa Pavilion Grand Wine Tasting: November 15th from 2 to 6 pm, 400 Main St., Newport Beach.
For information regarding these events or wine club membership: www.cholamevineyard.com, 805-610-1122 or [email protected]