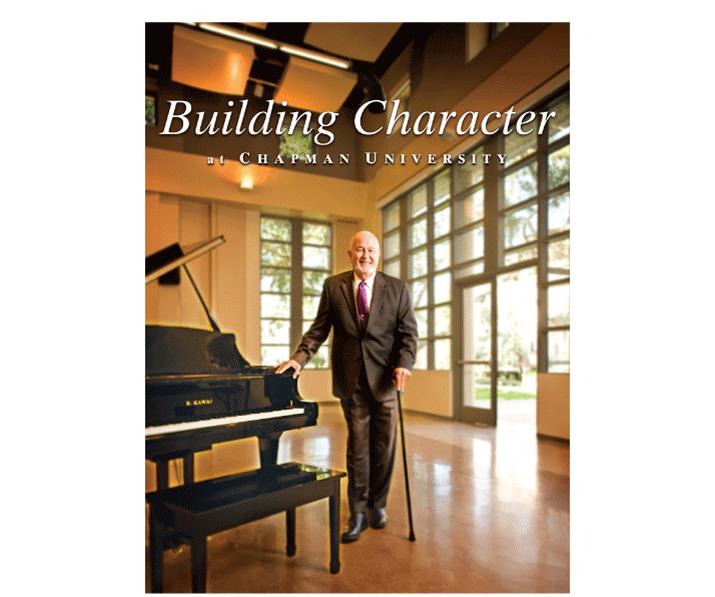 Dr. William Hall
At the age of 3, Dr. William Hall, Dean of Chapman University's College of Performing Arts, decided that he wanted to be a concert pianist. With that goal in mind, he practiced for hours a day until he auditioned with the famed Fanchon Armitage.
"She was the leading coach and piano teacher in Los Angeles," recalls Hall, who was 12 at the time.
"When I finished, she grabbed my hands, and I thought she said that despite my magnificent hands, I had no talent. I went home and practiced seven hours a day and returned. She explained that I had misunderstood her. She said that I had musical talent and would one day find my path, but that path wasn't going to be as a concert pianist."
After Armitage's assurance, Hall tried several paths, including starting a jazz band in high school. Then in his senior year at Whittier College as a music major, he formed the William Hall Chorale. He soon obtained a contract for the chorale and by 1963 signed on with Columbia Artists Management, the premier artists' representative for touring ensembles. Until 2003, the chorale toured nationally and internationally, including holding a regular concert series at the Orange County Performing Arts Center.
The same year Hall signed on with Columbia, he joined Chapman as professor of music and director of choral organizations. He recalls how Chapman has changed over the last 47 years. "When I started, there were 360 students compared to the 7,000 there are now, and only seven music majors."
In 1963 when Hall joined Chapman, college officials requested that he start a Christmas music program that would benefit the city of Orange. Now in its 47th year, Chapman's annual Wassail has become one of Orange County's oldest Christmas traditions. Hall conducts the Chapman choirs and chamber orchestra in Handel's Hallelujah Chorus at the conclusion of this much-anticipated seasonal concert, which also includes a reception and dinner prior to the performance.
Conducting the Wassail dovetailed nicely with Hall's years touring the globe with the William Hall Chorale. The group, which consisted of Southern California community members, had many once-in-a-lifetime experiences. Hall recalls a trip behind the Iron Curtain in Kiev, Ukraine in January 1989. "We entered an empty cathedral, and a custodian told us we could sing. Within ten minutes of singing "Lord Have Mercy" in Slavonic, several hundred people had appeared; within 20 minutes there were several thousand. One older woman approached me afterwards with tears in her eyes and said she hadn't heard music in the cathedral for 70 years. Several months later, the Berlin Wall fell."
Hall dissolved the chorale in 2003 and stepped down as director of Chapman's choral organizations in 2007 in order to form and build the University's performing arts program. Today they are in the planning stages of a world-class performing arts center, which Hall has had a part in designing.
Dr. Thomas Hall (no relation) joined Chapman in 1968 as chair of the Department of Music. He comments on William Hall's dedication to Chapman. "His contributions to music education have been immense, and I can't think of another person who has contributed more academically and physically to Chapman University from attracting students, to building structures," says Thomas Hall. "He has had a lot to do with Chapman's present stature as a nationally recognized private school."
No doubt Armitage would agree that Hall found his musical path.
Oliphant Hall
Opened in 2004, Oliphant Hall marked a new period of significant growth for Chapman University's Conservatory of Music. Named after the building's main benefactors, Ken and Toni Oliphant, the state-of-the-art facility landed Chapman squarely in the new millennium.
The four-story building houses a number of world-class amenities rarely available to students, such as cutting-edge recording studios, practice rooms and teaching classrooms. Oliphant is home to the John and Donna Crean Orchestral Recital Hall, Thomas G. and Willy Hall ('64) Lecture Hall, and Steve and Helen Kay Music Technology Center. In addition, Oliphant possesses piano holdings from Kawai America Corporation that have earned Chapmandistinction as an EPIC (Elite Performance Instrument Collection) school. The Conservatory of Music purchased 62 new acoustic Kawai pianos, including a hand-built, 9' Shigeru Kawai performance grand piano, which is one of only ten in the world. Oliphant Hall is attached to Bertea Hall, a 1973 building that was refurbished during Oliphant's construction.