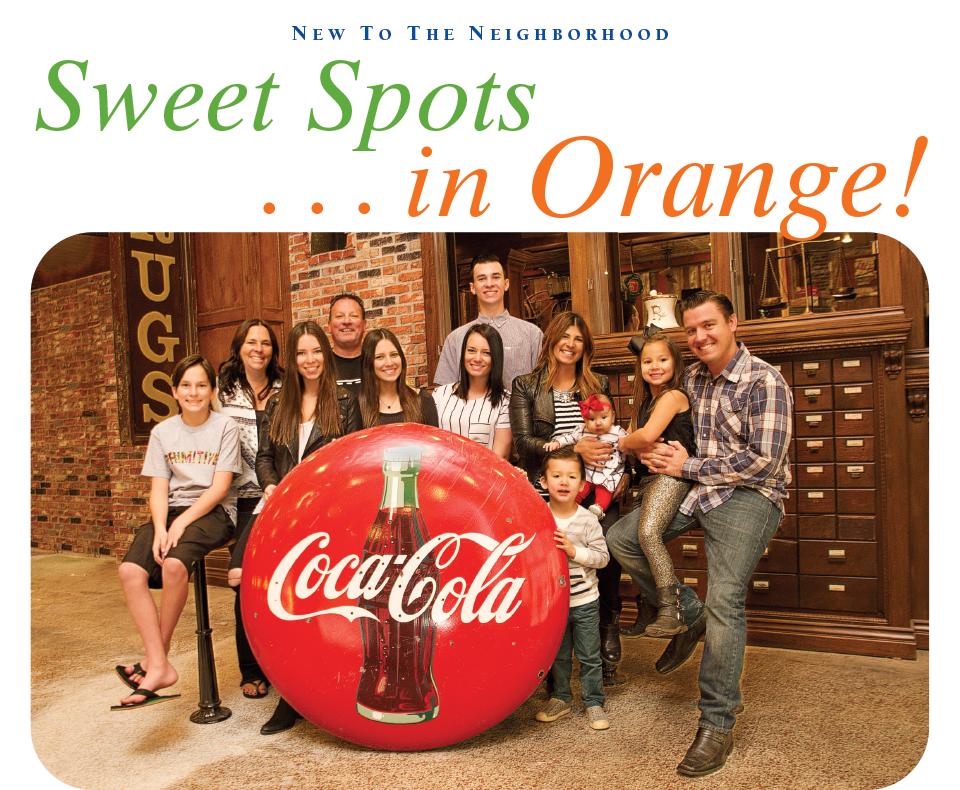 The Skeffington clan gather in front of the historic sign and pharmacy cabinet at the newly renovated Watson's Soda Fountain & Café. New owner Billy (center behind Coca-Cola sign) with (from left): Ben, Billy's wife, Laurie, Kendyl, Chanler, Taylor, Cole, Megan with grandbaby Tanner, Declan, Karter and son-in-law Luke.
Steeped in Old Towne history, Watson Drugs and Soda Fountain has undergone many incarnations throughout the decades since its founding in 1899. With the much-anticipated grand re-opening taking place this January, the beloved landmark and gathering place has entered a new era that pays homage to the Watson's era of the 1920s and 30s.
"We are taking it back to the way it used to be based on historic photos of the time," says new owner, Billy Skeffington. Born and raised in Central Orange County, Billy has been busy renovating the space since acquiring Watson's from longtime owner Scott Parker in October 2015.
"What Billy has done is similar to what I would have wanted to do if I had the chance," says Scott, who previously owned and operated Watson's for over 44 years. "The change will be nice historically for Watson's, as Billy is preserving a lot of the original architectural elements, including the original ceiling. I'm happy with what he's accomplished, and I think the community will appreciate it."
Featuring an enormous, wood-carved circular bar topped in marble and accented with an overhead soffit trimmed in decorative brass, the newly unveiled Watson's Soda Fountain & Café showcases myriad relics of the past that have been stowed in the basement for decades, bringing to life a time in history that predates the more familiar Watson's of the 1940s-1950s. The old dining booths, for example, have been revived with new upholstery. Nostalgic druggist signs from yesteryear are now seeing the light of day. Stacks of authentic prescriptions, some dating back to 1899, are showcased in the historical pharmacy display.
Billy has also preserved the vintage 1940s Terrazzo tile and original 100-year-old wood floor. In keeping with the period, he installed reproductions of old-style embossed-tin panels, as well as old-fashioned conveyer-belt fans on the ceiling. He also restored the old soda fountain blenders for use at the restaurant.
"Watson's is one of California's first soda fountain and we are paying homage to that," adds Billy. "Our renovation efforts are as historically accurate as possible."
Open daily for breakfast, lunch and dinner from 6 am to 1 am, Watson's Soda Fountain & Café serves alcohol (adult milkshakes, gummy-bear martinis) and also includes an on-site bakery and a nostalgic candy store. Old-style wooden stools around the soda fountain echo the furnishings depicted in the historical photos. Brick walls add a vintage feel to the interiors.
Billy continues to outfit Watson's with memorabilia from the past. Some items were auctioned off before he purchased the property.
"If anyone has old Watson's memorabilia, I would be interested in displaying it or buying it," he says. "We want to be the place where tradition is perpetuated here in Old Towne Orange."
Watson's Soda Fountain & Café
116 East Chapman Ave, Old Towne Orange CA 92866 / 714-202-2899