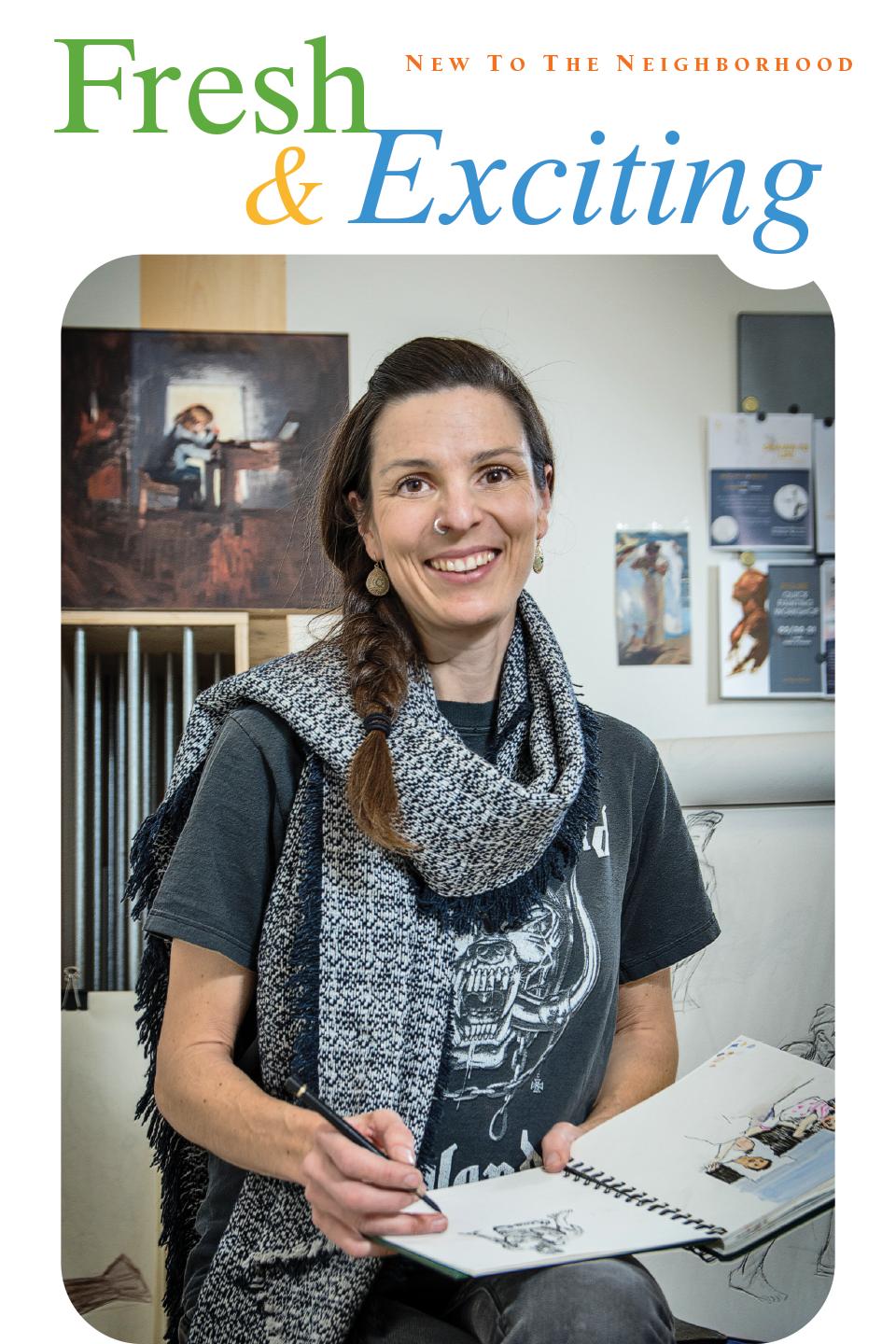 Carolin Hosac enjoys working with other artists at Cura Studios. "I really love teaching," she says. "It's rewarding and also helps me grow as an artist—more than I ever expected."
Cura Studios
If you're interested in a good physical workout, lots of gyms provide lots of options. But for visual artists—whether it's drawing, painting, graphics or other art forms—Cura Studios is a unique place.
Founder Carolin Hosac calls it a "creativity gym."
The venue itself is a two-story, 1,300-square-foot studio with open and dedicated work stations for digital and non-digital artists alike. You'll also find space to set up easels and other items, WiFi and a wireless printer, lockers to store materials and 24/7 access.
Classes and workshops are taught by Hosac, who studied at the Laguna College of Art + Design, and other highly regarded visual arts professionals. And, by the nature of its design, there are opportunities to connect and even collaborate with fellow artists, either organically or via regular events that invite feedback from peers.
"We thread all three things together—I don't know of any other place doing that," Hosac says. "There are places that teach classes and other places that offer studio space, but not the combination that we have."
Members have access to the full suite of amenities, along with 30 percent discounts for instructed classes. Non-members also may sign up for classes and workshops, which include drawing basics, oil and plein-air painting, portrait, figure, animal and drawing.
For Kari Dunham, it's an ideal situation. A painter and university teacher adjunct at four schools, including Azusa Pacific and Concordia, she was recently at the studio doing a collection of still-lifes for an exhibit
"It's nice to have this as a work space that I can come to when I want," she says. "At home, there are other temptations like cleaning, doing dishes, grading papers. But here, I can focus on painting."
Hosac, a German transplant who was introduced to Orange in the late 1990s during a study abroad program, purchased a home in the city with her husband in 2009
While she loves her new hometown, Hosac found organized support for the arts community lacking, especially compared with places like Laguna Beach, where she completed bachelor's and master's degree programs. And that's what inspired her to launch Cura Studios in January.
"We have all of these opportunities to learn and study art online, but there is a real need for physical locations to get together," she says. "There's something special and important about connecting in person with other artists who are just as committed as you to network or simply touch base."
Cura Studios
1407 North Batavia St. #114, Orange CA 92867 / 949-813-2795