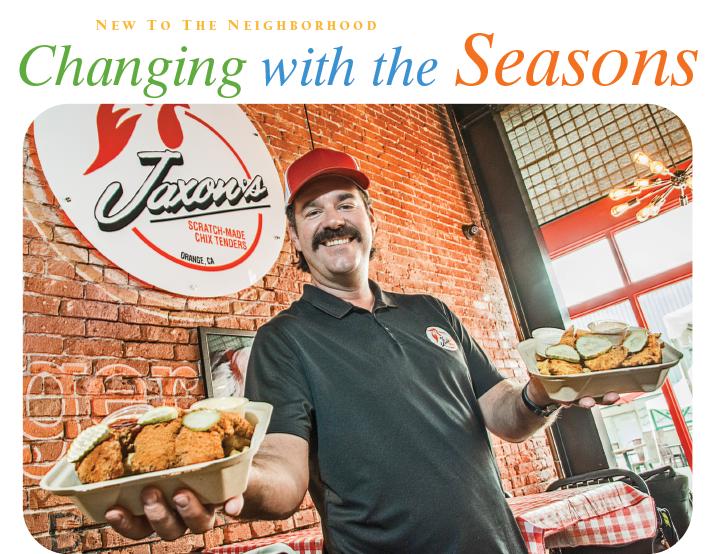 Joseph Mahon, who created both Burger Parlor and the newly opened Jaxon's Scratch-Made Chix Tenders, holds two baskets of his homemade chicken tenders. As he transitioned from burgers to chicken, Mahon says he knew he wanted to keep his business in Old Towne because of the supportive community and the nostalgic feeling the area brings.
- - - -
Jaxon's Scratch-Made Chix Tenders
When one door closes, another opens. Old Towne is witnessing this change as Jaxon's Scratch-Made Chix Tenders, a fast-casual restaurant serving homemade chicken tenders, opens where Burger Parlor once stood. The eatery is operated by the same owner, Chef Joseph Mahon. He decided it was time for a new venture after analyzing changes in customer behavior, due to the pandemic.
"Chicken tenders are something that everybody can come in and eat, without breaking the proverbial bank," says Mahon. He and his team are no strangers to chicken. At Burger Parlor, chicken tenders were already a popular item, accounting for 32 percent of the restaurant's sales. Mahon says he recognized how trendy chicken was becoming and wanted to make decisions easy for his customers. "We took that recipe, my chef background and the principles that added to the market for Burger Parlor and translated them into a simpler, more straightforward menu," he says.
Chicken may be the star of the show, but Jaxon's menu still has room for customization. There are 16 house made sauces, ranging from garlic herb to Cajun sauce to blue cheese, so customers can build their dream tenders.
Mahon also created a classic seasoning rub for the tenders, a recipe he says takes a different focus than Nashville chicken, a spicy seasoning mix popular in the South.
"We don't hang our hat on the Nashville technique, because I'm from Orange County," he says. "To me, our classic seasoning is the most perfect piece of chicken I've ever had."
Mahon was trained at the Culinary Institute of America and served as the executive chef of Bastide, a Michelin star restaurant on Melrose Place, before starting his own businesses. "From the age of 13, I wanted to become a Michelin star chef," he says. "I set goals in 8th or 9th grade and worked toward those goals."
In the few months since Jaxon's opened, the response has been overwhelmingly positive. "I get excited when guests come in for the first time, because the quality and quantity of chicken we offer is unlike any competitor around, and they see that," says supervisor Amanda Lankin, who has worked under Mahon for two years.
When Jaxon's can host more guests inside, the restaurant will also feature a bar, complete with 20 beers on tap and a variety of cocktails, including a Moscow mule, watermelon margarita and other seasonal drinks.
As previous Burger Parlor customers convert to Jaxon's customers and new guests roll in, Mahon is grateful that Orange residents are supporting his business, especially in these difficult times. "We want to thank everyone who has supported Burger Parlor and everyone who is going to support Jaxon's."
Jaxon's Scratch-Made Chix Tenders
149 North Glassell St, Old Towne Orange, CA 92866 / 714-602-8220