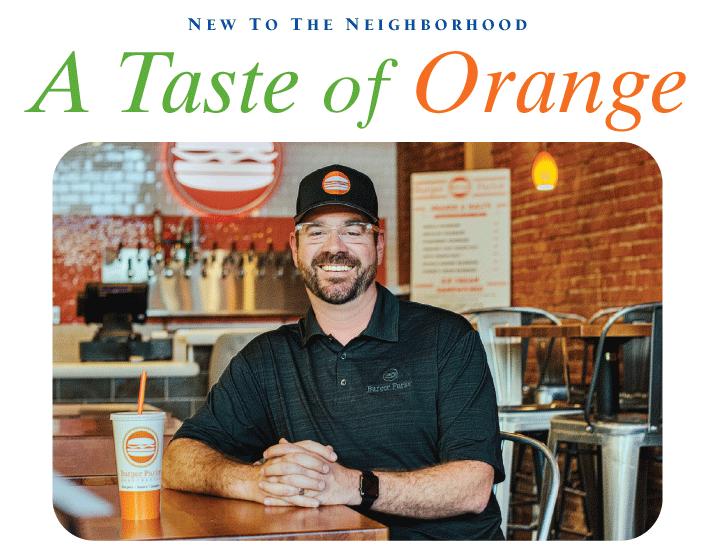 Gourmet Chef Joseph Mahon serves up artisan hamburgers at the newly opened Burger Parlor on North Glassell. The award-winning menu earned rave reviews in Fullerton at the first Burger Parlor, which opened in 2011 and is still going strong.
- - - -
Burger Parlor
"I took my 15 years of experience as an internationally trained chef and put that knowledge into a burger joint," says Chef Joseph Mahon, owner of the newly opened Burger Parlor on North Glassell. "Everything we serve is proprietary. We are motivated by quality."
Having worked at some of the hottest restaurants in L.A., including Sona and 208 Rodeo, as well as previously training under top culinary icons in NYC and France, Chef Joseph began making a name for himself several years back when he conceived the popular "Burger Monday Night" at the Michelin star restaurant, Bastide, on Melrose Place. The concept was such a hit that the La Habra native decided to return to Orange County to open his first Burger Parlor in downtown Fullerton three years ago.
The success and media buzz surrounding Burger Parlor led him to Old Towne, where he purchased the former 149 Bar and Grill location and completely renovated the space to showcase the Burger Parlor experience in Orange.
Old Towne foodies are in for a treat at Burger Parlor. Since its inception in 2011, the concept has been named "Orange County's 11 Best Burgers" by Thrillist.com, Fullerton's "#1 Essential Restaurant" by OC Weekly and one of Orange Coast Magazine's "Top 25 Things To Eat in OC."
Featuring hormone- and antibiotic-free Nebraskan beef ground on site, Chef Mahon's artisan burgers are served on delicious buns baked fresh daily. Ingredients include oven-roasted tomatoes, caramelized onions, smoked bacon, arugula, chipotle aioli sauce and house-made ketchup and mustard.
"Our fries are cut daily and fried to order, as are our onion rings," says Joseph. "Our blended turkey patty has half white meat and half dark meat. People love it. We spike our avocado with cilantro and lime. Our buns are a combination Hawaiian and Brioche roll. We even make our own soft-serve ice cream. Every detail is taken seriously here."
Burger Parlor is more than just burgers. The menu also features fish & chips, sandwiches (Philly cheese steak, crispy chicken, grilled chicken), vegetarian/vegan options, salads, a kids' menu, shakes, malts and ice-cream sandwiches.
On tap are 24 rotating beers, 10 of which are devoted to Orange County craft breweries.
For Joseph and his wife, Julia, a Chapman grad, opening a restaurant in Old Towne fulfills a longtime dream.
"It's a homecoming of sorts," says Joseph. "We love being here."
Burger Parlor
149 North Glassell St, Old Towne Orange, CA 92866 / 714-602-8220