The ANT Group - May/Jun 18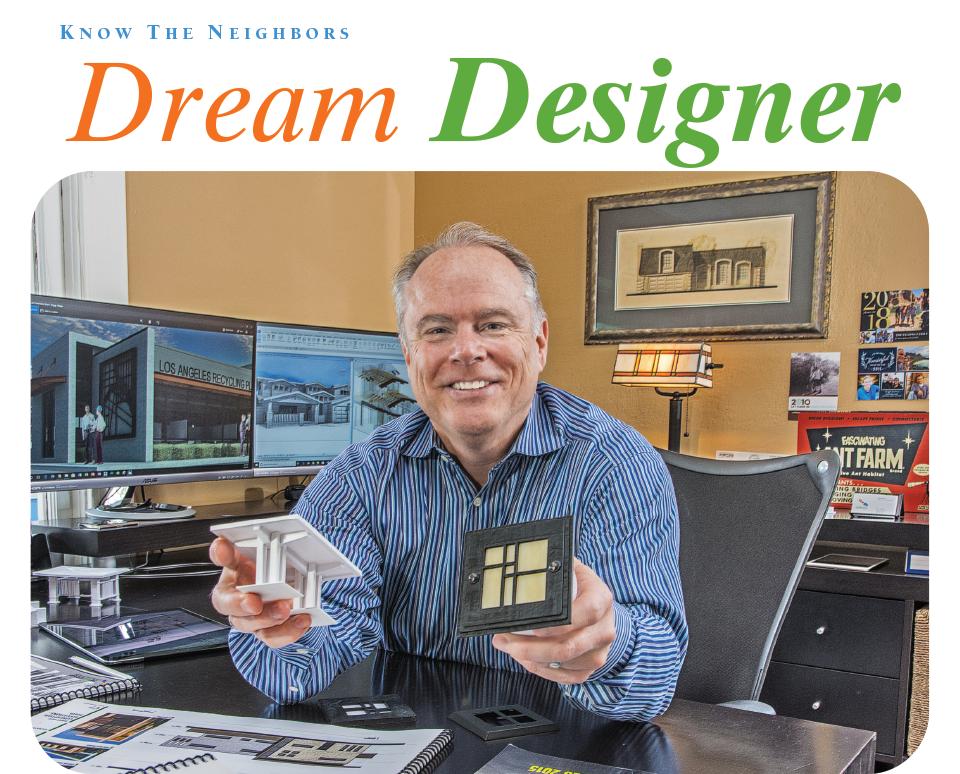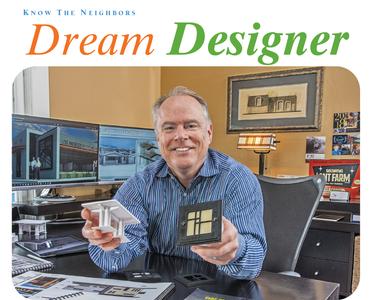 Jim Balding, founder of The Architecture & New Technologies Group (The ANT Group), displays 3D-printed models of state-of-the art building components. These are a couple of the many items that the firm designs, produces and installs.
- - - -
The ANT Group
"True architects don't decide to be architects; they're born architects," says Jim Balding, founder of The Architecture & New Technologies Group (The ANT Group) of Orange.
Such is the case for Balding. His childhood enthusiasm for building led to an architectural career of more than 30 years. Along the way, he fell in love with computer-aided design that replaced his pencil sketches. A pioneer in Revit BIM (Building Information Modeling) software that creates higher-quality architectural designs, he co-authored the first edition of Introducing and Implementing Revit in 2005.
Balding brought his passions for design and technology together under one roof when The ANT Group opened in 2010. That roof sits atop a 1914 Craftsman home in Old Towne Orange where the firm located in 2015. The staff remodeled the interior while serving clients and celebrated the grand re-opening in 2017.
"Just as an ant can lift 10 times its weight, we do a boatload of work using technology to our advantage," says Balding. The firm not only designs residential and commercial projects, its technologies save time and money for clients by expanding design opportunities and improving communications between project teams.
"Our 'wheel house' is custom residential, restaurants and bars, and some tenant improvement. The most successful projects are when clients come in and say, 'Here's what I want to do. Now go do your thing,' " he says.
Balding says his love for design, whether it's contemporary or traditional, usually involves sketching on his iPad at one of Old Towne's many cafés. "I like Craftsman architecture. It's great residential architecture with its 'for the people by the people' concepts."
Craftsman is a big part of his design for KelliJo and Scot Paul's home now under construction that updates a 1960s structure with a new floorplan and modern amenities.
"Jim created this beautiful home with our input, coaching us through each step of the design process," KelliJo says. Balding and the couple have taken "field trips" around Old Towne for inspiration.
"Where else but in Old Towne can you sit and have a glass of wine and design the home of your dreams?" she says.
Balding transferred sketches into a detailed 3D computer model and put virtual reality goggles on KelliJo.
"I could walk around my house. It made it so real and understandable. If I didn't like something, he'd change it to what I wanted right away. It was an unbelievable experience. It was brilliant; like he downloaded my brain!" she says.
The ANT Group
385 South Glassell St., Orange, CA 92866 / 949-354-4434