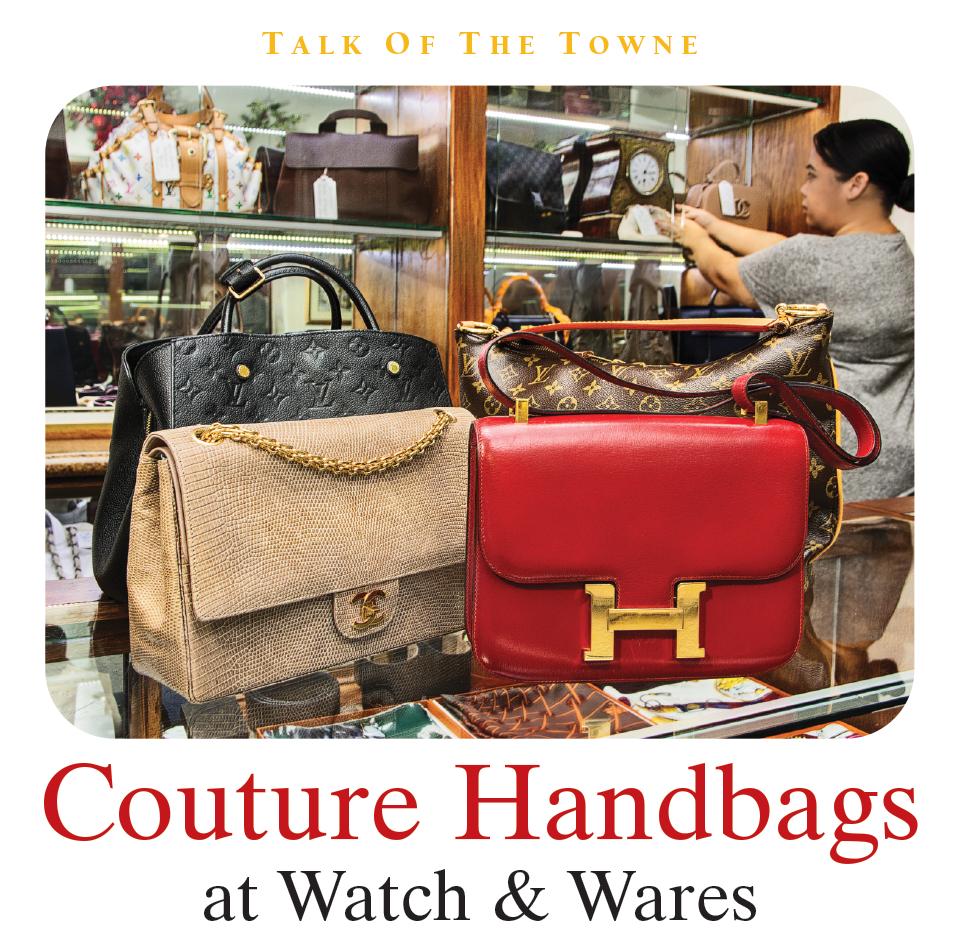 Any woman with a passion for designer couture handbags will find a treasure trove of vintage scores at Watch & Wares in Old Towne.
The small but mighty shop features a vast collection of guaranteed-authentic bags from Gucci, Louis Vuitton, Hermes, Chanel and more. The shop carries at least 40 bags total in the current inventory. There are also designer belts, scarves, bracelets and necklaces.
"We have a vintage Chanel bag from 1983 that is in mint condition; never used," says shopkeeper Linh Le, an expert on the material and craftsmanship used by designer manufacturers through the decades.
"The mid-1980s and early-1990s were the golden era for couture handbags," says Le. "That's when Chanel made them with 22- and 24-gold plated hardware. These bags are true investments, if you know how to take care of them."
An avid collector, Le first met Watch & Wares owner William Houchin when she came in one day to sell him a vintage handbag. So impressed was he with her knowledge that he asked her to help him transform one of his two locations in Old Towne into a specialized store for vintage handbags and accessories.
Houchin's venerable Watch & Wares Estate Jewelry shop, which first opened at 108 South Glassell, has been in business for more than 25 years. In 2013, Houchin relocated to a larger location at 40 Plaza Square while still retaining the small shop on South Glassell.
"Linh is so knowledgeable and fantastic at what she does," says Houchin. "She does the buying and refurbishing and everything. We renovated the display cases to make them more fitting for the high-end bags. Last November, we unveiled the newly transformed shop."
Le says that some of the bags in her inventory sell for a third of what you would buy new. If she doesn't have a specific bag in stock, she'll contact you when she does.
"We price everything very fairly and are very picky about what we sell," says Le. "Every inch of the bag is inspected. We know exactly what to use to clean the leathers. Our customers can feel comfortable knowing that the bags are 100-percent authentic, as well as cleaned and conditioned before sale."
Le relishes the opportunity to meet and interact with customers who are just as passionate about designer handbags as she is.
"I have always been obsessed with handbags," she says. "I love the vintage bags the most. We even have vintage Hermes bags that are incredible, even at 25 years old. It's a dream come true to be sharing my lifelong passion with our enthusiastic customers here in Old Towne."
Watch and Wares
108 South Glassell St., Orange CA 92866 / 714-633-2030