Values & Villa Ford - Mar / Apr 18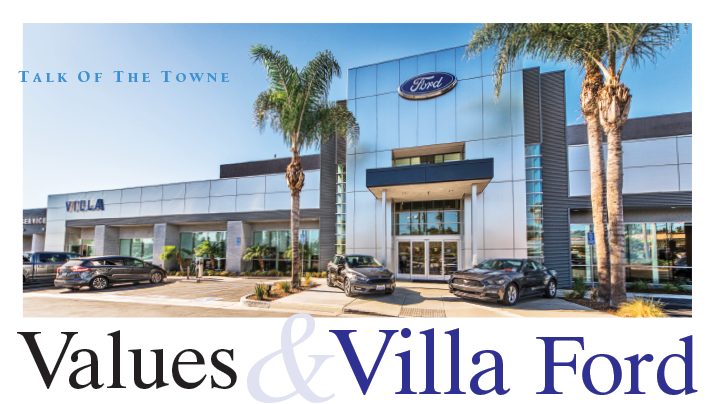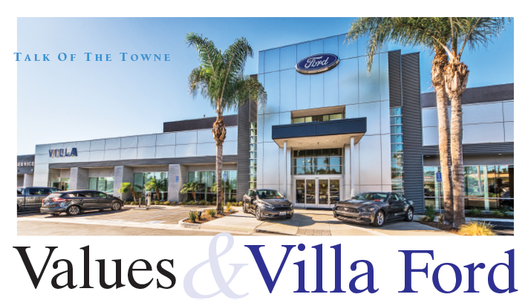 Anyone who has remodeled their home (or watched shows like HGTV's "Fixer Upper") will tell you it takes a lot of vision, patience, as well as a healthy budget. Now imagine remodeling a car dealership for almost a year while still serving customers.
That's what happened when David Wilson's Villa Ford of Orange got a $4 million, top-to-bottom and inside-out makeover in 2017, all overseen by General Manager Scott Wade.
Customers are considered family to Wade and Villa's staff, and the facelift's goal was to enhance their visits from the moment they walk through new sliding glass doors.
Kyana Fazeli is one of Villa Ford's "family" of customers. She owns a Ford Edge she bought in 2016. Recently, she visited Villa Ford and was impressed by the remodel. "It doesn't look like a car dealership," she says. "It's really beautiful."
Ford Company "TrustMark" design parameters guided both exterior and interior choices for all points of contact with customers in showrooms, waiting areas, offices and restrooms.
The new exterior shimmers with a softly textured, metallic facade accented by Ford signs. Visitors are greeted by a bright and airy interior as sunlight streams through walls of glass onto glistening ceramic tiles that reflect the shiny new Fords.
"Those tiles don't look like something you'd see at a car dealership. They're more like what you'd see at the Bellagio in Las Vegas," Wade says.
Sleek modern furnishings from the high-end Herman Miller furniture line add elegance with soft earth-tone and gray fabrics accented by wood and metals.
Bright colors in large contemporary paintings not only enliven the interior design, but also complement the new cars. Two of the "paintings" are actually 65-inch Samsung TVs displaying digital images that rotate throughout the day.
Glass is a huge part of the remodel. Energy-efficient windows installed throughout the dealership drench the interior with sunlight, while blocking high temperatures to supplement the new high-efficiency air conditioning system cooling the interior.
Walls were torn down throughout the dealership to make room for the new spacious footprint. A new Delivery Center was added to the Sales Department, so buyers can see their purchased cars while paperwork is completed. Also, about 2,500 square feet was added to the Service Department customer waiting area.
"We extended walls out to have a bigger, better waiting environment," Wade says. "Prior to the renovation, there were small offices with lots of walls. We wiped all those out and replaced them with booths where service writers meet customers. Those booths face the glass wall directly with a view out to where customers pull up in the service drive, so they can be greeted right way."
Villa Ford's new interior anticipates every customer need. They can watch big-screen TVs and enjoy complimentary cappuccinos, lattes and other hot beverages brewed by a state-of-the-art coffee machine. Free Wi-Fi is available throughout the dealership, and customers can plug in cellphones and laptops at charging ports. Additionally, electric and hybrid vehicle owners can plug into two new parking lot ports while they visit. At Villa Ford, employees are considered "family," so their comfort was also high priority. Elements of the interior design are featured in employee breakrooms (where new refrigerators and microwaves ovens have been added) and in restrooms.
"Employees appreciate a clean, efficient workplace, and it was important to provide that," Wade says. "It also helps us attract quality people to work here."
David Wilson's Villa Ford of Orange
2550 North Tustin St, Orange CA 92865 / 877-585-3090
---
Published in the
Mar / Apr 18
edition of the Old Towne Orange Plaza Review Article Written by Cathie Lou Parker, photos provided by Villa Ford
View More Articles