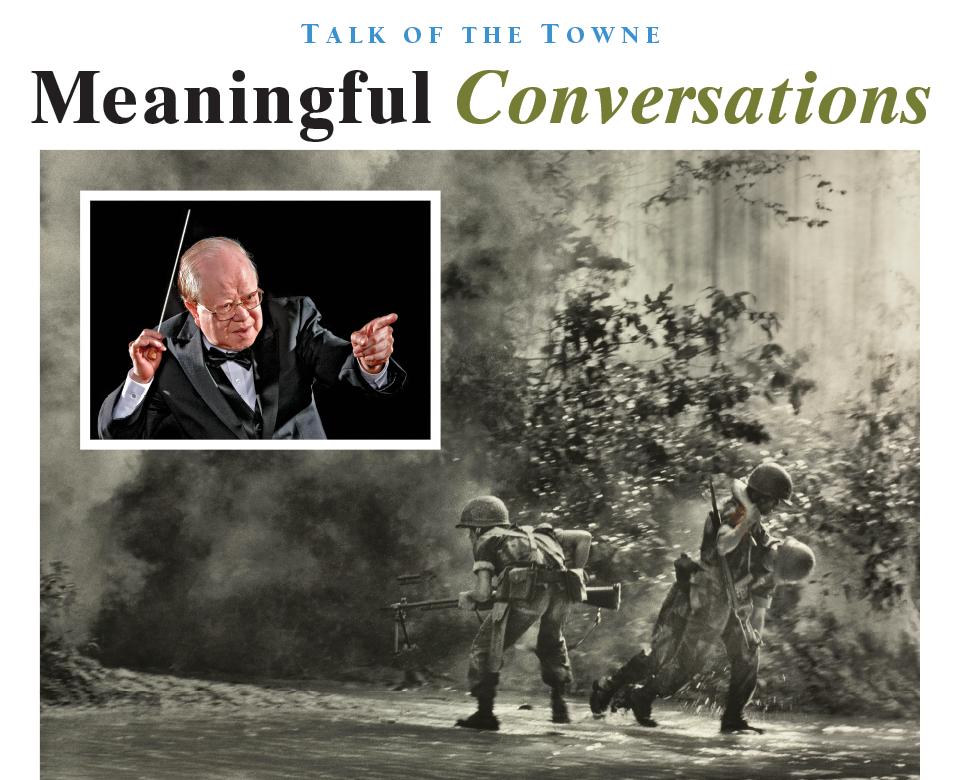 Across the world, Le Van Khoa is known for his music. He has composed more than 600 arrangements and compositions. Locally in Little Saigon (Orange County), he hosted the radio show "Music in Our Life." His commitment to photography has also won him numerous awards. His piece pictured below, titled "Rescue," is currently featured in an exhibit at the Baltimore Museum of Art.
- - - -
Forty-five years after the Vietnam War ended, two survivors started meaningful conversations right here in Orange. Veteran John Goosman and Vietnamese refugee Khoa Van Le are Orange residents who met two years ago. Despite their widely different pasts, the two have taken time together to explore the similarities connecting them.
A composer and photographer, Khoa came to the U.S. in 1975 after the fall of Saigon. In Vietnam, he served as an artist and composer, eventually landing a role as a television show host for the youth program "World of Children." After fleeing to the U.S., Khoa brought his passion for the arts to new platforms here, wearing many hats, including as the local chapter president of the Artistic Photography Association of Vietnam and chairman for the Vietnamese American Philhar-monic Orchestra.
Khoa was also awarded a gold medal from Trierenberg Super Circuit in Austria, the world's largest photo art contest. "When I entered into the international photo competition, they listed me as an American," he says. "I love the U.S., and I do whatever I can to elevate the name of America."
Khoa's daughter Kim Le connected with Goosman's daughter, Rebecca Zollo, to introduce the two survivors. Although Kim and Rebecca had known each other for 20+ years, Khoa and John first met in 2018 during a Thanksgiving dinner event, where they shared another connection: they had both been featured in documentaries about their lived experiences.
"At this gathering, we were able to share both films with each family," says Rebecca. "It was a very beautiful, healing experience for everybody."
John is featured in "In the Shadow of the Blade," a documentary focusing on untold war stories through a trip on a restored Huey helicopter. In 1970, Goosman was the sole survivor of a helicopter crash that killed his four other crewmen. Twenty years later, Goosman was able to finally connect with the family of one of his crewmen, initiating a lifetime process of hope and healing.
Khoa and Goosman's friendship has also developed into a method of healing for the two men and their friends and families.
"To me, what was so beautiful about bringing these families together was being able to witness that exchange of gratitude," says Rebecca. "I think Vietnam veterans didn't have a chance to hear that level of gratitude from the Vietnamese community, who came here directly as a result of the work these veterans did."
John Goosman stands in front of the barracks at his camp in Vietnam, where he served as a door gunner. After leaving Vietnam, Goosman continued his service across the U.S. in Washington, North Carolina and Alabama.
- - - -
For Goosman, connecting with Khoa was a major breakthrough in his healing process. Although he was initially apprehensive about meeting Khoa, Goosman now looks up to Khoa and honors their friendship.
"It's been a privilege for me to call Khoa a friend," says Goosman. "He's a tremendous asset to our community."
Last year, the two families hosted "Healing Wounds with Music and Film," an event that opened up the conversation about their past experiences and provided insight into how new connections can help with old trauma. The event was held at the Pacific Conservatory of Orange, a music and arts school where Kim serves as Director.
"There were people in the room who had been avoiding that kind of situation and talking about the war," says Kim. "We also had refugees who have gone on to do some amazing things here. It was really cool to hear both sides."
In his 45 years in the U.S., Khoa certainly has gone on to make a lasting contribution in various industries. He was featured in the documentary "Le Van Khoa: A Lifetime of Arts," which highlights his commitment to preserving Vietnamese culture through music, photography and education, including blending arts from different communities.
"I use Vietnamese folk songs, and I arrange for a western orchestra to play them," he says. "Then you can have the best of the two different kinds of music together."
Khoa and Goosman partnered with the War Survivors Institute for their event, and after its success, hope to continue bringing light to the importance of these connections. The War Survivors Institute, founded by CEO and President Michael Hollifield, MD, aims to restore health to all soldiers, families and refugees touched by war.
"It's amazing how one year can change a person's lifetime," says Goosman, who served in Vietnam when he was just 18. "I'm grateful for guys like Dr. Hollifield, who put their hearts into working with people affected by war. Not just the soldiers, but also civilians and families."
Both Khoa and Goosman are looking forward to highlighting their stories throughout the community. While any in-person events are put on pause, they hope to use their friendship as a way to affect change for all, no matter what side of the war they resonate with.