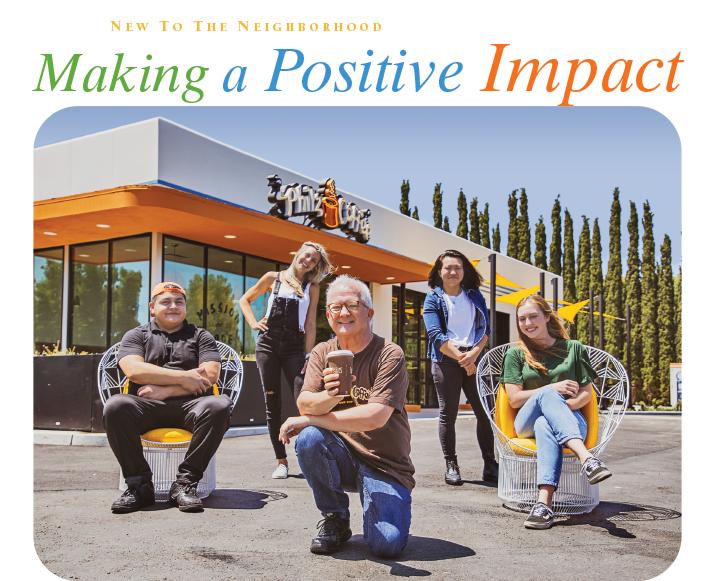 From left to right, Philz Coffee employees Jose Ramirez, Nicole Siffrar, Rocky Covill, Emiko Haga and Mckenzie Kuyper stand in front of the soon-to-be-opened coffee shop. The Philz Coffee building keeps many of its historical features, including the three rolling doors used by the previous location's auto shop.
Philz Coffee
After months of construction, planning and grinding, Philz Coffee is almost ready to bring caffeine-filled sips to Old Towne residents in need of their daily dose. Philz Coffee, a pour-over coffee chain that originated in San Francisco in 1978, is opening soon in the building that previously hosted Auto Quality Care.
"We're so excited about being in Orange," says store leader Rocky Covill. "Old Towne Orange has charm and culture, and my goal is to integrate Philz into the feeling of the Plaza."
Although Philz has 52 stores across the country, it's known for creating a personalized feeling at every location. Covill describes the Old Towne shop as having a bohemian grassroots aesthetic.
For the past year, Covill has been preparing for the Old Towne opening by working at the other Philz Coffee locations across Orange County. He describes the menu as diverse but customizable.
"There are a thousand different cups of Philz, and we can always find your cup," he says. "We want you to love your drink. Try it before you leave, and if you don't like it, we'll fix it to your specifications."
With offerings featuring festive names like the Mint Mojito and Iced Coffee Rosé, the menu is original and inventive. Instead of offering classic drinks like espressos and lattes, Philz focuses on providing customers with specific coffee blends that allow for different aspects to be customized, such as the drink's creaminess or sweetness levels. The store also sells smaller food items to pair with drinks, like breakfast bagels, toast and pastries.
Covill is looking forward to sharing the exclusive Philz creations with Old Towne and says his goal is to impress customers with taste and experience.
"Philz's motto is 'bettering people's days,'" he says. "We want to get in there and spread the love of Philz, one cup at a time."
For team lead Jose Ramirez, his days have been bettered after he joined what the company calls the "Philz pham." For the past six months, Ramirez has trained at other Philz locations but is looking forward to creating an individual atmosphere at the Orange store.
"The main thing I love about Philz is how amazing my team has been," he says. "They truly live up to the standards and have helped me create many memories that I will treasure."
When the store officially opens, customers can order ahead on the Philz mobile app and pick up their selections at a designated time. Although the store lobby won't be open to guests until further notice, Covill is hopeful that Philz Coffee will still create a compassionate community.
"I've never felt this kind of support or love at a company before," says Covill. "I want to pass that along to the guests in Orange. When you walk into our store, I want you to feel love."
Philz Coffee
202 North Glassell St., Orange CA 92866 / 657-281-2000