Coming Full Circle - Mar / Apr 19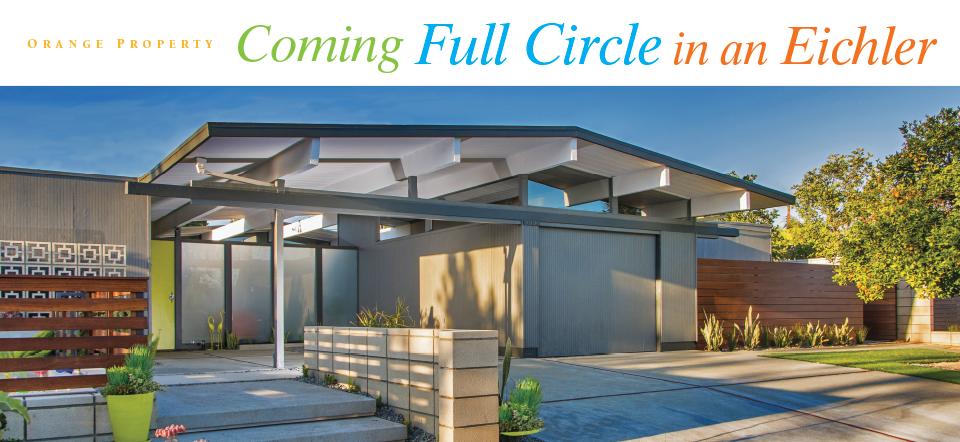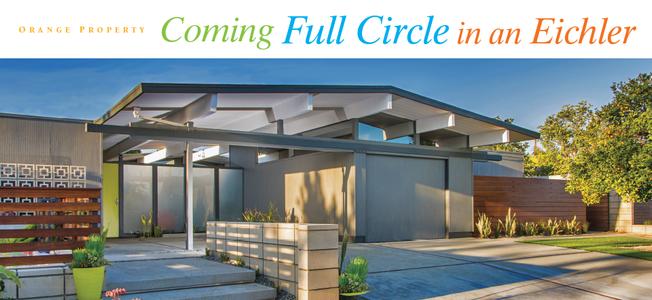 In the front yard, an original Valencia orange tree dates back to when the neighborhood was an orange grove.
Residents of vintage Eichler homes know what makes these modernist mid-century tract homes so special. From the floor-to-ceiling windows, abundant natural light and open-air atriums to radiant-heated floors, open sight lines and vertical plywood siding, the timeless design of an Eichler home remains as relevant today as it did 50 years ago.
Born and raised in Orange, Amanda Clark grew up in an Eichler home in the Fairhills tract. Today, she and her husband, John, live in an Eichler home in the Fairhaven tract just four miles away from her childhood home where her mother still lives.
"I remember when I was growing up, my mother was nervous about having kids over, because if you weren't an Eichler kid, you didn't understand the floor-to-ceiling windows," recalls Amanda. "She would put stickers on the glass to make it safer for the non-Eichler kids. I have great memories of doing magic shows in the atriums for the neighbor kids and grown-ups. I thought our home was cool, but some of my non-Eichler friends had stairs in their homes, and I was jealous of that. There is not a single step or stair in an Eichler home. Now that I have kids, I'm glad for no stairs!"
The Clark twins are growing up in a close-knit neighborhood with dozens of kids their age.
The living room retains the home's original block fireplace, flanked on either side by windows. Floor-to-ceiling windows and open sight lines characterize the Eichler home.
Of the approximately 11,000 homes that California developer Joseph Eichler built from 1949 to 1974, Orange boasts 350 Eichlers split across three neighborhoods. Built in 1960, John and Amanda's 2,200-square-foot home features the largest atrium of any Eichler model in Orange. The home's original owners sold the home to the Clarks in 2015. The Clarks are only the second owners to occupy the five-bedroom home.
Since purchasing the home, Amanda and John have completed a number of upgrades, such as installing new floors and countertops, replacing the electrical panel, tinting the glass for UV protection, updating the lighting and returning the kitchen cabinet doors to the original sliders. When it comes to repairs and maintenance, Eichlers come with their own set of challenges.
"Flat roofs are not easy to deal with," says Amanda. "There are leaks. We are planning on replacing the roof this year. When we were in escrow, we removed the asbestos tile floors and installed grey laminate plank. We also spent thousands of dollars to replace the leaded windows."
The multi-purpose room off the kitchen is currently set up as a play space for the kids. A professional organizer, Amanda maximizes storage options in the home.
The youngest Clark child is a second-generation "Eichler baby."
Whether returning the doorknobs to vintage Eichler knobs or installing globe lighting reminiscent of the era, Amanda wanted the home to look like the home she grew up in. She recently added an original bathroom mirror she obtained from her mother's neighbor. Although she's not a stickler for everything to be "perfectly Eichler," Amanda says the most important aspect of life in Fairhaven is the neighborhood itself, which feels reminiscent of her childhood.
"Our tract has 100-plus homes and about 30 kids under the age of ten. This is a dream come true, because our three children have built-in friends. The neighborhood is so amazing. We do so many different events throughout the year, like a neighborhood Easter egg hunt, Fourth-of-July parties, pancake breakfasts, Christmas caroling and progressive dinner gatherings. John and I host a chili cook-off every year. We love being part of the neighborhood. It's just like growing up in the old neighborhood."
Coincidentally, Amanda moved into the Eichler when she was eight months pregnant with their youngest child, exactly like her mother did when she moved into their Eichler at eight months pregnant with Amanda. Both her parents were teachers. Her father retired from Fullerton school district, and her mother retired from Orange Unified. She taught for years at Prospect Elementary. Indeed, life has come full circle in Orange for Amanda, who put her 15-year career as an elementary school teacher on hold to focus on family.
Eichler homes have very few windows in the front of the house, but thanks to post-and-beam construction, the rear of the house is made almost entirely of glass.
An Orange County native, John works for the family business started by his grandfather in 1932. Based in Orange County, Prudential Overall Supply provides textiles and uniform rentals and services to thousands of OC businesses. Ironically, living in an Eichler home compelled Amanda to pursue her current career as a professional organizer. Her business, "Ever So Organized," serves all of Orange County (EverSoOrganized.com). She initially honed her skills figuring out ways to deal with the lack of storage space in the Eichler floor plan.
"I became a minimalist and got rid of a lot of things and upped my game with organizing," she says. "When I started organizing for other people, there were two groups: mothers and neighbors. Some of the models have just one-car garages. There are not a lot of places to store things while still maintaining the clean-lined aesthetics of an Eichler home."
Recently, the city of Orange worked on behalf of local residents to obtain historic designation for the three Eichler tracts. Amanda and her mother participated in community workshops held by the city to help to create a framework of design standards. Now that Eichler homes are designated historic, homeowners can obtain tax incentives for maintenance and repair under the Mills Act.
The Clarks worked with their neighbor to design this large atrium featuring a sunken seating area, fire feature, hanging egg chair and a "living" wall, recently completed by Seasiders Concrete.
This May 18-19, 2019, Preserve Orange County will present an Eichler Home Tour in partnership with Better Living SoCal. Amanda's childhood home will be part of the tour. Tickets are available at PreserveOrangeCounty.org.
"We love living here so much," says Amanda. "We have a close-knit neighborhood where everyone knows each other. Our goal was for the kids to live a 1970s childhood. We got our dream: a beautiful Eichler and a loving neighborhood."