The Wonderful World of Jenkins - Sep / Oct 12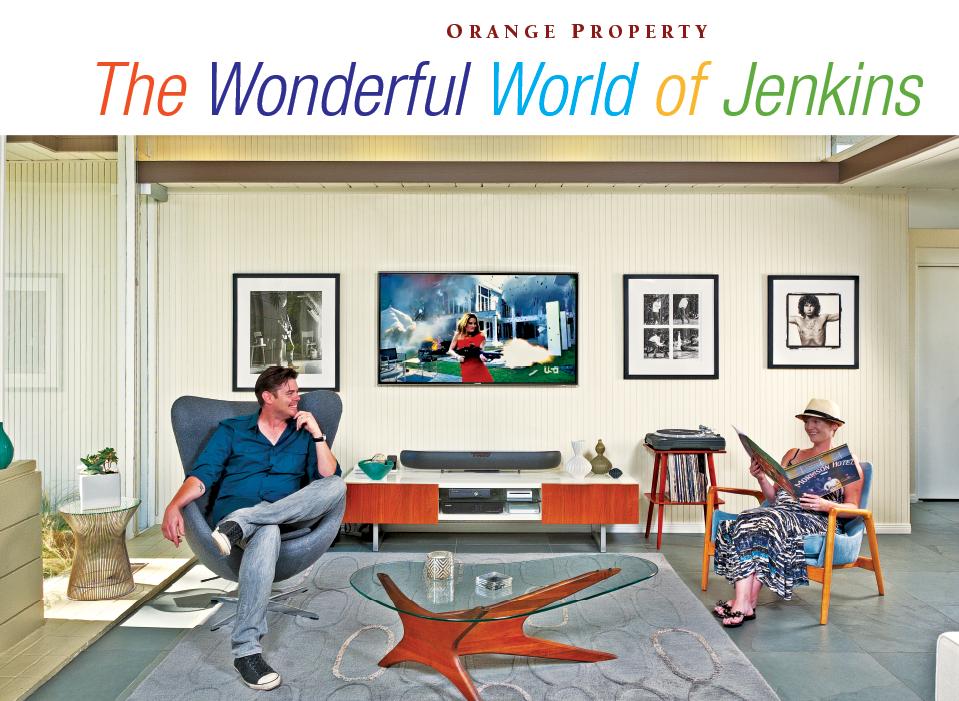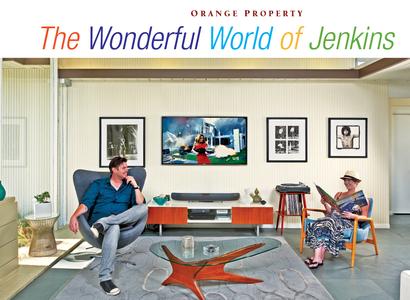 Homeowners Andrews and Morgan Jenkins relax in their Eichler living room, which features classic rock memorabilia on the wall and retro '50s furnishings, including a Kagan "Ameoba" teakwood table and Arne Jacobsen Egg Chair. The vintage '60s armchair was the first piece of mid-century modern furniture they obtained for their new house.
Professional screenwriter and director Andrews Jenkins could not have written a better storybook ending for himself and his wife, Morgan, when they found the vintage Eichler home of their dreams near Old Towne Orange.
Long intrigued by the architecturally distinctive floor plans made famous in the 1950s and '60s by residential tract developer Joe Eichler, the Jenkins searched for possibilities in Granada Hills and Thousand Oaks before settling into a residence in the Fairhaven tract.
For the Jenkins — who both work in the film industry — the Orange location not only provides proximity to Los Angeles, but a creative environment in which to live and work.
"We do a lot of our work from home, whether writing scripts or pitching treatments for feature films," said Andrews. "Our living environment is very important to our creativity. This house is like a living, breathing piece of art unto itself."
Featuring a raised pool, geometric stepping stones and a living succulent wall, the Jenkins' stunning backyard was designed and built by landscape architect Rich Risner of Grounded in Encinitas and DC West Construction Inc. of Carlsbad.
Andrews says that being in an Eichler home is "like a breath of fresh air, literally." Distinguished by exposed post-and-beam construction and open floor plans with minimal walls, Eichler homes epitomize the mid-century modernist approach to suburban California architecture — featuring atriums, glass walls, skylights and an integration of indoor and outdoor spaces.
Influenced by the design innovations of architect Frank Lloyd Wright, the Eichler concept got its start in 1947 in the Bay Area, where the developer established enclaves in Sunnyvale, Palo Alto, Walnut Creek and San Mateo. Of the 600 Eichler homes built in Southern California, Orange boasts 350 total residences in three tracts: Fairhills, Fairmeadow and Fairhaven.
Purchasing their four-bedroom home in 2009, the Jenkins decided on a property that had already been renovated on the interior, allowing them to focus their time and budget on the landscaping and pool instead. They hired landscape designer Rich Risner, of San Diego, who created a feeling of old Palm Springs in their backyard with the help of masonry specialists DC West Construction, also of San Diego.
"The idea was to continue the Eichler theme in an updated way," Andrews said. "We used a lot of the same materials that you would find in an Eichler home, such as screen-block walls in the front of the house and pool. The team was so excited to work on the property, and they really wanted to stay true to the architecture and complement the home's original design."
A veteran director of television commercials, Andrews has created pieces for Nike, Mercedes, NBC promos, USA Network and more. He also writes and directs feature films, including How to Rob a Bank, starring David Carradine, Gavin Rothsdale and Nick Stahl. His most recent script, Shadow Lurkers, was written in his living room here in Orange.
In keeping with the Eichler theme, the living room showcases fabulous furnishings including a Nelson saucer pendant lamp (above the dining table), Eames lounge chair and ottoman, Kagan side table and Arco floor lamp designed by Achille and Pier Giacomo Castiglioni for Flos (replica) purchased at inmod.com.
"When I was conceptualizing the storyline for Shadow Lurkers, I imagined the shoot taking place in Orange," he admits. "I love the feeling of Old Towne and the Circle."
A script supervisor, Morgan has worked for years directing music videos, commercials and documentaries. She and Andrews first met on a film set, and upon talking to each other, discovered that they were actually next-door neighbors in Los Angeles at the time, unbeknownst to them.
"Our bedroom windows were just 15 feet apart," Morgan recalls. "It's so 'L.A.' that we didn't know we were neighbors. It really was unbelievable."
Fans of the mid-century modern era, the Jenkins appreciate the many tasteful upgrades implemented by the previous owner of their home. In the kitchen, the high-polished concrete countertop provides a generous cooking area. Slate tile floors throughout expand on the indoor-outdoor aesthetic. Converted into an office, one of the bedrooms connects to the atrium, offering a pleasant workspace with plenty of light and airflow.
"We were grateful that the previous owners stayed true to the integrity of the original design," Morgan said. "They added some square footage to the master suite, but you can't distinguish it from the original."
Fronting an artful water fountain on the wall, the Jenkins' outdoor Cartagena furnishings provide a cozy retreat for entertaining.
Mixing contemporary with vintage, the Jenkins pay tribute to their favorite artists throughout the home. Music memorabilia graces the walls, including original outtakes of Beatles album covers, an iconic photograph of Doors singer Jim Morrison signed by the photographer, and an electric guitar played and signed by Eddie Van Halen.
The Jenkins say they love the close-knit aspect of Orange, where neighbors gather for Fourth of July pancake breakfasts, Christmas Eve soirées and summer block parties. Eichler homeowners also share a special camaraderie with one another, participating in neighborhood home tours and progressive dinners.
"Everybody loves to see what you've done to your house," Morgan said. "These homes attract creative professionals right off the bat, and we are like a big family."
The Jenkins speak on behalf of their fellow Eichler homeowners when they say they would like to see the City of Orange acknowledge the importance of preserving these houses.
"The homes really say a lot about how Eichler viewed the family," Andrews said. "It was very much a shift in Americana at the time, because the Eichler home is all about openness and airiness. There is a happy feeling to these homes, and you can feel the optimism of that era the minute you step inside."