Keeping it Cooking in Old Towne - Sep / Oct 03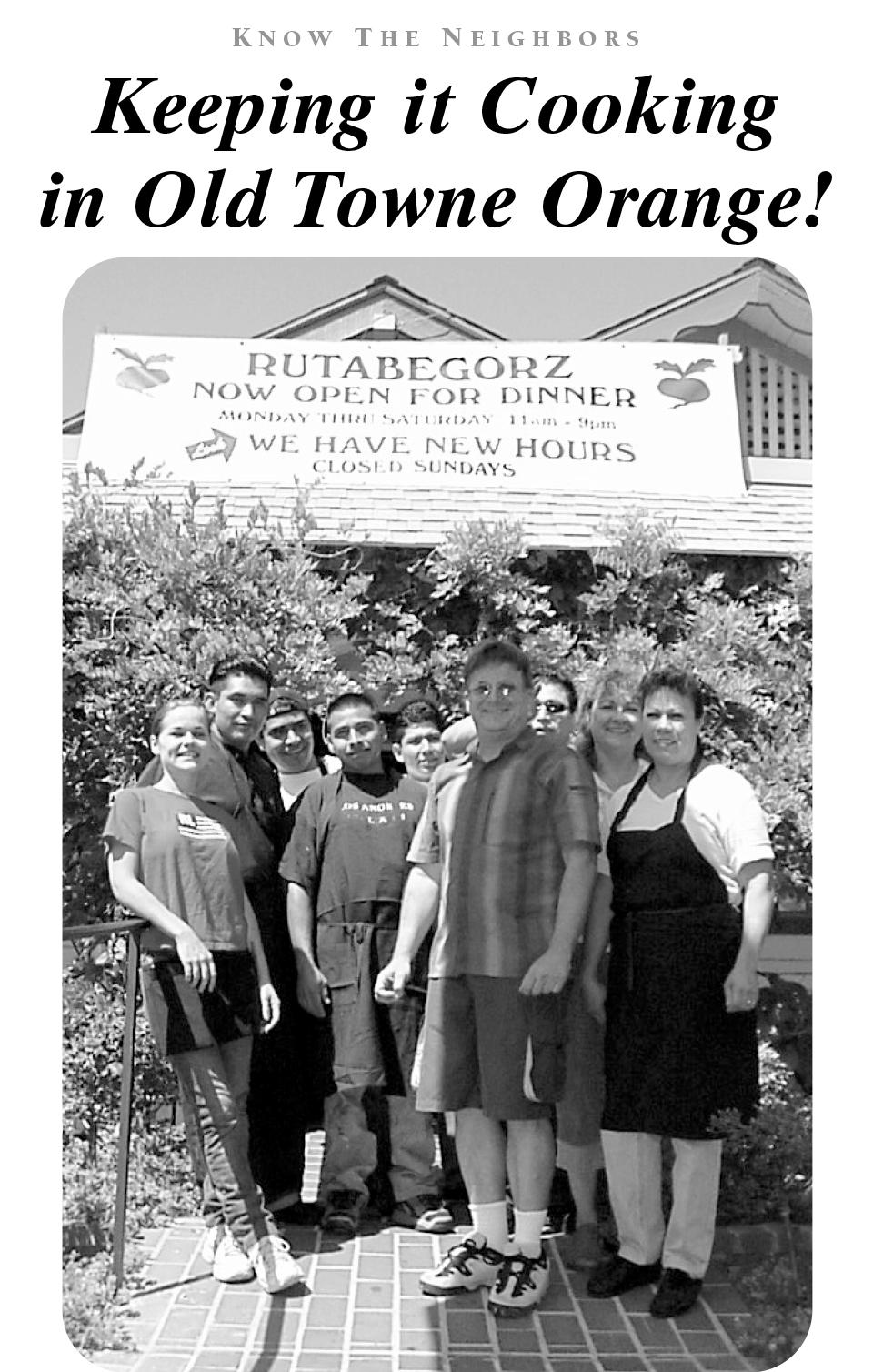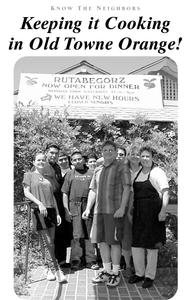 It takes a dedicated staff to develop and retain loyal clients. From left are Lora Shepherd, Miguel Villagran, Carlos Hernandez, Martin Gonzales, Jose Batista Mendoza, Paul Berkman, Persy Gallardo, Veronica Comeau, and Anbelia Ramirez.
Paul Berkman, Tony Cisneros and Steve Silverstein are obsessed with quality, consistency, and good service.
Their obsessions have made their restaurants among the most popular in Orange--as well as Fullerton, Tustin, Anaheim, Anaheim Hills and Irvine.
When Paul Berkman opened the third location of Rutabegorz Restaurant two years ago at 264 North Glassell, he wanted to build the business slowly, to ensure that they maintained the same standards as his locations in Fullerton and Tustin. "We are a neighborhood restaurant, so consistency is important. That includes familiar faces and the same menu at each location, although each restaurant offers some unique items and slightly different specials that are favorites with neighborhood people," he explains. With a menu based on healthful items, including a large assortment of meat-free dishes, "Ruta's" has won the loyalty of legions of vegetarians. The addition of poultry and tuna in some dishes makes it equally acceptable to those whose diets are more lenient. And Ruta's desserts (especially homemade apple pie, cheese cake, carrot cake, and decadent chocolate brownies) appeal to everybody!
Tony Cisneros stands behind his hardworking team that's dedicated to providing authentic Mexican cuisine. From front are Victor Gonzalez Valencia; Brenda Salazar; Mario Gonzalez Valencia; Manuel Hernandez Motaivo, and Tony.
Since Jalapenos in The Courtyard opened a few months ago, Tony Cisneros and his family have proven that they, too, understand what locals are looking for: "Good, authentic Mexican dishes 'just like mom used to make,' prepared and presented in a clean, attractive environment." In fact, they actually use mom's recipes: beans are cooked throughout the day exactly as they were at home, Tony says. Like Paul, Tony places great emphasis on his employees: "We have very little turnover; some of my cooks have been with me since we opened our first restaurant in Tustin in 1986." Tony praises his employees for working as a conscientious team-a team whose members include his mother, three brothers, wife, and one of their three children. With their help, Jalapenos is adding locations in Fullerton and Ladera Ranch.
Zito's Pizzeria (Three Brothers Pizza, Inc.) is a family-run business started by Steve Silverstein and his wife Lorelei. Sons Tyler, Zac and Spencer also are taking increasingly active roles appropriate to their ages--whether that's serving guests or taste-testing the products!
In 1999 Steve Silverstein opened Zito's Pizzeria in The Courtyard, his fourth location From the time he opened his first location at Tustin and Meats in 1988, he has consistently followed two guiding principles: "Use only the finest ingredients, and stay in touch with the community. I have to enter each store with the same expectations as my customer. That's why we offer more variety than a typical pizzeria." When a group comes into Zito's, they may want different things. With fresh homemade lasagna sauces, calzones, salads and subs and, of course, pizzas, there's something for everybody. And, of course, each of our menu items can be delivered." Next time you visit Zito's Pizza, look closely at all the smiling faces. You just might see Steve, Lorelei, or even one of their three sons working side-by-side with the rest of the staff making sure you get great food and outstanding service.
---
Published in the
Sep / Oct 03
edition of the Old Towne Orange Plaza Review Article Written by Catherine Cate, Photos by Mike Escobedo
View More Articles