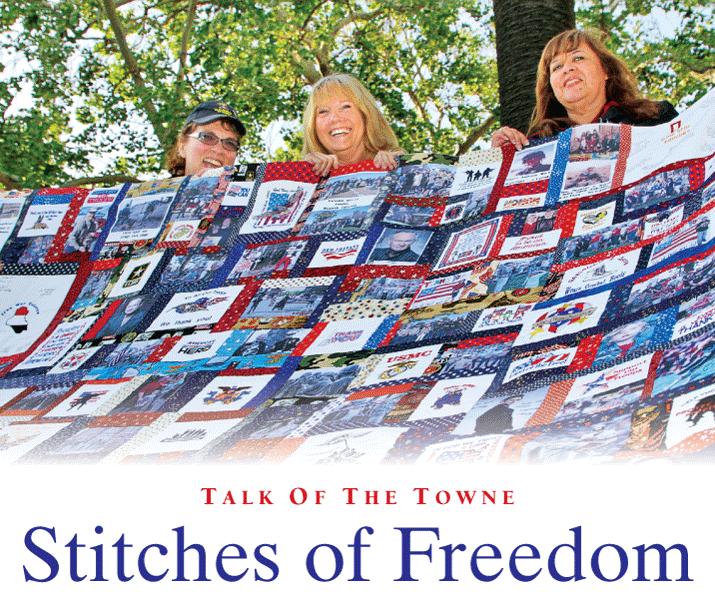 Prior to her two sons joining the military, like many Americans Jennifer Robles didn't give much thought to those serving our country in conflicts overseas.
"I was patriotic, but unaware of the challenges they face," says Robles, whose son Jacob Washington is serving in Afghanistan and his brother Jeremiah Washington is stationed in Guantanamo Bay, Cuba.
"It's easy to turn a blind eye, but many war vets struggle with their own personal wars because of conflict experience," says Robles. "Jacob is on his second tour in Afghanistan, and we've already seen visible signs of Post-Traumatic Stress Disorder (PTSD)."
The psychological scars and physical injuries sustained by vets are so profound that according to a recent report by the Department of Veterans Affairs, 22 veterans commit suicide a day.
To honor vets and acknowledge the sacrifices they make, six years ago Orange resident Mark Wayland started a flag-lowering ceremony in Plaza Park each Wednesday evening. The Vietnam vet and his wife, Kathy, have since become acquainted with many veterans and their families.
"We are aware of veterans struggling with PTSD, traumatic brain injury (TBI) and the effects of chemical warfare," says Kathy Wayland, whose son is an Iraqi vet. "The flag ceremony provides an excellent outreach, and many people come from far away to attend."
Wayland and others involved with the flag ceremony wanted to raise awareness and help. "We decided to create a patriotic quilt to auction off and raise funds," says Wayland, a retired kindergarten teacher who has made quilts since childhood.
Wayland and other volunteers, including Robles, wrote celebrities asking for autographs to include on the one-of-a-kind, King-sized quilt, which Wayland has spent hours creating using machine embroidery.
Celebrities and their autographs depicted include Cheryl Ladd, Mickey Rooney, Sarah Palin, Gary Sinise, Larry the Cable guy, Trace Adkins, Kevin Sorbo, Jamie Farr (Klinger on M*A*S*H) and an upcoming square of Duck Dynasty. The quilt purchaser also gets the signed photos and memorabilia
Perhaps the most meaningful squares are those representing various groups and individuals involved and affected by wars. There are squares for each branch of the military and war, including World War II and the Korean War; for organizations like the American Legion and for fallen soldiers. There is a square for military service dogs and squares containing signatures of vets involved in the flag-lowering ceremony.
"The quilt is really moving to see," says Robles, who is pictured on the quilt with her family. "It's a unique portrait of living history that tells a story."
One person who served as an inspiration and has a square on the quilt is Roland Marchand, a Vietnam vet who sustained extensive internal injuries and lost his right leg during the Tet Offensive. He has struggled over the years to get assistance as a vet.
"I'm currently having trouble getting a new artificial leg from the VA hospital, because my old one no longer fits, but I've fought this same battle since 1968," he says. "People don't realize how badly vets are often treated. Kathy made the quilt to raise awareness."
When the quilt, known as Stitches of Freedom, is auctioned off, the money will go toward purchasing an all-terrain wheelchair for a wounded vet.
Visit the Orange Plaza Patriot's at: facebook.com/pages/Orange-Plaza-Patriots/279547962193192