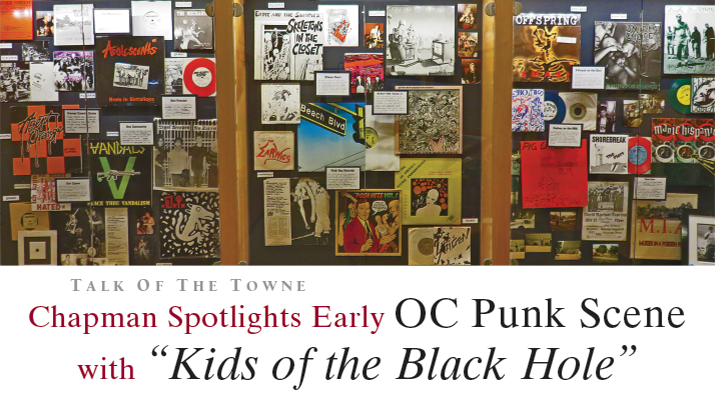 When the weekends rolled around, Jay Bauman put on his Chuck Taylor shoes, a cut-up band T-shirt and headed to the Cuckoo's Nest in Costa Mesa.
It was 1980, a time when disco still dominated the world. Bauman, a high school skater from Orange, found his place in a very different environment—one punctuated by forceful punk rock lyrics, steel-toe boots and slam dancing.
"It was history—we just didn't know it at the time," says Bauman. "We were too busy partying and jumping off stages. Nobody thought this was anything other than getting away from disco and arena rock."
Bauman, now a dentist in Orange, sought to recapture his youth after he found some punk records at a Costa Mesa garage sale in the early 1990s. That haul expanded into a treasure trove of historical Orange County punk memorabilia that can now be viewed at Chapman University's Leatherby Libraries.
The exhibit "Kids of the Black Hole: The First Two Decades of Punk in Orange County" will be on display through December 18, 2019.
Wendy Gonaver, co-curator with Rand Boyd, said the collection has already drawn diverse crowds, including musicians and fans from that era, current students and young musicians influenced by punk.
"We made sure to include bands from every major city in Orange County and flyers from every major venue," Gonaver says. "The exhibit offers a representative slice-of-life view of punk in the region."
Punk had spread across the UK and the US by the time Bauman began hearing about it as an Orange High School student.
"I liked the imminent danger, the differentness, finding somewhere to fit in," he says.
Like the vortex described in the Adolescents' "Kids of the Black Hole," Bauman soon found himself caught up in the scene, and the good and bad that accompanied it.
He stood in the audience when The Cheifs' guitar player George Walker smashed a man in the face with his guitar for shouting racial epithets. Bauman says mounted police sprayed him and his friends with mace on the night of a Circle Jerks show. And at a backyard party where the Adolescents were scheduled to play, a swarm of police lined the street to disperse what was only about eight teenagers.
"The word 'punk rock party' scared them," he says.
The years passed and Bauman dove into college and family life. But that day at the garage sale brought him right back to 1980.
"That's where the obsession started," he says.