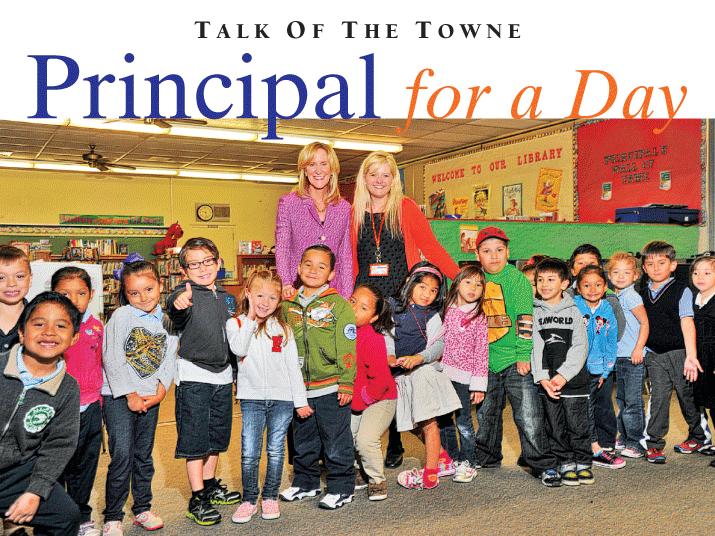 Transitional Kindergarten students at West Orange Elementary School in the library with Sheryl (left) and Jennifer Bourgeois.
When Sheryl Bourgeois acted as Principal for a Day at West Orange Elementary recently, Chapman University's Executive Vice President found the experience to be especially eye-opening.
"They say everything you need to know you learned in kindergarten, and being principal of an elementary school shows you how true that statement is," she says. "When you see what's involved in overseeing the handling of all of those little people, keeping them excited and engaged and helping them develop and mature, you realize it's a calling with immense responsibility."
Showing community leaders like Bourgeois the good work being accomplished at elementary, intermediate and high schools is the goal of the Principal for a Day (PFAD) program, which is held at schools throughout the U.S. The program results in respect and appreciation for principals, teachers and other faculty, and in the case of Bourgeois's visit, allowed her to show students that a college education is possible.
"This was a good opportunity to share with the kids that if they do well in school, college can be in their futures," says Bourgeois. "Chapman University is here in their backyard and open to anyone who does well in school."
Orange Mayor Tita Smith considers herself honored to have participated in Principal for a Day since 2004. She also enjoys the opportunity to show young people what is possible with a good education. "I think it's important for children to actually see and meet a real mayor," says Smith, who was Principal for a Day at El Modena High School this year. "I like students to know that someday they could be on the City Council."
For West Orange Elementary Principal Jennifer Bourgeois, this year's Principal for a Day experience was a special one, as Sheryl is her aunt. "When it came time to choose someone to invite, the first person that came to mind was my Aunt Sheryl," says Jennifer. "The fact that she is at Chapman University and well connected to our community makes her able to appreciate our goals and vision at West Orange, and her being my aunt was a bonus," she says.
In addition to showing the high-quality education being offered at her school, Jennifer Bourgeois was able to take the opportunity to share with her aunt her goal of creating concentrated educational career pathways at the school in STEM subjects (science, technology, engineering and mathematics).
"The career pathway model exists in middle schools and high schools, but it's a relatively new concept for elementary schools," says the principal, whose school currently has afterschool programs in engineering and robotics. "I'd like to start here in the elementary school and go all the way up to the university level."
After shadowing her niece, Sheryl Bourgeois has no doubt that good things will continue to happen at West Orange Elementary. "I was impressed to see that Jennifer knows every single student by name and about them personally," she says. "All of the kids want her attention, which showed me that being a principal is a lot like being a rock star."