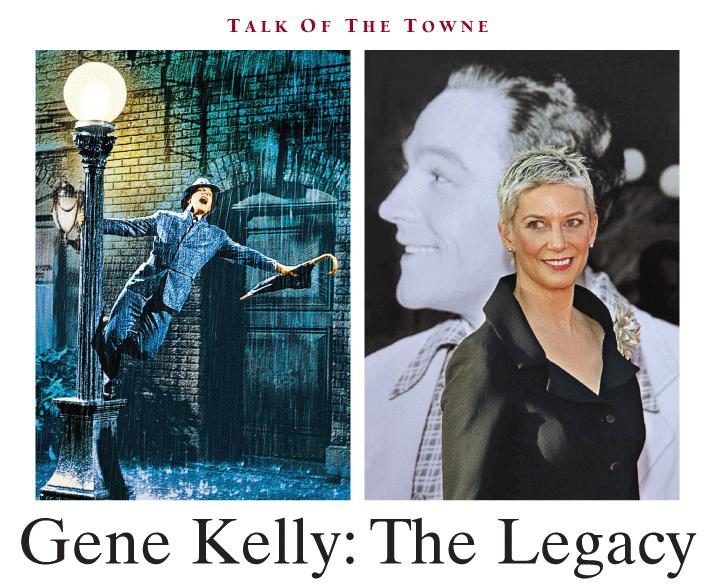 "Gene Kelly: The Legacy" comes to the Musco Center for the Arts at the end of January, marking a homecoming of sorts for Patricia Ward Kelly, whose acclaimed live-performance about her late husband, Gene Kelly, continues to receive rave reviews since her world tour first launched at Chapman in 2013.
"Chapman is such an extraordinary place, and I'm really proud to be able to bring the show back," says Patricia. "One young boy has seen the show four times and already has his tickets again. The audience demographics are across the board with this show."
With humor, candor and entertaining detail, Patricia delivers a commanding one-woman performance that commemorates the life and times of the legendary dancer, singer, actor and director, Gene Kelly, whose influence is still omnipresent across all genres of professional dance today. Improvising and interacting with her audiences, Patricia reveals personal stories about her marriage to Kelly until his death in 1996 and also shares her inside perspective about the star's innovative work that she came to understand and appreciate through her years as his wife, confidant and chosen biographer.
Some recollections she would scribble on cocktail napkins while they dined in restaurants or piano bars; other memories she recorded with him at home. Combining rare and familiar film clips with never-released audio recordings, the two-and-a-half-hour presentation includes stories about Gene Kelly's working relationships with legends like Judy Garland and Fred Astaire, plus a "show-and-tell" of the couple's personal keepsakes and her husband's career memorabilia.
"I was a trained archivist, and he knew his legacy would be cared for and preserved with me," says Patricia. "He really wanted to be known more for being behind the camera than in front of it. He was so far ahead of his time, creating performances that were contemporary and timeless and pushing the boundaries. The audiences just gasp when they begin to really understand how extraordinary he is."
For Patricia, the show is an extension of her own personal evolution stewarding her husband's legacy while also processing her own identity within the context of being married to an icon. Ultimately, the audience is taken on a journey that is uplifting, enlightening and emotional. Patricia greets everyone at the door before and after the show.
"People want to know if I ever danced with Gene Kelly," she confides. "I did get to do that, on New Year's Eve, in our house listening to Nat King Cole and Frank Sinatra on the stereo. I think about it now, and I just want to do it again. There are so many dimensions to this man that people don't realize. He spoke French and Yiddish and read Latin and absorbed poetry. He really was the consummate Renaissance man and a romantic of the old-school variety."
Prior to taking her show on the road, Patricia premiered it at The Academy of Motion Picture Arts and Sciences in Los Angeles in 2012, followed by another sold-out appearance at Lincoln Center in New York City. Soon thereafter, she contacted Jim Doti, then-president of Chapman University, whom she had met on several occasions and admired, to ask about bringing her show to Chapman.
"I felt he was a visionary and would 'get' my show, and he did," Patricia says. "He made it all happen very quickly, which proved to be a great jumping-off point for my show."
Patricia says that fans from all walks of life, including dancers, choreographers, actors and directors, are eager to talk to her about her late husband.
"Even classical ballet dancers look up to him. I get letters from men telling me how important he was in their lives as a role model, because he was graceful and masculine at the same time. I enjoy my personal interaction with his fans. The show takes you on a little journey, and by the end, you've really experienced him and his creative process."
Presented by Women of Chapman Arts & Lecture Series, "Gene Kelly: The Legacy, An Evening With Patricia Ward Kelly," takes place on Saturday, January 28th, beginning at 7 pm. For ticket information, call Musco Center for the Arts at 844-626-8726, email [email protected] or visit muscocenter.org/event/gene-kelly-the-legacy.