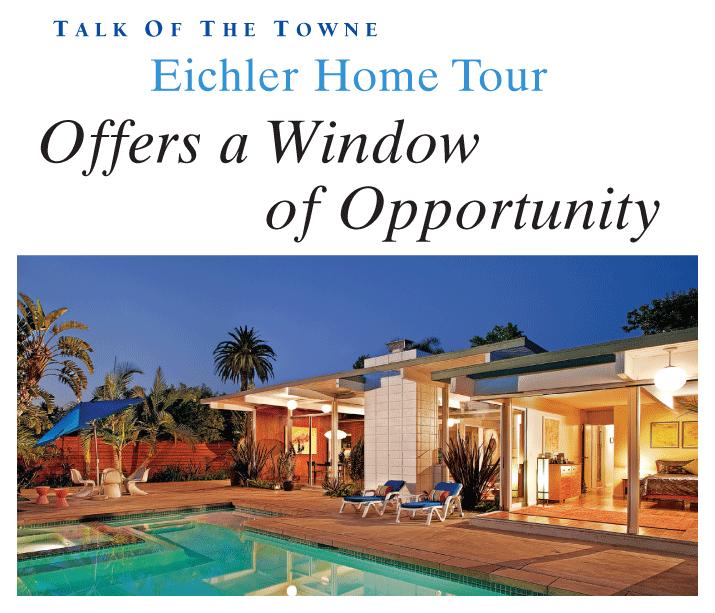 Eichler Home Tour
Real estate developer Joseph Eichler had already changed the face of architecture in Northern California when he decided to bring his unique Frank Lloyd Wright-inspired tract homes to Orange in the 1960s.
He built 350 Eichler homes in the city. The houses stand proudly today, thanks to their passionate owners and advocates of their preservation. Now people will travel from as far away as Washington, Oregon and Florida to see them in person and celebrate their gaining historic district status during the city's first Eichler Home Tour on May 18 and 19.
"Many are simply fans of Joseph Eichler's work, while others are enthusiasts of the mid-century era in general," says Robert Imboden, a board member with Preserve Orange County who has nominated the tracts for the National Register of Historic Places. "As they always have been, the Eichler homes remain popular with architects, designers and artists."
Preserve Orange County—in partnership with Better Living SoCal—organized the event, which includes a self-guided tour of the interior and exterior of homes in the Fairhaven, Fairmeadow and Fairhills tracts, as well as a cocktail reception inside an Eichler home on May 18. A panel discussion about Eichler homes and their place in Orange County history will take place during the reception. The event's second day includes child-friendly activities at Eichler homes.
Speakers set for the panel are architect and historian Alan Hess, Chapman University Associate Professor of English Tom Zoellner, Imobden, who is founder and principal of the planning and design firm JANUS and Trudi Sandimeier, a University of Southern California professor and administrator. "As both an owner of an Eichler home and being involved with the designation of the homes as historic districts, my hope is to provide a local perspective on the historic context of the Eichler homes in Orange and why they remain so relevant today," Imboden says.
Hess, author of 20 books on modern architecture, says Eichler homes embodied the California lifestyle, being relaxed and informal, open to nature and sunshine and above all, modern. They also had a great impact on architecture, showing that affordable, mass-produced housing did not have to look like "cheap look-alike cracker box houses."
"Orange County was growing rapidly in the 1960s," Hess says. "It represented the future as thousands moved here for a new life. Builder Joe Eichler wanted to provide homeowners with a way to live that new life, so the Eichler homes have come to represent the optimism of that period of history."
Eichler hired architects to bring modernist homes to suburban neighborhoods in both Northern and Southern California from the late 1940s through the 1960s. His company built more than 11,000 in all. They featured floor-to-ceiling windows, skylights and atriums, among other features.
Groups seeking to preserve the homes gained a victory in 2018 when the Orange City Council granted the three tracts designation as a historic district. The tour serves as a celebration of the council's decision.
"The number one reason to preserve Eichler homes is that they have created good, stable, friendly neighborhoods that stand the test of time," Hess says.
That's a sentiment shared by longtime Eichler owners Adrian and Thuy Turner, who have owned two of the homes since they moved to Orange County in 2007. The couple feels so strongly about preserving Eichlers that they purchased a heavily modified Eichler home, obtained its original architectural plans and spent years restoring it close to its original condition.
"New homeowners in the three tracts are pretty aware of these homes and aren't looking to change or remuddle them. But styles and tastes can change over time," Turner says. "We think it was a really big and important step to codify and implement the guidelines. It'll help protect the integrity and value of these homes.