Selman Chevrolet - Mar / Apr 17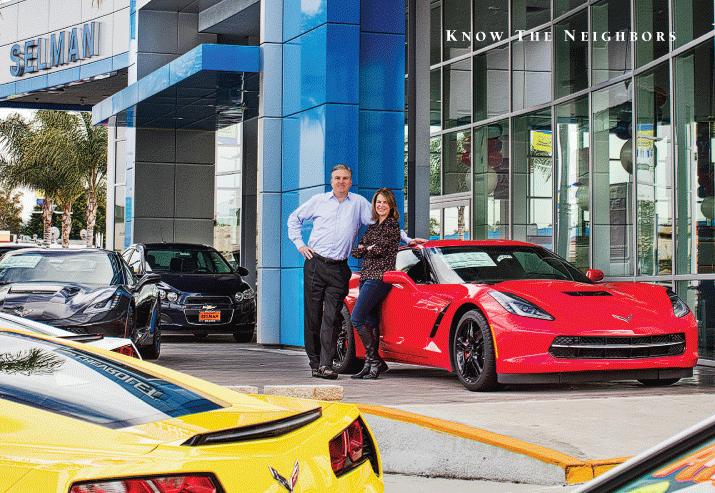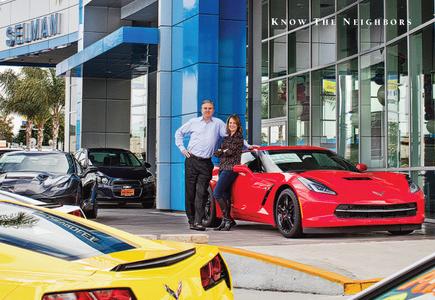 Trey Selman (left) and his sister, Perri Selman Hamilton, in front of their longstanding business in Orange. The dealership was founded by their grandfather, Howard Selman, in 1952.

Selman Chevrolet

Established in Orange in 1952, Selman Chevrolet is one of the oldest family-owned dealerships in Orange County owned by the same family that started it, says third-generation owner, Trey Selman.
"My grandfather, Howard Selman, came to Orange in 1947 to work with my uncle, who owned what is now Guaranty Chevrolet in Santa Ana," says Trey, speaking from his dealership office at 1800 East Chapman. "My grandfather then opened the Orange dealership in 1952, located on West Chapman near where the train station is now. Sometime in the mid-1960s, my father, Bill, began working full-time at the store, and by 1967, he became a co-dealer with my grandfather. That's when they moved to East Chapman where we are today."
Currently, Bill Selman and his children, Trey and Perri Selman Hamilton, are involved in the day-to-day operations of the dealership. Located on eight acres, Selman Chevrolet boasts between 500 to 600 new Chevrolet vehicles on any given day and approximately 75 pre-owned vehicles of various makes and models.
Orange County's #1 volume Chevy dealer for 65 years, Selman Chevrolet is the largest Chevy store in Orange County. According to Trey, Chevy Silverado trucks are the dealership's top-selling product, followed by the electric Chevy Volt.
With 42 service bays at the facility, Selman Chevrolet offers an array of services, including collision repair. The Selman team prides itself on exceeding the expectations of its loyal customers.
"My father and grandfather instilled in me the benefit of dedicated long-term employees and making sure they're all taken care of," says Trey. "Our staff has been with us for a very long time. Repeat loyal customers are what we focus on. We've sold cars to multiple generations of customers, and our process in both sales and services is intended to give the customers the best experiences they can have."
Selman Chevrolet is proactive in the local community here in Orange, including sponsoring the annual Orange Plaza Car Show. The store also sponsors and supports local schools and youth sports programs. An alumnus of Villa Park High School, Trey coaches teams with the Orange Junior Soccer Club, as well as the Villa Park National Junior Basketball League.
Trey and his family live in the same house that his grandfather built in 1957, located just outside of Old Towne.
"I love the hometown feeling of Orange," he says. "We ride bikes with our daughters down to the Plaza for lunch or dinner, and I always see people I know. Orange still feels like a small town, yet from a business standpoint, our store serves a large metro area, which makes Orange the best of both worlds."
Selman Chevrolet
800 East Chapman Ave, Orange CA 92867 / 714-633-3521
---
Published in the
Mar / Apr 17
edition of the Old Towne Orange Plaza Review Article Written by Karen Anderson, photos provided by Michelle James
View More Articles