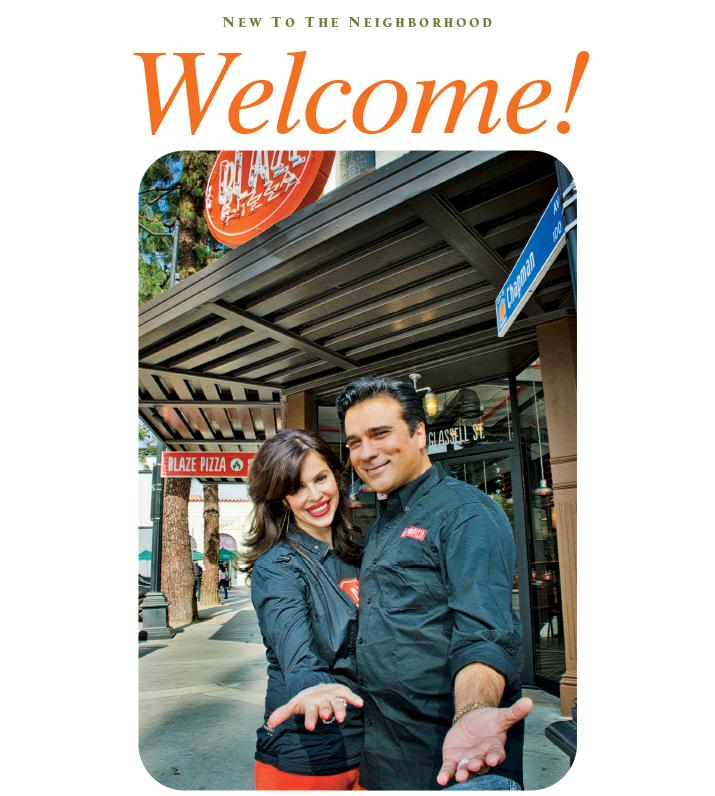 Husband-and-wife team, Mahnaz and Reza Medali, have just opened Blaze Pizza on South Glassell, serving fast-fired artisan pizza cooked in a stone-hearth oven.
- - - -
Blaze Pizza
Orange is his hometown, so what better place for Reza Medali to open a pizza restaurant than right here in Old Towne Orange.
Located at 101 South Glassell in the former Radio Shack space, Blaze Pizza offers fast-fired pizza cooked in a blazing hot, stone hearth oven that can reach upwards of 900 degrees. More than 40 choices of toppings are available, plus gluten-free dough, vegan cheese and a variety of homemade sauces. Pizzas are cooked in only three minutes, making Blaze Pizza the fastest place to go for chef-driven, healthy pizza.
"Our award-winning executive chef sources all ingredients to obtain the best of the best, like meatballs from New York and cheese from California and Wisconsin," says Reza, who operates two other Blaze Pizza locations in Monrovia and Brea.
The acclaimed new franchise boasts 70 locations nationwide. Reza says he had kept his eye out for the perfect spot in Old Towne. The minute he learned that Radio Shack was leaving, he worked with the landlords for a year and a half to secure the location. The historic nature of the building required special consideration during the remodel process.
To celebrate its opening on June 19, Blaze Pizza gave away free pizza all day and into the night past 12 midnight. Patrons experienced the "made-fresh-daily" offerings — everything from the "Link In" pizza topped with Italian sausage and roasted red peppers, to the "Art Lover" with artichokes, mozzarella and ricotta, and the "White Top" made with applewood bacon, arugula, oregano, chopped garlic and white cream sauce with mozzarella.
Salads are gourmet — like the Beet & Goat Cheese or the Roasted Veggie & Gorgonzola, while the S'more Pie comprises the dessert menu. Beer and wine will be served as soon as the license comes through, says Reza.
Focused on providing great pizza cooked with fire and served in a relaxed, enjoyable environment, Reza is enthusiastic about the response thus far to the menu and concept. He feels excited to be doing business in a location that is near and dear to his heart.
"It's an iconic corner, and it's the best location ever," says Reza. "My other locations are doing really well, and I anticipate the same for Orange."
Blaze Pizza
101 South Glassell St, Old Towne Orange CA 92866 / 714-783-9845