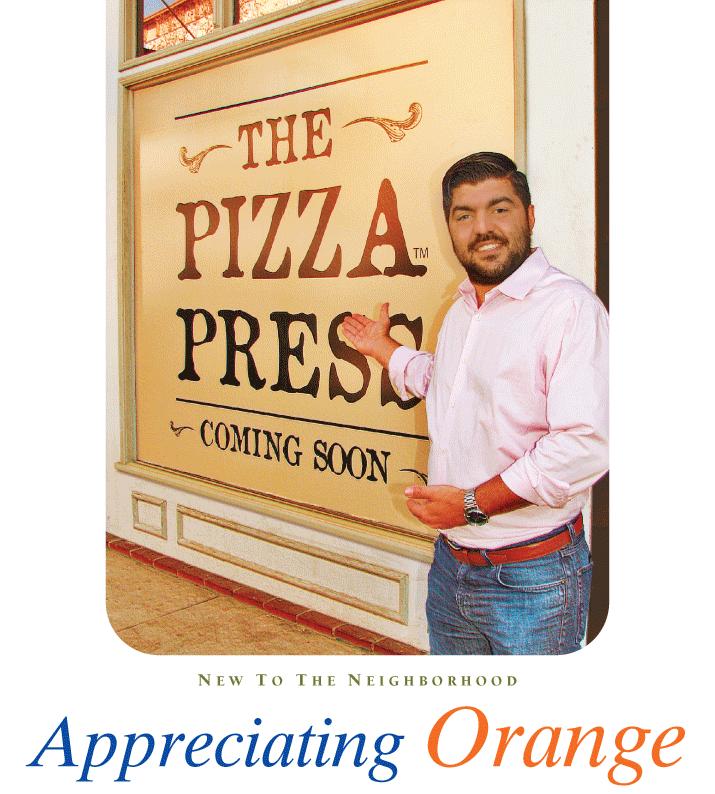 Extra! Extra! Read all about it! Great pizzas are hot off the press at The Pizza Press, the highly anticipated new restaurant in Old Towne themed after nostalgic newspapers of yesteryear. Pictured is Dara Maleki, a successful restaurateur who once worked in the printing industry selling printing presses.
---
Newsworthy pizza is just around the corner as the much-anticipated opening of The Pizza Press comes to Old Towne Orange this January.
Located at 155 North Glassell, The Pizza Press features a signature roster of delicious new creations and old classics named after newspapers like The Chronicle, The Times and The Sun. Guests can "Publish Your Own Pizza" for a completely customized pizza prepared right in front of them. The Roaring Twenties décor pays homage to the newspapers of yesteryear.
"The Pizza Press is more than just a pizza parlor –– it's an experience," says CEO and founder Dara Maleki, who opened his first location in Anaheim in 2012. "We work really hard to create a customer-service experience. We want you to come and stay a while. Every customer is special."
With 24 taps of beer on the premises, the restaurant promotes local breweries and the craft-beer movement.
"People who love beer, love pizza," says Dara. "This is a merger of the two for socializing in a great environment at a great price."
The restaurant's location near Chapman University bodes well for success. Dara anticipates it becoming a great hub for students and the community to gather and socialize.
"The 100-year-old building has such a great history and we wanted to pay our respects by exposing the original brick and restoring its other architectural attributes like the faux carriage door. Our theme focuses on an era when the printing press was a revolutionary device. The building fits right in with that."
Born and raised in OC, Dara has worked in a variety of professions—including in the print industry selling printing presses—before becoming a restaurant franchisor. Additional locations of The Pizza Press are in the works in California and Arizona.
"My belief is to find the right location," he says. "You can't get a better area than North Glassell in Old Towne Orange."
The Pizza Press
155 North Glassell St, Old Towne Orange, CA 92866 / 844-847-7377