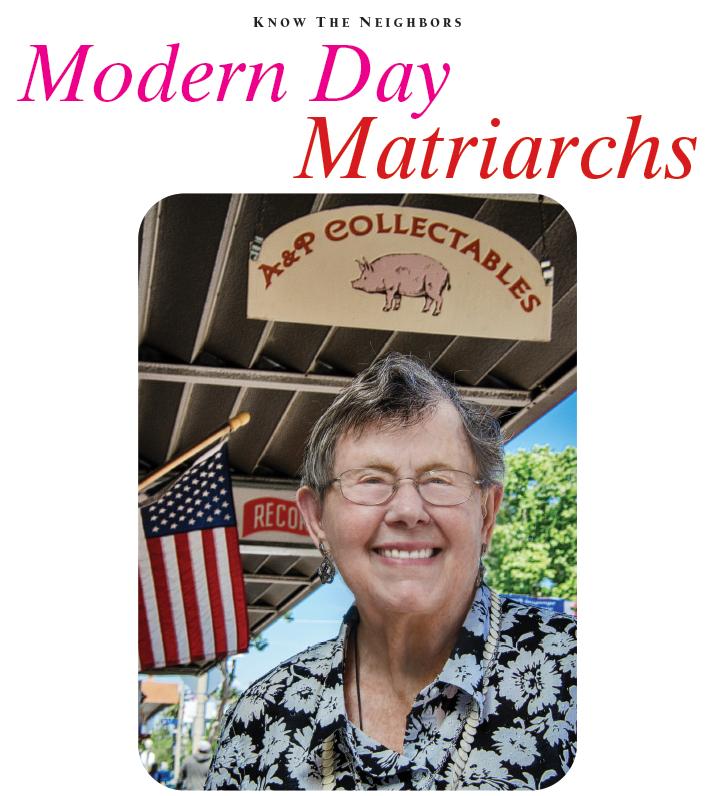 Owner of A&P Collectables, Bonnie Ackerman, works with her daughter, Lisa, at their venerable antiques store on North Glassell, which specializes in elegant glassware and sterling silver flatware.
- - - -
Bonnie Akerman
A legend in the Old Towne Orange antiques community, A&P Collectables owner Bonnie Ackerman has been in the antiques business for more than 40 consecutive years.
"I still enjoy it," says Bonnie, age 89, from behind the counter at the store at 146 North Glassell that she runs with her daughter, Lisa Baldwin. "Some of the dealers have faded away for various reasons, but I'm one of the few who's old and stubborn. I love the people and the business. It keeps me young."
A former policewoman with the Los Angeles Police Department, Bonnie got into the antiques business not long after she and a policewoman colleague were injured on the job in 1962. Bonnie says her policewoman friend inspired her to get into antiques.
"She was from the East Coast and knew antiques," says Bonnie. "I knew zero about antiques, but I thought it would be fun. And it has been. You learn something new every single day, and you get to deal with nice people."
Bonnie, who has been at her current location for the last six years, previously ran her landmark store across the street at 151 North Glassell. In the beginning of her antiques career, she started out doing mall shows, operating out of her house in Orange.
Today, A&P Collectables specializes in elegant glassware and sterling silver flatware. Bonnie and Lisa have a knack for sourcing the very best of Depression, Midcentury, Cambridge and Hi Si glass. They also offer pre-WWII American Brilliant Cut glass, along with silver plate tea sets and old Victorian tea sets.
In the early days, Bonnie would drive her van to Santa Barbara on buying trips to do "hunting and gathering" of furniture and other large pieces. These days, Lisa does most of the legwork.
"My daughter and I still go on calls together," says Bonnie. "She has a very good eye. This is her livelihood, and she loves it as much as I do. She grew up in the shop and would do her homework here. It's been lovely working with my daughter for the last 27 years. We still enjoy each other's company."
When asked if she has any plans for Mother's Day, Bonnie says Lisa will probably make dinner for her. "Lisa is an excellent gourmet cook," she says. "We will definitely spend Mother's Day together."
A & P Collectables
146 North Glassell St, Orange CA 92866 / 714-997-1370