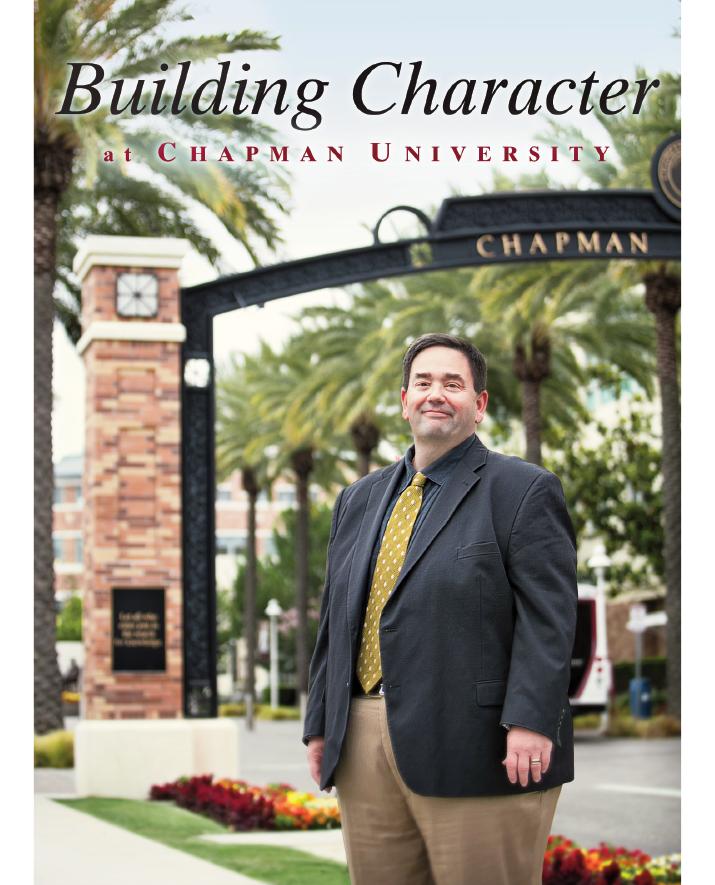 Randy Burba
When Randy Burba took over as Chief of Public Safety for Chapman University in August 2005, he soon had an eye-opening experience. Coming from the public safety department at USC, he was puzzled when urged to reassure the community after a robbery occurred from an off-campus parking lot in Old Towne.
"Since I came from a school where we were averaging 100 robberies annually in those days, I assumed there were going to be several more that year, so I was surprised by the urgency, until I discovered that there hadn't been any such robberies for three years," says Burba. "I suddenly understood that even small crimes in Orange are a big deal, and for that reason it was necessary to manage people's expectations and fears in a different way."
Connecting with the Community
Burba was pleased to discover that at Chapman he has the time and personnel available to get to know the community, rather than having to constantly put out fires. "Community members have my cell and email, and they use it," he says. "Just recently, someone contacted me about a piece of furniture left by a student. It's not the responsibility of my department to remove furniture, but it is our job in the broadest sense to solve problems. My mantra is: try to understand what each person's concern is and help provide solutions. It may be cliché, but I believe in leaving people better off than you found them."
During his career, Burba has discovered that the key to public safety working effectively is earning the confidence of the community. "It's all about developing relationships," he says. "If the community doesn't trust us, then we can't do our job."
A big part of the work Burba does involves outreach and training programs aimed at public safety. His department offers courses in first aid and CPR, Active Shooter training, which teaches participants the potentially lifesaving actions to take if confronted by an armed individual, and Rape Aggression and Defense (R.A.D.) classes for women.
"Every time we hold one of our trainings, we build relationships in the community while giving people critical skills and information," he says. "Many people aren't taught how to deal with dangerous situations. Our responsibility is to teach so that you instinctively know how to act in life-threatening scenarios."
Secure Campus Environment
Ensuring a secure campus environment is another key task for Burba and his department, and faculty members believe he does an exceptional job—like Marilyn Harran, Chapman's Stern Chair in Holocaust Education and founding Director of the University's Rodgers Center for Holocaust Education.
"Randy has a complicated job with numerous components, many of which go unnoticed, because he and his team work hard behind the scenes to ensure that everything goes smoothly," says Harran. "That sometimes means complex negotiations, which he navigates successfully, while also empowering his staff. I especially appreciate his commitment to working with the Rodgers Center during major events like our annual Holocaust Art and Writing Contest that results in 1,000 middle and high school students, their parents and teachers and elderly Holocaust survivors visiting campus."
Helen Norris, Chief Information Officer at Chapman, adds, "I think one of Randy's strong suits is that he's so collaborative and a delight to work with. For example, he and I recently collaborated on an upgrade to the Panther Alert system, which allows us to message the campus community in an emergency situation."
Another campus safety measure Burba put in place is Rave Guardian, a smartphone app that allows students, faculty and staff to turn their smartphones into personal safety devices.
Cristina Giannantonio, Associate Professor of Management at Chapman University's Argyros School of Business and Economics, saw firsthand how effective Rave Guardian is when she and Burba had lunch together recently. "We were at Citrus City Grille, and Randy was showing me some of the Guardian App features. Within a few minutes, two public safety officers rushed into the restaurant to make sure he was okay. I told him I had never felt so safe!"
Southern California Beginnings
Born in Downey in 1967, Burba lived there and then Walnut, where he grew up an only child. "I was a latchkey kid with two working parents, who didn't get home until evening. I'd walk home from school and do my homework and then play outdoors with my friends until the street lights came on and everyone had to go home."
During those years spent outdoors, Burba learned a respect for nature and developed a fondness for animals. "I caught tadpoles from the creek down the street, and I took in stray and hurt animals that I would nurse back to health, like birds, a tarantula and snakes. I even had a pet rat that I trained to come when I whistled."
After high school, Burba attended Cal Poly Pomona and then got a job at USC in the public safety department as a public service officer. "I was 19 at the time and could relate to the students," says Burba, who noticed how the officers working in public safety seemed to enjoy their jobs and the camaraderie, so he attended the police academy. Staying on at USC, he was promoted up through the ranks until 2003 when he became captain and found himself in charge of 225 people. While he enjoyed the job at USC, he didn't agree with the direction the department was taking when new leadership was brought on board in 2004, so he looked for another position and had the good fortune to stumble upon an opening for chief at Chapman.
"Even though I worked just 35 miles from here, I'd never heard of Chapman," says Burba, who became enamored with the university and the community and who now lives in Orange. He is married to Martha and has two daughters, Audrey and Brittany, who attended St. John's Lutheran School in Old Towne.
Advancing Campus Safety
In addition to his work at Chapman, Burba strives to advance the campus safety profession and unify standards. To do so, he currently serves as the president of the International Association of Campus Law Enforcement Administrators and recently served a term as president of the California College and University Police Chief's Association, which works to ensure excellence in the profession, including creating and presenting law enforcement legislation for crime prevention and victim's rights. In May, he gave a talk in China to their higher education association about campus security issues faced in the United States.
It's Burba's commitment to the field of public safety that makes Chapman lucky to have him, notes Jack Raubolt, Chapman's Vice President of Community Relations. "Randy understands the role of public safety in a way that keeps our environment secure. One of his many strengths is his ability to understand rules, regulations and laws. He can tell you in a sentence what a law is all about and why it's in place."
At the heart of it, Burba strives to make Chapman a safe haven. "Students, faculty and staff deserve a secure place to work and play," he says. "I believe that whatever you do in life, if you approach from a position of genuine care and concern about people, then you can never go wrong."
For more information about Chapman's public safety programs, visit www.chapman.edu/campus-services/public-safety/message.