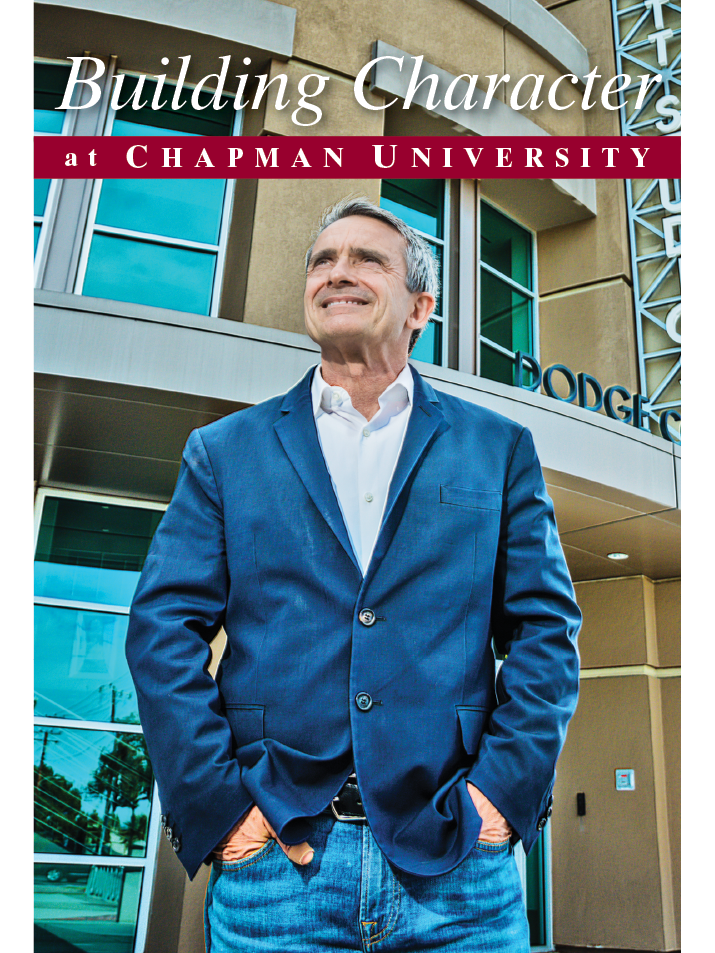 Stephen Galloway
Stephen Galloway's love of film started at an early age when he was swept up and carried away watching movies as a child in London theaters. The first picture he remembers seeing was "Snow White," soon followed by the cult classic "The Night of the Hunter." It was the latter that stuck with Chapman University's Dean of Dodge College of Film and Media Arts.
The only movie ever directed by English stage and film actor Charles Laughton, "The Night of the Hunter" chronicles a killer masquerading as a preacher. "When you're five years old, you don't understand what's real and not real, so the film entered my dreams and nightmares," says Galloway. "At the same time, it showed me the enduring power of motion pictures to envelop you in a different world, to affect your thoughts and emotions—your very life."
Born in Manchester, England, Galloway grew up in Maidenhead, a few miles from Windsor Castle. His father is British and his mother French. During his teens, he spent time in France with his mother's family.
"In Paris, as soon as I stepped off the train, my great-aunt would give me croissants and the cultural guide L'Officiel des Spectacles. "I'd build my entire vacation around the movies that were playing, trying to cram in three or four each day and usually ending up back home around one in the morning. My aunt was an extraordinary, intellectual, opinionated, passionate woman, and we'd then stay up till three in the morning arguing about movies and literature—and books and people and Freud and Marx."
So enamored with cinema was Galloway that he dreamed of moving to Hollywood to attend film school. At Cambridge in England, he earned his master's in English, where he graduated with the highest distinction, First Class Honors. He then won a Harkness Fellowship, which enabled him to come to the US and attend the USC School of Cinematic Arts in the early 1980s. He ended up dropping out, however, after one semester.
Culture Shock
"Coming from England to Los Angeles, I experienced culture shock," he says. "I had no one to hold my hand and walk me through the educational system, which was very different from England's. At Chapman, I work to make sure that none of our students feel like I did. It's critically important to me—and everyone in the film school—that we create a warm and welcoming environment and that we catch anyone who stumbles."
A year later, he attended the American Film Institute's Center for Advanced Film Studies where he was much happier. That was after meeting director Martin Ritt, who took him under his wing.
"Everyone should be so lucky to have a mentor like Marty," says Galloway. "He completely changed my feelings about Los Angeles and America. During his career, he directed films of substance, about real issues and complex people, such as 'Norma Rae.' He was a moral and ethical force, when Hollywood isn't always that way. He taught me that you can work in the film industry and still stand up for what you believe in and try to do the right thing."
After graduating from the AFI, Galloway heard about a job reading scripts at Universal Studios and another position as an assistant at the Los Angeles Herald-Examiner. "Though I really wanted the script-reading job, I got the one at the Herald-Examiner," he says. "At the time, it seemed arbitrary, but it turned out to be the perfect job. There are two things I love—writing and film. That started me on my career in journalism, writing about film and the entertainment industry."
In 1984, his visa expired, so he returned to Europe and resided in Paris for two years. "It was the classic living in a garret apartment with a lovely girlfriend and walking up seven flights of stairs every day with groceries," he says. "Paris is magical. There's no other city outside LA where they revere film as much, and of course it took me back to the place I'd most loved since I was a child."
Years at The Hollywood Reporter
But Galloway soon realized that if he wanted a career in the film industry, he needed to return to Los Angeles. Soon after moving back, he interviewed for a position at the Hollywood Reporter. "I took the job thinking it would be good for a year, and in the blink of an eye, I'd been there for 27 years," says Galloway, who amassed an impressive journalistic resume during his time at the publication, where he served for many years as executive editor and created the Reporter's longstanding television roundtable series featuring a host of A-list talent, from Clint Eastwood to Viola Davis.
In 2014, he won an Emmy for that program in partnership with PBS SoCaL. The episode that garnered the award featured interviews with those involved in the creation of the movie "The Wolf of Wall Street," including Martin Scorsese and Leonardo DiCaprio. He was also named 2013 journalist of the year at the National Entertainment Journalism Awards. And he authored the biography Leading Lady: Sherry Lansing and the Making of a Hollywood Groundbreaker, released in 2017. Lansing is former CEO of Paramount Pictures and was the first woman ever to run a studio, at 20th Century Fox.
During his time at the Reporter, Galloway spearheaded the Women in Entertainment Mentorship Program, which had its beginnings in 2009. Through a partnership between The Hollywood Reporter and Big Brothers Big Sisters of Greater Los Angeles, the program pairs high school juniors from schools in South Central Los Angeles with top-level women in film and TV. More than 300 teenagers from disadvantaged backgrounds have participated in the program and gone on to top universities, many entering the entertainment field after graduation. More recently, in association with Oprah Winfrey, he launched a leadership program for young men and women of color, the Young Executives Fellowship.
Coming to Chapman
In the summer of 2019, Galloway was approached about interviewing for the position of dean of Chapman's film school. He had visited in 2017 when the school's founder, Bob Bassett, invited him and Lansing to speak about her biography. "I was so impressed with how Bob had built such an amazing film school from nothing," says Galloway.
He took the position as dean in March 2020 and continues to be impressed by the university. "Chapman has an extraordinarily supportive and friendly faculty and staff, and the students are exceptional and so appreciative of everything you do for them," he says.
Robert Dowling is former Editor-in-Chief and publisher of The Hollywood Reporter. "Stephen's transition to Chapman was a brilliant idea," says Dowling. "He understands film at every conceivable level. He knows the business, the people, has access to everyone in the business and a gift for mentoring young people."
Goals for Chapman's Film School
Galloway has three main goals for the film school. These are increasing the school's osmosis with Hollywood by bringing in more speakers and creating internships and jobs in the field.
He also intends to focus on recalibrating the curriculum to ensure it keeps up with changes in the film industry, including the rise in streaming and the resulting blurred lines between television and film. "We're looking at where the industry will be in five to ten years so that what we're teaching is relevant," he says.
His final goal is to continue to increase diversity amongst faculty and students. "Increasing diversity is the right thing to do and fits with what I've been doing for the past 12 years with the mentorship programs," he says. "Hollywood is now hyperaware of the need to reach multiple audiences. There's no better way to do that than by ensuring film students and faculty members represent varying viewpoints."
As Michael Kowalski, Senior Associate Dean of Dodge College of Film and Media Arts sees it, Galloway has already made great strides with his initiatives. "Stephen has led a big push to bring more instructors of diverse backgrounds to the school and is working on doing the same for the student body," he says. "He's also pushing us to think ahead and revise and update our curriculums so they conform better to what the industry is like today, and more importantly, what the industry might be like in the future."
For Galloway, being at Chapman is a lot like watching a great movie. "This has been the most wonderful experience ever," he says. "I just love Chapman. Sometimes I blink and wonder, how did I get so lucky?