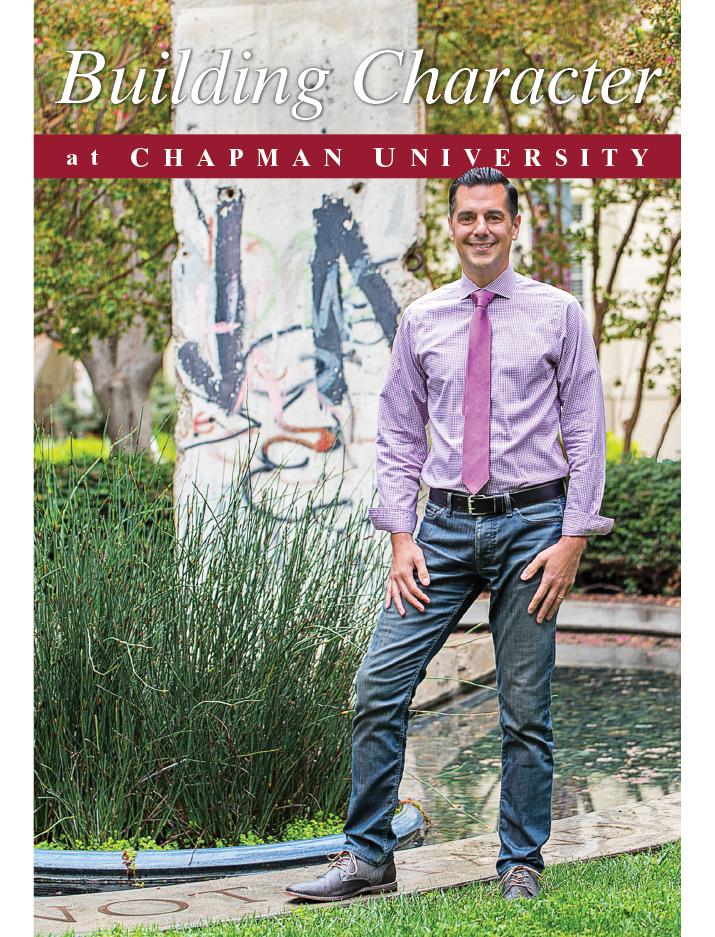 Gregory A. Daddis, PhD
1989, when Gregory Daddis joined the Army as a lieutenant after graduating from West Point and went through officer training, a centuries old book taught him the integral role history plays when it comes to war.
"We were at Fort Knox for a 10-day exercise in the cold, clay Kentucky mud. Every night, we'd gather in a warming tent and go over chapters in Sun Tzu's The Art of War," says Daddis, an associate professor of history and Director of Chapman University's MA Program in War & Society.
"Studying The Art of War gave me my first inkling that the best officers put the tactical element of war into a larger context," says Daddis. "It became clear to me that there was perspective and potential wisdom to be gained from history."
During his 26-year military career, Daddis served in a variety of Army command and staff positions and is a veteran of Operations Desert Storm and Iraqi Freedom. He retired as a U.S. Army colonel in 2015. His last five years in the service, he was Chief of the American History Division in the Department of History at the United States Military Academy at West Point.
The Vietnam War's Far Reaching Effects
The author of four books on war, Daddis is an expert on the Vietnam conflict and the Cold War. He holds undergraduate and master's degrees in history. His PhD in history, which he earned from the University of North Carolina at Chapel Hill, focused on American history as it relates to the Vietnam War.
"I found while researching the Vietnam War that it was a much more complex situation than has been related historically," says Daddis, whose recent book is, Withdrawal: Reassessing America's Final Years in Vietnam. "Many of the narratives told about the Vietnam War are reductive, focusing on clichés like search and destroy and body counts, when the U.S. actually took a more holistic approach."
While studying and recounting the phenomenon of the Vietnam War, Daddis became less interested in military tactics and more keenly attuned to the overarching effects of war on society—in particular the human toll.
"The Vietnam War had profound social consequences for the United States. The experience is still a relatively fresh traumatic and scarring event. The fact that the United States didn't achieve its objectives in Vietnam required that we faced our limitations in terms of American power overseas. At the same time, it has come to light as we integrate Vietnamese voices into the story that the issues could only be resolved by the Vietnamese. There were deep-seated questions about national identity and independence that couldn't be answered by outsiders."
Daddis recently had the opportunity to share his insights for a PBS 10-episode documentary, "The Vietnam War," which premiered this past September. He advised filmmakers Ken Burns and Lynn Novick as they developed the production, which focuses on the perspectives of those who experienced the Vietnam War firsthand.
"The series doesn't shy away from illustrating the horrors and unintended consequences of war, which is a good thing," says Daddis. "I'm very glad to have been a part of this national conversation on the effects of war."
Chapman University's War & Society Program
Daddis, who grew up in New Jersey, joined Chapman University's History Department in 2015 after retiring from the Army. He and his wife, Susan, came west after he was recruited by Jennifer Keene, Chapman University's Chair of the History Department.
"Jennifer had an idea to create a graduate program in war and society," says Daddis, who has a daughter, Cameron, currently a junior at Vassar College. "A position was created for a director of the proposed program, and I was fortunate to apply and get the job."
Over the last two years, Daddis explains that they've created a program that covers three main areas: how societies go to war, experience war and deal with the social, political and cultural consequences of war.
The War & Society program is associated with Chapman's nationally recognized program in Holocaust Studies, as well as Peace Studies and the Center for American War Letters. "These resources are unique to our program and make for a rich, multi-dimensional experience for our students," says Daddis. "I believe the only way to see war in its true light is to access as many perspectives as possible."
MA in War & Society Nationally Recognized
Keene believes that Daddis's approach is working. "In just two short years, Greg has taken the MA in War & Society from a promising idea to a nationally recognized program attracting students from the State Department, U.S. military and top undergraduate institutions," she says. "Greg is a leading scholar of the Vietnam War and a captivating public speaker. His passion for the history of war and society is rooted in his desire to improve the tenor of contemporary public conversations about the value of war."
Chapman University Political Science professor and Trustee Mark Chapin Johnson, agrees with Keene. "The War & Society program is an unprecedented, incredibly unique program addressing the profound fact that as a nation, the United States has been in perpetual war since its founding in 1776. Greg is the ideal person to head this program and ask the question that hasn't been asked before: What is the cost of continual war to our culture and society?"
Chapin Johnson, who is also an Army veteran, sees Daddis as the ideal person to head the program. "Greg has the critical thinking skills and ability to synthesize relevant information in this area. He understands human and political behavior, and most importantly, he realizes the limits of military power and the risks inherent in using military power instead of diplomacy."
Daddis hopes that Chapman becomes a national resource for the study of how war impacts society. In order to encourage a wide reach, the university is partnering with the Nixon Foundation to fund an annual university scholarship for mid-career state department Foreign Service officers to study in the program.
"The War & Society program's aim is to take a holistic, interdisciplinary approach to the study of war so folks can challenge assumptions about war," says Daddis. "Many Americans still believe that war has the capacity to positively transform societies overseas, despite historical evidence to the contrary. The recent photos of the devastation in Mosul, Iraq illustrate that war often begets unintended consequences. This knowledge could ideally lead us to more thoroughly consider other options to overseas problems, like diplomacy."
Chapman University's Berlin Wall
A powerful symbol of the Cold War, the Berlin Wall was constructed by the Communist government of East Germany in 1961 to separate East and West Berlin. The wall stood until November 9, 1989, when the East German Communist Party announced that citizens could cross the border as they wished.
After the wall's fall, it was deconstructed and pieces became scarce. Thanks to a two-year quest by Chapman University's President Emeritus Jim Doti, Old Towne Orange has part of the Berlin Wall. The 2.5-ton, 12-foot piece of wall that still features pre-fall graffiti arrived on campus September 28, 1998. The wall is located in Chapman's Liberty Plaza.