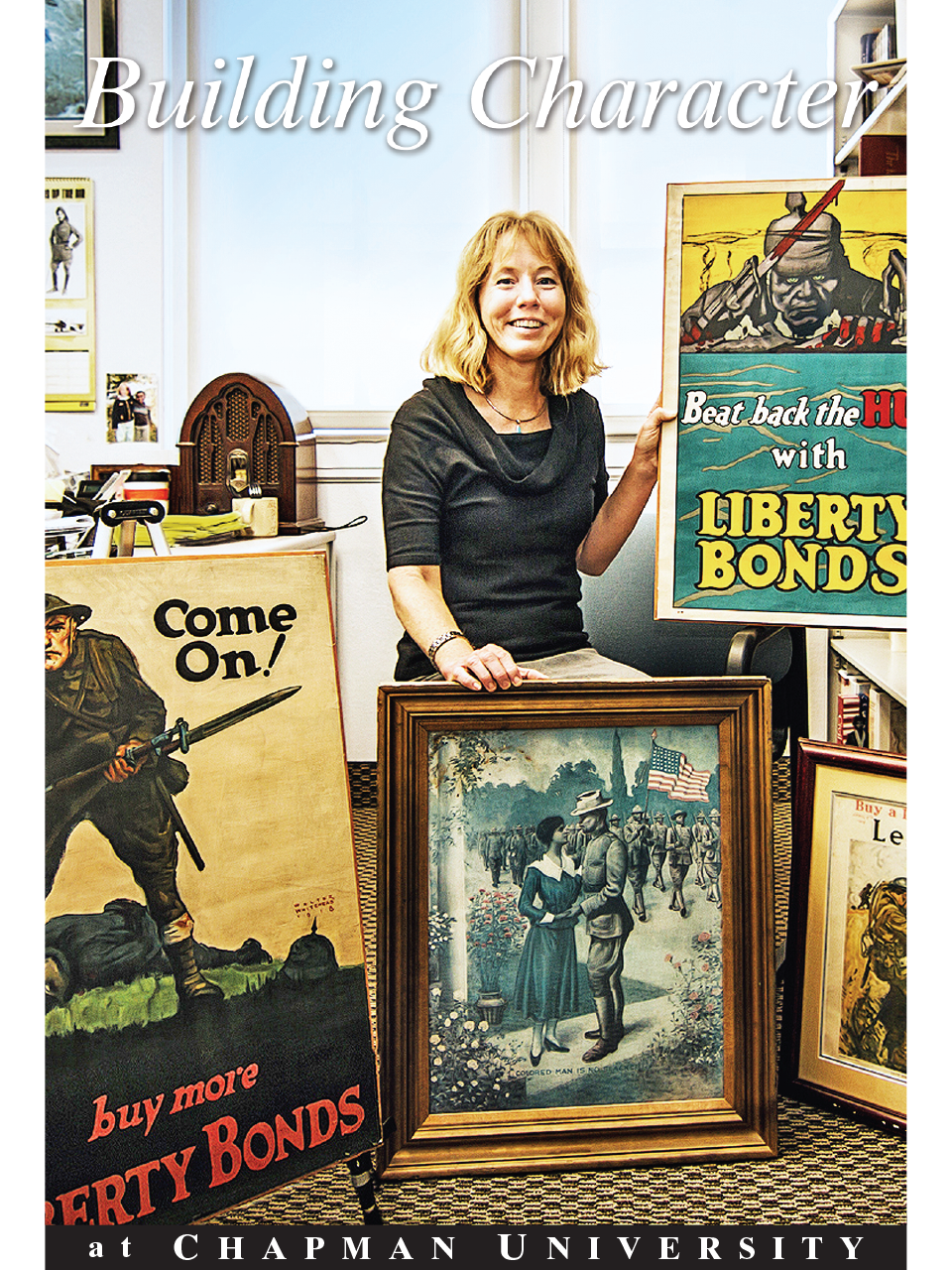 Dr. Jennifer Keene
Jennifer Keene knows that many students envision wordy textbooks when it comes to history lessons. While Chapman University's professor of history and the History Department chair doesn't refute the value of the information those books hold, she knows from personal experience that an encounter with real life artifacts makes the past come alive and the significance of the present come into focus.
"I still remember buying a dress from the Civil War era when I was in middle school and putting it on," says Keene. Donning that dress transported her to a long ago time while helping her better understand her own world.
"We underestimate how much we experience through our senses," says Keene, a specialist in American military experience during World War I and author of several books, including Doughboys, the Great War and the Remaking of America and World War I. "When you can touch the real thing and hold it, you can imagine how it was used and the time in which it was used. Handling a World War I gas mask gives you pieces of a puzzle and prompts you to ask questions in order to fill in the puzzle."
Chapman's Center for American War Letters
Given her penchant for using artifacts in teaching, Keene welcomed the recent introduction of Chapman's Center for American War Letters (CAWL). Originally started by author and historian Andrew Carroll, the donated repository contains 100,000 previously unpublished war letters—from Revolutionary War notes to emails from soldiers in Iraq and Afghanistan.
"For students, holding and experiencing original sources like the war letters provides moments in their education that they will never forget," says Keene.
Zack Ghodsi is such a student. The senior history major took Keene's World War I class. "I still cannot believe I was able to work with the war letters," he says. "It was amazing to see 100-year-old documents and decipher the writing of the authors."
Ghodsi was particularly intrigued with the realization that history has not been completely written. "Dr. Keene showed me that even if a topic you like has been analyzed at length by historians, there is always a method or theory that can bring new insight on the topic and show its relevance in today's world."
Young Writer and Historian
Born and raised in suburban New Jersey, Keene discovered early on an interest in writing and history. "My parents were big readers and exposed me to literature," she says. "My mother also loved visiting historical sites like Civil War battlefields, and we often went antiquing, which provided my first exposure to artifacts."
It was on a visit to a New England antique shop that Keene discovered the Civil War period dress.
"I had just watched "Gone With the Wind," and when I saw the long-sleeved blue taffeta dress with white lace on the collar and a cinched waist, my mother bought it for me because she could see that it was the perfect creative play dress. At the time, I wrote plays and dressed up to perform them for my parents."
After high school, Keene studied at George Washington University, where she started in journalism but switched to history when she received a fellowship in the subject. The scholarship gave her a chance to also try teaching, which she found she enjoyed. She earned her Bachelors and Masters there and then her Ph.D. in History from Carnegie-Mellon University.
"While studying for my doctorate, I experienced incredible intellectual growth, which made me realize there is tremendous creativity in constructing historical narratives," she says. "I saw that writing combined with my love of teaching and learning about history meant I could have an intellectually stimulating life."
Making History at Chapman
Keene joined Chapman in 2004 after teaching at Redlands University. "I was recruited with the promise that the school was in the process of transforming itself and that if I had initiative and energy, my ideas would be supported, which turned out to be 100 percent true," says Keene, who received the Wang-Franklin Professorship for 2007-09, the highest faculty award given by the University.
When she proposed a Master's program for the history department in 2013, the idea was greeted with enthusiasm. "I was waiting for a compelling reason to propose a program, and the Center for War Letters provided that reason," says Keene. The program received formal approval in 2014 and offers a one-year track for existing Chapman history majors and a two-year track for other students.
Chapman's founding Director of the University's Rodgers Center for Holocaust Education, Marilyn Harran, comments on Keene's work at the school. "Jennifer has the rare ability to be both visionary and work collegially. With her colleagues, she has built an exceptionally strong history department as evidenced by the many awards won by our majors and the national recognition that our chapter of Phi Alpha Theta has received," she says. "The new center will give students tremendous opportunities to do innovative, hands-on research. I can't even begin to guess at all the knowledge that will come to light through study of the letters."
The war letter collection is constantly growing thanks to the continual donation of letters. The fact that the project is a living one is a good thing—because without such tangible links to the past, it is too soon forgotten.
"The First World War had a huge impact, but once World War II came, the Great War was forgotten, and Vietnam no longer has the cultural resonance it once had," says Keene. "The letters shed light on those bygone times, sparking the imagination and keeping people interested."