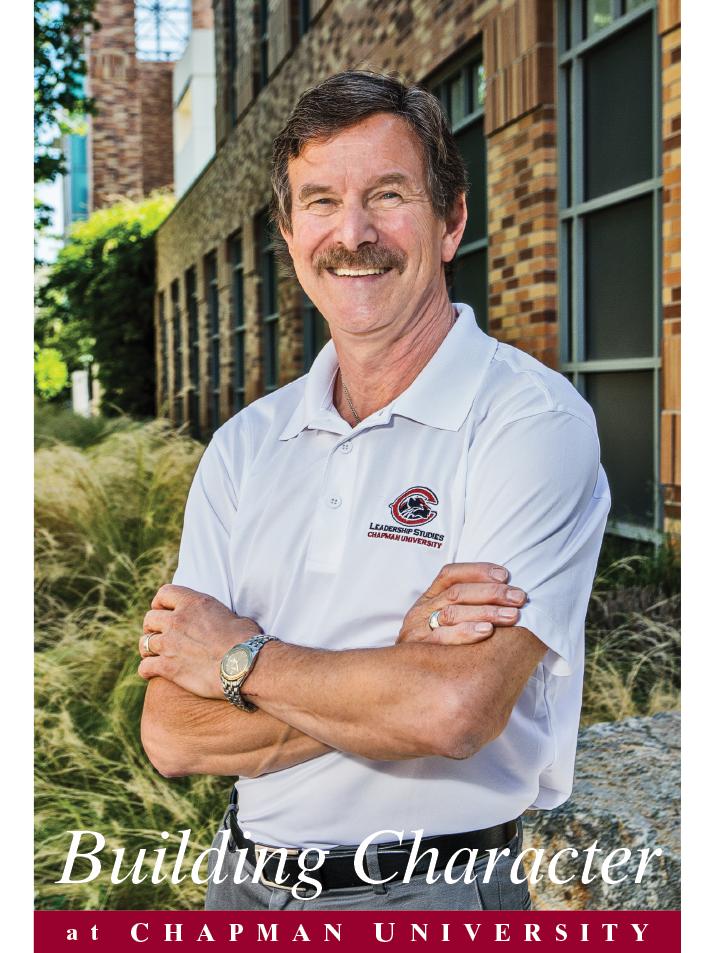 Dr. Mark Maier
At times when we're young, we unknowingly get a glimpse into our futures. Such was the case for Mark Maier, who lived in Cocoa Beach, Florida in the early 1970s as a teen.
"From our back doorstep, we'd watch the Apollo launches, known as moonshots," says Chapman University's Director of the Leadership Studies Program at the Attallah College of Educational Studies. It was Maier's indirect involvement with the space program years later that ending up landing him at Chapman.
After getting his Bachelor of Arts from Rollins College in Florida, Maier went on to earn his Master of Arts and then PhD in Sociology in 1986 from Cornell University. That same year, he got a position at Binghamton University in New York (SUNY) to coordinate a business concentration in their Applied Social Science program. But when the School of Business at SUNY went up for national accreditation, he was asked to eliminate that focus on business and replace it with something else.
"Since I had a doctorate in Sociology, I was happy to make the move," says Maier. "That freed me to work on something I felt the world desperately needed—leadership studies." In 1988, he started a leadership program at Binghamton, making SUNY one of the first institutions in the nation to offer such a program of study.
Space Shuttle Challenger Disaster
As he worked toward earning tenure, Maier and his wife, Lori Zucchino, who he met on a blind date in 1980 and married in 1982, planned to spend their lives in Upstate New York. But Maier was denied tenure after seven years. The reason was tied into his leadership and research work involving the Space Shuttle Challenger Disaster—an area his dean didn't want him to focus on.
Maier had met Roger Boisjoly, a booster rocket engineer at Morton Thiokol, the company that supplied the rockets for the NASA shuttle program. Boisjoly had warned against launching the Challenger. The story Maier heard from Boisjoly prompted him to write and produce the video-based training module, "A Major Malfunction: The Story Behind the Space Shuttle Challenger Disaster," which has been used in more than 1,000 universities and organizations and in 23 countries since its release in 1992.
The intent of what Maier considers a pedagogical documentary was to teach about leadership ethics and organizational transformation. "The video was intended to impact viewers in a visceral way in order to change organizations," says Maier, who notes that many corporations and all four branches of the U.S. military got copies.
"My denial for tenure turned out to be one of the best things that ever happened to me," says Maier, who found out that Chapman sought a director for the university's new Leadership program, so he applied and got the position in July 1994.
For Maier, coming to Chapman was a dream come true. "At the time, Kevin Costner's 'Field of Dreams' movie was popular," he says. "I had that feeling the more I learned about Chapman. When I saw the big bust of Albert Schweitzer on campus, whom I admire and often quote, I thought, is this heaven? No, it's Chapman."
Chapman's Leadership Studies Program
Maier, who lives in Orange and bikes to work, feels blessed to have led Chapman's Leadership Studies program (LEAD) over the last 24 years.
"I often refer to the LEAD program as Chapman's 'secret menu,'" says Maier, who is the only fulltime faculty member for LEAD. He coordinates the university-wide minor and General Education electives for undergraduate students, which now serves nearly 500 students.
In 2006, Maier made the decision to eliminate the bachelors in Leadership, since there weren't many careers associated with the major. "Because it's harder to justify allocating campus resources to a minor, it was a risky—but philosophically justifiable—move," he explains. They do have a Masters in Leadership Development, which Maier had a hand in creating, and a PhD in Education program with an emphasis in Leadership.
As an undergraduate minor at Chapman, Leadership has steadily grown in popularity. "We're proud that so many students across so many majors choose to minor in the program, which aims to complement and reinforce the university's mission," says Maier.
LEAD's purpose, Maier says, "is to prepare students to lead a life of service, so that they may dedicate themselves to creating a better, more just and caring world. As Albert Schweitzer—Chapman's 'guiding spirit'— said, 'Everyone must work to live, but the purpose of life is to serve and to show compassion and the will to help others,' " says Maier.
According to Maier, the leadership program is at the heart of what Chapman represents and strives to transform students into the best people they can be, so that they can go out into businesses and organizations and ensure that those institutions become the best they can be. "The program also teaches that one can do well by doing good," he says.
"The mindset we teach is servant leadership, which focuses on the common good as opposed to individual gain," says Maier. "The Challenger Disaster and recent events like the mortgage crisis are examples of how short-sighted, unethical decisions are made regarding the bottom line at the expense of integrity. I often ask students and clients, 'Who would you rather work with and for: People who are out to serve themselves, or out to serve others? And do you want people working for you who are serving others …. or themselves?' It's a no-brainer."
As the leadership program teaches, there are ways to make decisions and lead that are ethical and effective. It starts with leaders who understand themselves, which the program fosters. "Relationships with oneself and others are primary," says Maier. "Everything else is derivative."
Kim Padulo (PhD) is one of Maier's closest colleagues in the Attallah College. "LEAD is very unique and transformational for students of all majors," she says. "They learn valuable skills that employers seek. Mark is a terrific idea person and very student-focused, as well as a prodigious worker and team player."
Student Focus
In addition to managing the program, Maier, who has won awards for his scholarship and teaching, instructs upper level leadership courses, as well as takes students on leadership retreats.
"The students live without their cellphones for the weekend, which they're not excited about at first. But as they interact and have face-to-face conversations in real time, by the end of the weekend a majority say the most important thing they learned was that to connect you have to disconnect," says Maier.
Christian De Anda graduated in May 2018 with a double major in Accounting and Finance and a Leadership minor. "My best college experience was the weekend trip to the mountains with Mark," he says. "We spent three days without cellphones learning the Eastern definition of leadership and how important it is for leaders to take time for themselves and not be distracted by the world around us. It was an experience that many of us still talk about two years later."
Brad Comp, who works in the financial industry, has seen the results of the LEAD program firsthand. "Mark's program teaches critical life skills to students that help them make strategic decisions and face the many ethical issues that come up in life," he says.
Leadership Development Associates
Maier also runs a leadership development consulting company with his wife. "Lori and I enjoy working together," he says. "She came on board in 2002 to oversee the daily management of the business, and serves as the primary curriculum design expert and full co-facilitator of all our programs."
Over the years, the couple has found that their programs are consistently ranked high by clients. They've taught leadership skills to companies in the private sector, as well as public entities, including the IRS, the City of Anaheim and the County of Orange. Some of the people on the recent election ballot went through their program.
Maier and Zucchino also consult with the Space and Missile Systems Center in El Segundo—which brings up another twist of fate. "My parents met at the Naval Air Station at Patuxent River, Maryland, which is an air station for test pilots, from which the original Mercury 7 astronauts came," says Maier. "My mother dated Alan Shepard before she met my father. Fortunately for me, that didn't work out."