Byblos Café - Jul / Aug 18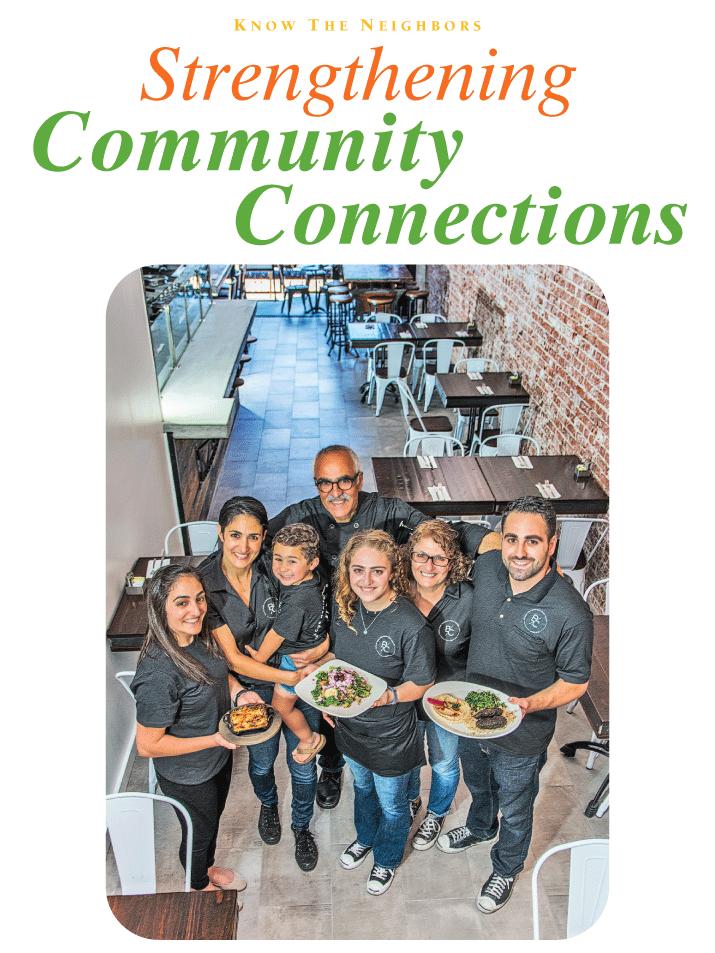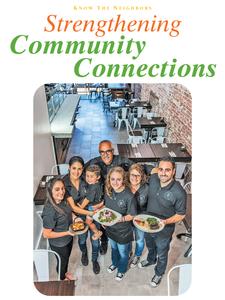 Running Byblos Café is a family affair for the Mahshi family, who have worked together to serve up authentic Mediterranean cuisine in Old Towne since 1989. From left are Tatiana, Tammy with Jayden, Adel, Tasha, Zalfa and Tim.
- - - -
Byblos Café
Diners who had the good fortune of eating at the Mahshi family restaurant, Byblos Café, in the Plaza two decades ago, probably dined with their youngest employee, Tasha Mahshi. At the time, Tasha was a toddler in a high chair.
"The guests wanted to eat with her, so we moved her high chair from table to table," says her mom, Zalfa Mahshi, who has run the restaurant that serves up authentic Lebanese cuisine in Old Towne since 1989, with her husband, Adel. "By three, Tasha handed out menus."
All four of the Mahshi children grew up in the restaurant—one of the original eateries in the Plaza, which started as a Middle Eastern grocery store/deli. The oldest, Tammy, was eight when the Mahshis bought the business.
"After school, I helped my dad cook," says Tammy, who with siblings Tim, Tasha and Tatiana, is now running the newly renovated restaurant with their parents. "We all learned to cook the Lebanese way. Rather than measuring and weighing ingredients, like fresh produce and spices, we cook by smelling and tasting."
The result of this intuitive approach is a restaurant that has become a beloved staple of authentic Mediterranean food. The popular dishes originate from recipes handed down to Adel from his mother and grandmother. They include classics such as falafel, kababs and Shawarma with Hummus & Tabouli. From Zalfa's side of the family come delectable homemade desserts, like Knafe—shredded filo, special spices and ricotta cheese topped with traditional rose and orange blossom syrup.
"Byblos is unique and one of the best restaurants in Orange County," says Ocean Escada, currently an executive chef in a private residence. "The food and the ambiance are incredible."
Many of the specialties created at Byblos are cooked in their eye-catching pita oven, adorned with black and white Moroccan tile. The oven is one element of the newly renovated restaurant. Bill Largeant did the conceptual design, and the remodeling was completed by Adam Feliz of Touchstone Construction Services.
In keeping with the 1920s building, the crew knocked out walls, exposing original red brick. They also raised the ceiling. "We added bar seating facing the kitchen, so you can watch the cooks in action," says Tammy. "We also have eight-foot-tall bifold window doors that let sunshine in during the day and cool breezes at night."
Throughout the restaurant are various accents celebrating the family's heritage, such as bathroom wallpaper featuring the Port of Byblos in Lebanon with Adel's favorite Bible passage, Psalm 104, verses 12-17.
"Longtime customers love that we know what they want to order, and so do we," says Tammy, whose three-year-old son, Jayden, is now growing up in Byblos. "That's what a family business is all about."
Byblos Café
129 West Chapman Ave., Orange CA 92866 / 714-538-7180