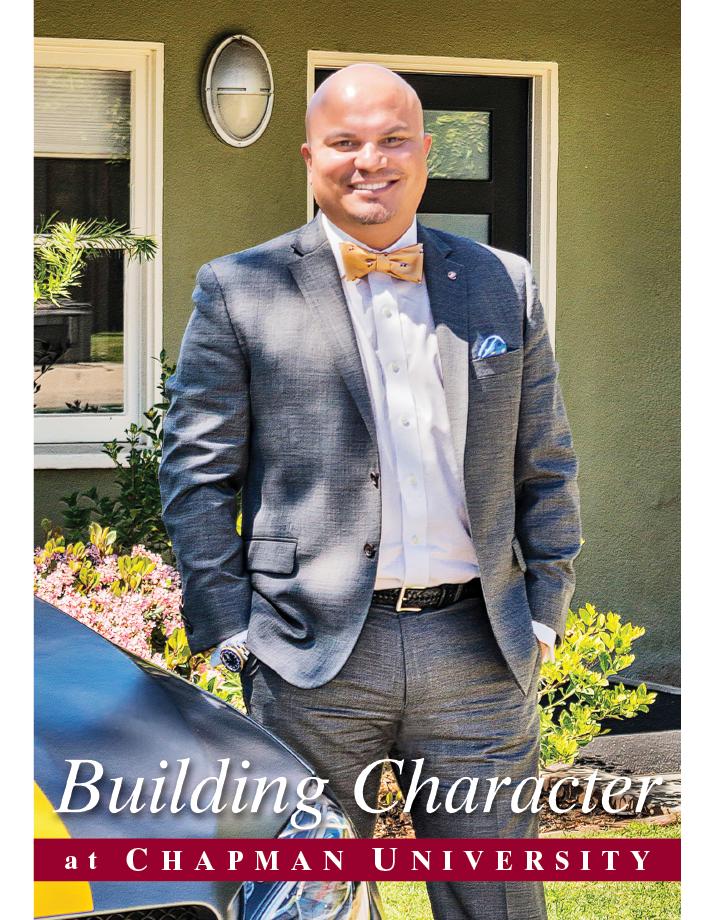 Blas Villalobos, DSW
Blas Villalobos grew up with a deep-rooted sense of community and has found that same sense of camaraderie throughout his career. That stability has stood him in good stead with his work serving veterans.
Chapman University's Director of Veterans Affairs, who runs the school's Veterans Resource Center, has forged a satisfying career helping veterans adjust to civilian life after service. At Chapman, he assists veterans with academic, personal, career and social matters and ensures they take advantage of the education benefits they earned while serving our country. He also helps coordinate outreach activities.
"At Chapman, we have more than 100 students receiving education benefits, such as the GI bill and Yellow Ribbon, which help cover tuition and fees, as well as other types of educational benefits," says Villalobos.
Prior to Chapman, Villalobos worked at U.S.VETS assisting veterans with finding homes and jobs and as Veterans Affairs Manager for Los Angeles Mayor Eric Garcetti's Office of Veterans Affairs. So far-reaching have been the effects of his work with veterans that Villalobos was selected as Veteran of the Year for California's 54th district in 2010.
Villalobos personally understands the challenges veterans face assimilating when they leave military service. He served in the United States Marine Corps from 1999-2003. His service included deployment to Iraq during the invasion in March 2003. He was a squad leader during combat operations.
Small Town Childhood
Born in Chihuahua, Mexico, Villalobos moved to west Texas before he was 10. There his parents raised he and his younger brother and older sister in the small town of Denver City. "It was a tight-knit, supportive community and a great town to grow up in," says Villalobos. "I developed close relationships withmany people there."
Villalobos decided to join the Marine Corps to give back. "When I was in junior high school, I started to consider joining the military in part to earn my place in the United States," he says. "I had been given the opportunity to live in this country with all of its incredible opportunities, so I wanted to make sure that I paid that back."
Villalobos didn't know he'd deploy when he enlisted, but that's what happened. "Fighting for my country took things to a whole new level," he says. "Serving during combat made me feel that I'd earned my place here."
Military life also offered Villalobos a good lesson in discipline and teamwork that has guided his work serving the veteran population.
Life After Active Duty
When Villalobos left the military in 2003, he spent some time in Texas, but the nearest junior college was one-and-half-hours away. He decided to move back to California, where he had lived during his enlistment, to get his education. He started by attending Long Beach City College in the spring of 2004.
"At first, it was a bit of a culture shock going to college after the military, but within a couple of semesters I came to love it," he says.
Villalobos was a work study student, which led to his working at the Long Beach City College Veterans Resource Center. "At the college, I was introduced to the general veteran population when we enrolled vets on campus and processed their benefits," he says. "At the time—2005-2006—many of the vets were returning from war and having difficulty readjusting, due to post-traumatic stress disorder and anxiety."
Villalobos transferred to California State University, Long Beach, where he earned a Bachelor of Psychology in 2009. He followed that with a Master of Social Work from the University of Southern California (USC) and recently finished his Doctor of Social Work with a focus on veterans mental health and policy at USC, in December 2018.
Prior to coming to Chapman, Villalobos worked from 2008-2015 for the nonprofit U.S.VETS, assisting military service members who served in Iraq and Afghanistan. "My job was to help identify veterans dealing with issues of homelessness and unemployment and lead them to the services to which they're entitled," he says. "I found that work really gratifying."
In 2015, Villalobos was offered the position in the mayor's office, which he held for two years. He found that job taught him a great deal, especially about policy. This made him the ideal participant on the Advisory Committee on the Readjustment of Veterans, which he joined in March 2017. The committee offers recommendations and policy advice to the U.S. Secretary of Veterans Affairs.
Destiny: Chapman
Towards the end of 2017 when Villalobos prepared to do his last year in his doctoral program, he decided to leave the mayor's office to free up time to work on his studies. It was then that he heard about Chapman starting a veteran's resource center and decided to apply.
"When I interviewed for the position and discovered how passionate and committed members of Chapman were about creating a center to help veterans and their dependents, I was excited," he recalls. "Whether I got the position or someone else, I knew that veterans would be receiving their benefits."
Villalobos was hired for the position, which he started in January 2018. The center opened after he joined Chapman. "Getting things off the ground was faster than anticipated," he says. "That's in part because of the support the center received from leaders and staff on campus." Villalobos's supervisor, Jim Whitaker, is Associate Vice President, Enrollment Management and Chief Financial Aid Officer at Chapman.
"When we decided to open the Veterans Resource Center, we knew we needed someone who had experience working with veterans and could navigate a lot of different agencies and cutthrough the red tape," says Whitaker. "Blas filled all those requirements. The connections he had at the federal and state level have allowed us to create the kind of Veterans Resource Center we envisioned. Being a vet himself, he's able to relate to the veteran population."
For Villalobos, working in Chapman's Veterans Resource Center is especially satisfying, because of the educational aspect. "Education has helped me do more for veterans and their families," he says. "Chapman is also a great school offering a high-quality education."
In the future, Villalobos hopes to increase the student veteran and dependent population at Chapman. He also wants to get veterans more involved in campus life and open to taking advantage of the various opportunities the school offers. To that end, he recently launched a program where veterans mentor other veterans new to the educational system.
"Looking back, I can see that I am where I am today because of all the people who mentored me during my transition, and as I pursued my education. Everyone who has helped me along the way has made a tremendous impact," says Villalobos, who is married to Vanessa and has one daughter. "From my parents who worked hard to give me and my siblings a better life, to my mentors, such as Steve Peck, President and CEO of U.S.VETS and John Scott, Deputy Director for the Arizona Department of Veterans' Services—everyone along the way has helped me succeed."
Scott comments on Villalobos's commitment to the betterment of veteran's lives. "Blas is a strong advocate for veterans," he says. "His personal experiences in the Marine Corps have shaped him into a leader in the world of veteran's services. Blas discovered his calling at a young age and refined his skills through academia, employment and volunteerism. The one thing I appreciate most is that he never forgets his roots and the people he has helped over the years."