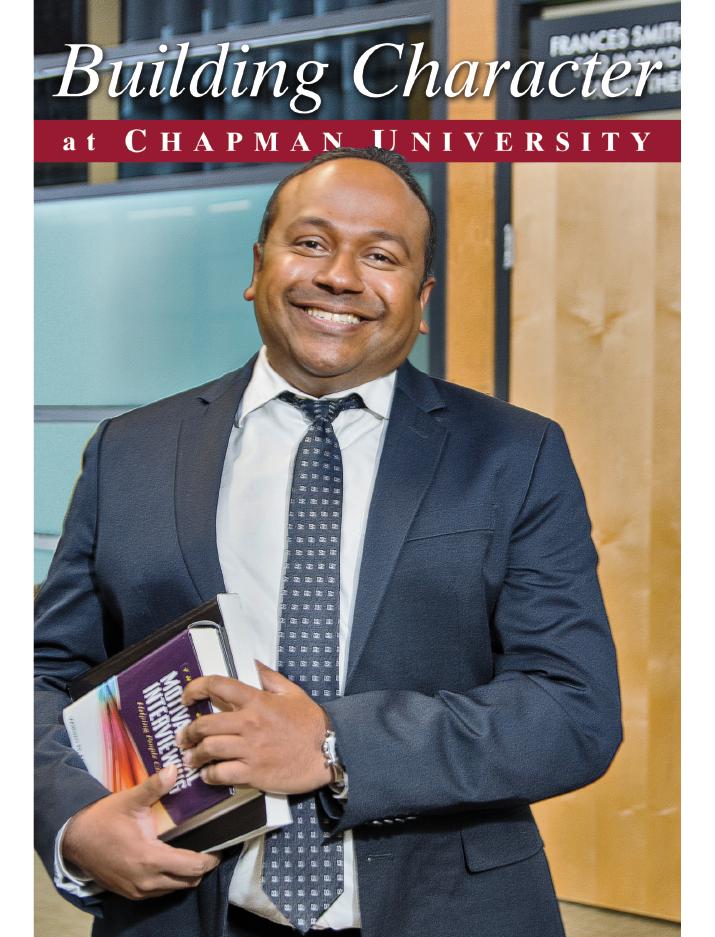 Naveen Jonathan, PhD
As a kid, Naveen Jonathan found himself drawn to being a good listener. He would lend an ear when friends wanted to talk and could be counted on for encouragement. So when he ultimately decided to go into the field of Marriage and Family Therapy (MFT), the decision proved a natural fit.
"I was in my senior year of my undergraduate degree in Counseling Psychology at Columbia Union College, when I experienced a defining moment that directed my career," says Chapman University's Clinical Assistant Professor of Marriage and Family Therapy and Director of the Marriage and Family Therapy Program in the Crean College of Health and Behavioral Sciences.
"I was working as part of an internship for a guidance counselor in the state of Maryland, when I saw firsthand how family systems work together, and how those systems affect each individual," says Jonathan. "I decided that I wanted to create change within the whole system."
Jonathan responded by going on to earn a masters and doctorate in Marital & Family Therapy from Loma Linda University.
East Coast Beginnings
While Jonathan's propensity to listen and encourage others is decidedly a character trait, his upbringing helped mold his worldview. The result is that he embraces diversity in all of its forms, and that view helps him provide guidance to people from all walks of life.
Born in Silver Spring, Maryland, Jonathan lived close to the Washington DC area. His parents each worked for international organizations, and the family spent a lot of time around the nation's capital.
"In addition to experiencing cultural opportunities, such as the arts, museums and international cuisine, I became exposed to people from various parts of the world," says Jonathan. "My parents had migrated from India in the 1970s, so we traveled to India to see extended family. All of this resulted in a cosmopolitan upbringing that led to an interest in various cultural practices and ideologies that celebrated diversity in all its forms."
Graduate College in California
After graduating with a Bachelor of Science in Counseling Psychology in April 2001 from Columbia Union College in Maryland, Jonathan made his way to California to attend Loma Linda University for graduate school. At the suggestion of his graduate school program, he joined the American Association for Marriage and Family Therapy (AAMFT) as a student member. As he became involved in the field and attended conferences, he was nominated to run for the student representative position on the organization's national board of directors. He won and went on to serve for two years, 2006-2007, as a student. In recent years, he has also served in a professional capacity, including as President of the Board of Directors for the California Division of AAMFT from 2014-2015.
"Being a part of the AAMFT as a student proved to be a defining experience," says Jonathan. "It introduced me to the issues in the field and helped me build valuable connections."
During his graduate studies, Jonathan had the opportunity to work with Carmen Knudson-Martin, PhD, chair of the doctoral program at Loma Linda University. Through Knudson-Martin's research in the field on gender, he also became interested in how all couples navigate gender roles in couple relationships. This was defining for Jonathan, because it added to his interest and growing passion to address social justice issues in Marriage & Family Therapy.
Teaching Career
While in graduate school, Jonathan worked as a teaching assistant. "I thought I was going to be a clinician, but I began exploring the idea of teaching. I was curious and began working with a teaching mentor, Cheryl Simpson, PhD, at Loma Linda University. In working with her, I learned the skills to be a classroom instructor and had the opportunity to teach and found that I enjoyed it greatly."
Prior to joining Chapman, Jonathan taught at several schools in California and worked as a therapist in San Bernardino and Riverside counties. In 2008, he saw a job listing for an adjunct professor in Marriage and Family Therapy at Chapman and applied.
After interviewing, he was offered the position as Part-Time Instructor. "I taught a class in spring 2009 and enjoyed becoming acquainted with the school—including the university's mission, community initiatives and students, faculty and staff," he says. "In fall 2009, a full-time position opened, so I applied. I felt fortunate to be offered the job and started in 2010."
In fall 2011, Jonathan became director of Chapman's Frances Smith Therapy Center, an outpatient MFT mental health clinic on campus where students provide counseling to the community. During his time as director, the center, which opened in 1965, began forging various strategic partnerships to increase awareness of the clinic and its services to provide assistance to the community.
"As Clinic Director, Naveen wanted to build upon the strong foundation of the Frances Smith Center and continue to turn it into an Orange County resource and institution that provides vital mental health services that are accessible and affordable, while at the same time providing Chapman students with a great learning opportunity," says Alison McKenzie, professor and Director of Anatomy Laboratory Operations in the Department of Physical Therapy in Chapman's Crean College of Health and Behavioral Sciences.
Director of Chapman's MFT Program
In 2016, Jonathan was appointed to his present role as Program Director of the MFT program. He's responsible for overseeing the operations of the program, including faculty and staff hires, evaluations and curriculum, admissions and national accreditation with the Commission on Accreditation for Marriage & Family Therapy Education (COAMFTE).
Jonathan greatly enjoys teaching. "I always find it gratifying to watch conversations occur in the classroom," he says. "Students may discuss various important issues that affect clients, such as substance abuse problems or grief and loss in the family. I like to hear the students ask questions and further explore how they might work in the therapy room, which helps them grow and develop."
According to Annette Iversen, a psychology instructor at Chapman and a licensed Clinical Psychologist, connecting with students is one of Jonathan's strong suits.
"When a mutual colleague died suddenly (a professor at Chapman), in the midst of our own shock and grief, Naveen and I took over the professor's courses in the middle of the semester," says Iversen. "Naveen made sure all students were supported in their grief, as well as academic pursuits. I saw such compassion and empathy during that time from him. It was truly remarkable."
McKenzie concurs and adds, "Naveen approaches and treats everyone with dignity and respect. He is kind, thoughtful and compassionate. He tries to look at issues from all viewpoints and perspectives in order to gain a comprehensive understanding of the topic at hand. He is able to educate and advise in a supportive, non-threatening way. His dedication to helping others is truly inspiring and makes the world a better place. We need more people like him in the world."
The Frances Smith Center for Individual & Family Therapy offers affordable counseling for couples, families, children/teens, individuals and groups. The center is located on campus at Chapman University. All therapy services are provided by students in their final year in the MFT Program at Chapman University and are supervised by licensed Marriage & Family Therapists, who are nationally approved supervisors with the AAMFT. The center is open Monday-Friday from 9 am to 5 pm and Saturdays from 9 am to 5 pm, 714-997-6746x1.