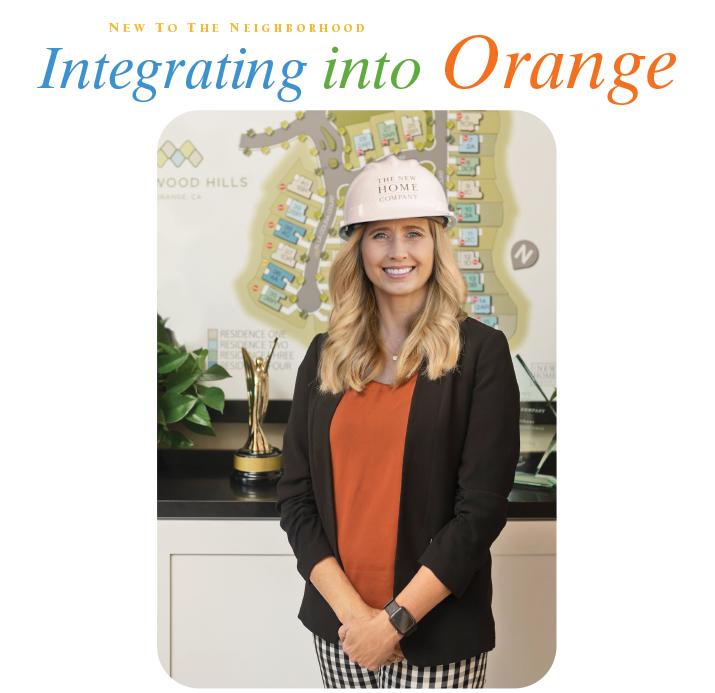 Neighborhood Sales Manager Farrah Larson stands in front of the property information for Marywood Hills, designed by The New Home Company. In 2019, The New Home Company was named 2019 Builder of the Year by Professional Builder Magazine.
Marywood Hills
On top of the beautiful hills of Orange sits Marywood Hills, a gated community with 40 homes built by The New Company. Officially opened in 2018, Marywood Hills features custom residences ranging from 3,500-4,300 square feet.
"Buyers have the opportunity to meet with our company designer and personalize their houses quite a bit," says Farrah Larson, Neighborhood Sales Manager. "Our design studio is on site. When we're finished with the home, it truly reflects the buyer."
The property Marywood Hills sits on originally belonged to Marywood Hills High School, a Catholic all-girls school. The area's historical significance drew The New Home Company to purchase the land.
"We decided to honor the cultural significance of the community, so at the entry monument we have a bronze plaque describing the area's history. We also used salvaged bricks from various buildings," says Larson. "We're proud to be a part of adding to the character and history of Orange."
The community also holds several trees that have stood on the site for decades. Homeowners and couple Gina Azizad and Saad Bhatti say these special touches attracted them to Marywood Hills. "They have Marywood trees in everyone's front lawns, which is really nice," says Azizad. The couple moved to Marywood Hills in February of 2019, and immediately loved the location and feel of the community.
"It's great to have the aspects of a new house with the accessibility of Orange," says Bhatti. "The area is so convenient and has everything you could want in a house in terms of size, space and even parking."
The couple moved from a gated community in Rancho Mission Viejo with 50,000 homes, so the small size of Marywood Hills feels intimate and welcoming.
"The way they built our house is so conducive to hosting guests, entertaining and utilizing the actual space," says Azizad. "We hosted a holiday dessert social and met a lot of our neighbors."
Marywood Hills' customer service is another big draw for its residents. The New Home Company's employees are passionate about helping customers with every aspect of the homebuying process.
"Purchasing a home is a particularly emotional undertaking for people. Giving keys to buyers is exciting, because it's where they're going to live and make memories," says Larson. "This is a great industry to be in."
With just eight vacant houses left on the Marywood Hills property, it's clear the community is gaining popularity. Larson recommends coming by to look at the homes, even just to see how the company has transformed the neighborhood.
"There are all these great people in our community," says Azizad. "We feel really lucky to live here.
Marywood Hills
2510 North La Colina Ct., Orange CA 92867 / 949-346-5520