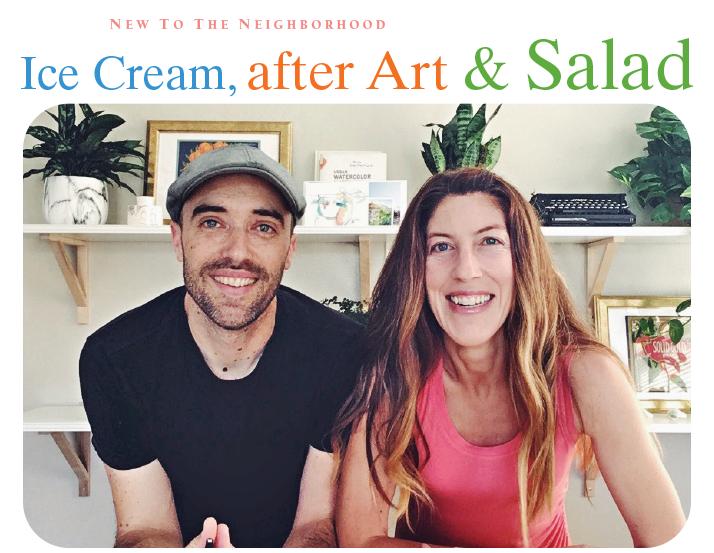 Calling all past, present and future artists. Eric and Amy Sargeant welcome all students to The Treasury, a new studio home to workspaces and classes for the Orange community. Students will definitely be in good hands—Amy has been an artist since elementary school, back when she made ceramic furniture and decorations for her Barbie dolls.
The Treasury
If you're looking for a creative outlet to practice ceramics or enjoy a 'sip and make' night with friends, consider The Treasury. The new studio space offers art-related events, classes and workshops.
After years of teaching college art courses, husband-and-wife duo Amy and Eric Sargeant decided to open a creative space to teach their own art classes and provide a location for others to collaborate and educate.
"I wanted to teach people to be creative and drop their stress level for a little while," says Amy, who studied ceramics at Oregon College of Arts & Crafts and got her Master of Fine Arts from Central Saint Martins in London. She taught art classes for 12 years and had a mobile ceramics studio on the side. After connecting with a variety of students through the mobile studio, she realized she wanted to focus on teaching and interacting with similar groups of artists.
"I'm ready to see a new part of the community and teach people I haven't had access to before," she says. "I want to teach people who wish to unplug from their devices and learn something new."
Eric met Amy when she asked him to present to her class in Oregon. Since then, he's taught workshops and courses at universities, including USC and Cal Poly Pomona. His background is in landscape and urban design, and he also does 2D illustrations. He'll be teaching illustration workshops at The Treasury, as well as a bespoke pottery class with Amy, allowing students to make their drawings come to life on a mug or vase.
"We wanted to personalize our art teachings, and we also have the desire to create a presence in the area," says Eric. "There's a therapeutic component from doing art. People also enjoy the social aspect and sense of pride and accomplishment from creating something."
Together, Amy and Eric are hoping to impact the Old Towne community by giving them the opportunity to express themselves creatively.
"The long-term idea is that we become a community hub for the arts," says Eric.
The Treasury will be a space for anyone to frequent—not just artists. The Sargeants want to develop a place where anyone can experience a cathartic and artistic outlet.
"I think everyone can benefit from more art in their lives," says Amy. "Whether people think they can't draw a stick figure or they're really artistic, they can still have that boost of mental and emotional health through creativity." The classes and workshops held at The Treasury will cover a wide range of skill levels, from beginner courses to advanced workshops.
The studio is located in the historic packing district area and originally housed the money vault for the Orange Mutual Citrus Association. Amy and Eric have kept the functioning vault in their studio space, preserving the historic charm that makes The Treasury's location unique.
The Treasury
422 West Almond Ave. / 503-432-3937