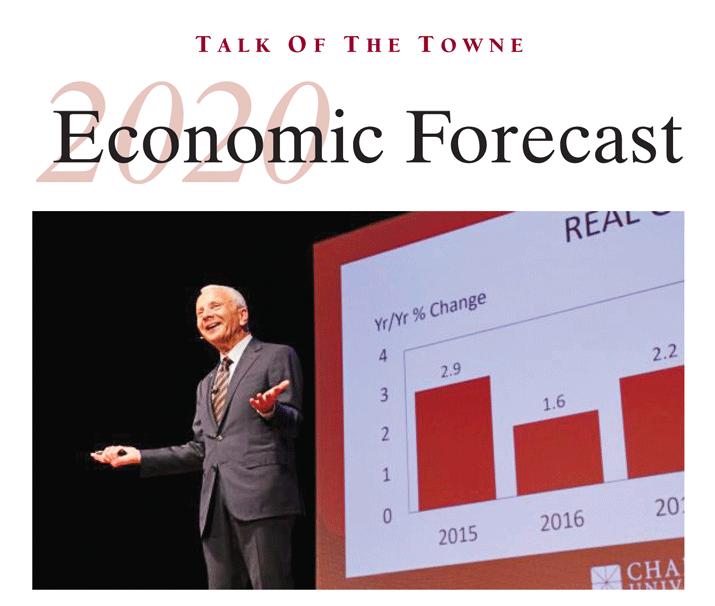 Every summer, Chapman University's A. Gary Anderson Center for Economic Research releases its midyear forecast update. The event, presented by the University's President Emeritus, Jim Doti, offers a chance for those who attended the December Forecast to see how the predictions are faring.
The Chapman Econometric Model that makes the forecasts possible started in 1978 as a faculty-student research project and today attracts attention from across the nation for its accurate predictions of economic trends. This past summer's midyear predictions in June were no exception. That was impressive and encouraging to Realtors Carrie English and Charisse Okamoto of Caliber Real Estate Group.
"At this past summer's Forecast, we were encouraged to see that we are in the longest economic expansion in U.S. history," says Okamoto. "It's an exciting time, depending on your outlook. Economic growth has definitely slowed, but Dr. Doti stated that by the end of the year the GDP will be up 2.4 percent."
At the Forecast, English and Okamoto were also impressed with Doti's explanation of how though the nation considers California homes overpriced, they are actually very well-priced.
"The big news outlets like to portray the negative by constantly stating that the California housing market is going to crash, because our homes are so expensive," says Okamoto. "Dr. Doti showed how this wasn't the case by looking at the median home price across the U.S. and then adjusting for California's higher median income, amenity score and access to the Pacific Ocean.
"When looking at the adjusted prices, Dr. Doti pointed out that we are actually below the U.S. median home price of $322,000," continues Okamoto. "It was encouraging to hear that housing affordability is projected to be more than 10 points higher than in 2018. For a median priced home that could save a buyer almost $400 a month if purchasing today, versus purchasing in the third quarter of 2018."
Chapman's Forecast is impressive in how accurate it is, says Jeremy Davis, a 24-year-old student, who also works in the computer industry and has an interest in economics. He attended the December and June Forecasts.
"The Employment Development Department (EDD) predicted job growth of one percent in 2018, but Chapman's Forecast said growth of 2.2 percent, and Chapman was right," says Davis. "Although Chapman is currently forecasting a decline in job growth, the EDD is predicting a larger decline. Chapman predicts job growth will go down to 1.5 percent, and the EDD predicts it will dip under 1 percent. Given Chapman's track record, the 1.5 percent is most likely correct and more of a positive for the economy."
Mark your calendars for Tuesday, December 10, 2019 for the Chapman University Economic Forecast, offering predictions for 2020. The Forecast will be held at the Segerstrom Center for the Arts. For information 714-744-7031 or www.chapman.edu/economicforecast