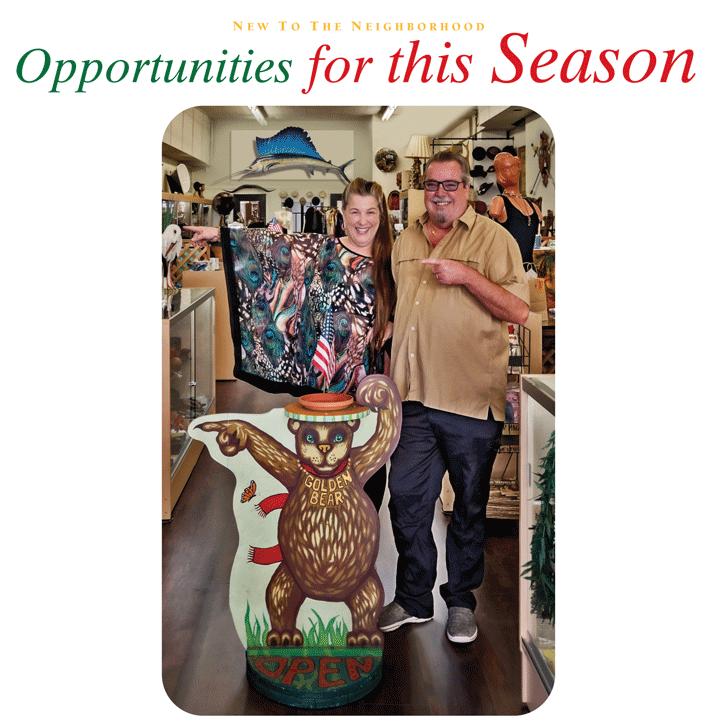 Records and purses and vintages, oh my! The owners of Golden Bear Antiques and Curiosities, Cynthia and Rohn Lindberg, have dedicated their personal and professional lives to antiques, finding time to collect pocket watches and records when they're not in the store.
- - - -
Golden Bear Antiques & Curiosities
For husband-and-wife duo, Cynthia and Rohn Lindberg, antiquing runs in the family. Referring to themselves as second-generation antiquers, the duo recently opened Golden Bear Antiques and Curiosities.
"In my house, I've always grown up with antiques," says Rohn. "My mother was a collector, and when I was a boy, we would close down every other month and head to Europe to get loads of items." Cynthia grew up working at her dad's antique store in Santa Monica and fell in love with the industry early on.
"I was fortunate enough to work for my dad and grow up right by the beach," says Cynthia. "I think people whose parents aren't into antiques aren't usually into antiques either, unless something sparks them. People find something they're curious about and then start collecting."
The Lindbergs define a collection as anything that one owns more than three to five of, and Golden Bear Antiques has a variety of items for collectors to take advantage of. From alligator purses to pocket watches, the store holds true to its namesake, drawing on the curiosity aspect and providing customers with more than just random tchotchkes.
Before opening their store on Chapman Avenue, Cynthia and Rohn operated Golden Bear Antiques 14 years ago in the Plaza. Their store was a success back then, and they're grateful to be able to continue their antiques operation and welcome back previous customers.
"At least 50 percent of our customers have mentioned that they're so happy to see a good old-fashioned antique store back in Orange," says Cynthia. "It makes me feel like I made the right decision in opening up the store again. I love the response from customers."
Cynthia and Rohn have been married for 26 years, and their shared passion for antiquing brought them closer together. They met when Cynthia was working a booth for one of the food industry vendors that Rohn was a buyer for, and he says he kept finding ways to go back and talk to her.
"Eventually, I asked her out, and it was one of those first date kind of things where we hit it off and immediately were boyfriend and girlfriend," he says. "We would go treasure hunting to swap meets and estate sales and anywhere else we could find to just look at stuff."
The owners of the Golden Bear Antiques have a strong passion for vintage and collectible items, and their dedication is evident in the care they take for their store. They're excited to be members of the Old Towne Orange antique shop community and look forward to introducing more customers to the world of antiques.
"We share Old Towne's morals and character, and we're here because we love the community and what we do," says Cynthia. "I like to call myself a purveyor of history. It always sparks an exciting conversation for me when I find someone knowledgeable about what they love."
Golden Bear Antiques & Curiosities
208 East Chapman Ave, Old Towne Orange CA 92866 / 714-363-3996