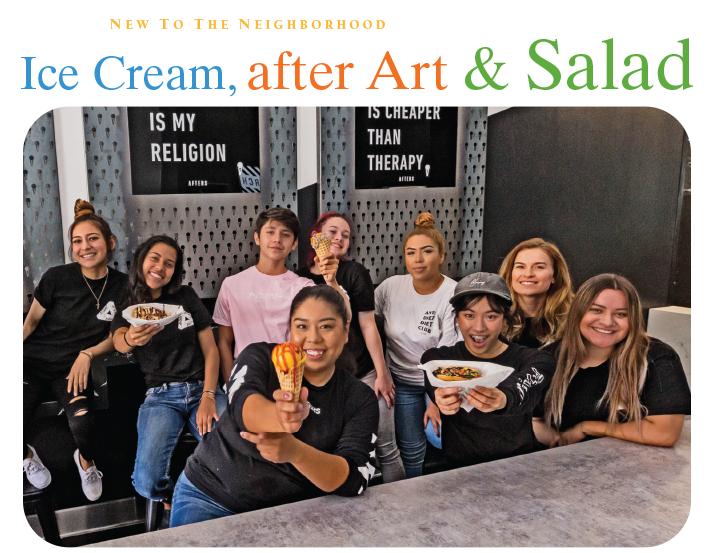 The enthusiastic employees of Old Towne Orange Afters are ready to help you beat the heat! The company's very first employees, cofounders David and John Barber, started creating handmade ice cream back in 2008.
Afters Ice Cream
Summer is here and with temperatures rising, Afters Ice Cream in the Plaza is the perfect place to get a cold treat. Afters opened in June in the old à la Minute storefront. This Old Towne location is the 27th in Southern California.
The company formed in 2014, when brothers David and John Barber, then making handmade ice cream out of a small retail location, met up with collaborators, Scott Nghiem, Andy Nguyen and Jaime Nguyen, to develop Afters Ice Cream. The business became instantly successful, leading to more locations and development of additional flavors.
"Our customers were so enthused that we became overwhelmed with demand at our original Fountain Valley location. We had people waiting in line for more than an hour from noon until midnight, seven days a week," says David, who now serves as the Afters Chief Operating Officer.
Afters is known for its Milky Bun, a dessert with ice cream sandwiched between a heated glazed donut. The shop also boasts unique flavors, including Milk and Cereal, Cookie Monster and Jasmine Milk Tea.
While the exclusive flavors and menu options ensure patrons come back for more, the company culture of superior customer service gives the dessert experience the extra cherry on top.
"Making everybody who walks in here walk out in a better mood is our job," says Operations Manager Monica Ramirez. "They got ice cream, and not just any ice cream. They got Afters Ice Cream."
Barber says the Plaza is a location Afters eyed for more than two years before finally moving in.
"The Plaza's history, architecture, character, vibrancy and proximity to Chapman University have all been a draw for our business," he says. "Old Towne's rich history, continuing business development and layout give it a uniqueness that can't easily be replicated."
Every Afters storefront provides customers with more than just ice cream, and the Orange location is no different. The company has collaborations with popular entertainment franchises, including Spongebob Squarepants and Cartoon Network's Rick and Morty, and sells themed flavors and clothing.
"Our Afters and collaboration merchandise is really popular," says Ramirez. "You can walk in and out with almost a whole new outfit."
Although Afters Ice Cream is known to have visits from celebrities such as famous basketball players and reality television stars, Ramirez says that every customer is important and makes an impact on the community. "Everybody who comes into our store has to be treated like they're number one, because they are," she says. "Ice cream is a simple job, but it comes with a lot of responsibility."
Afters Ice Cream
117 North Glassell St., Orange CA 92866