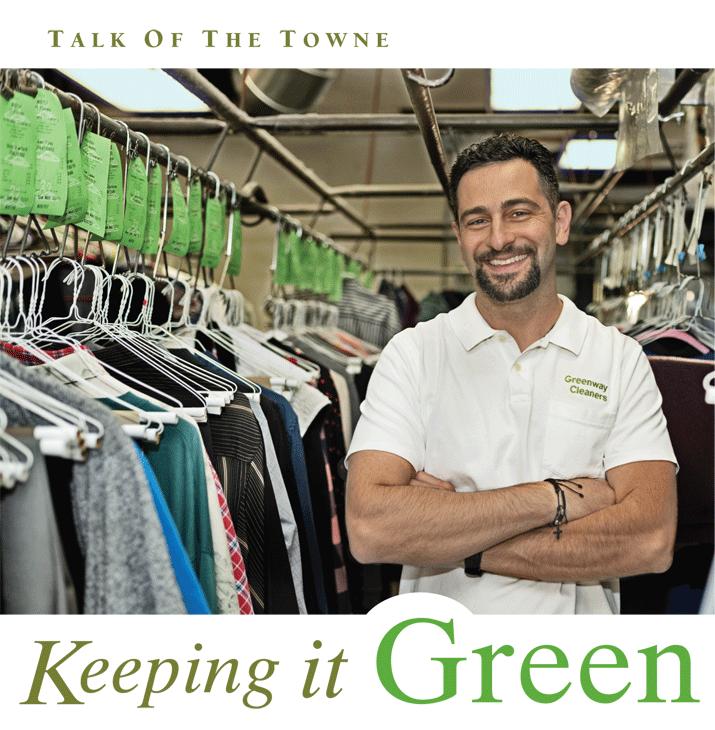 Between the dust-covered equipment, scattered garbage and abandoned clothes, Mike Naber knew he had his work cut out for him when he walked into an abandoned cleaning business at the peak of the recession in 2009. Naber, who thrives on bringing businesses back to life, rose to the challenge.
"I find nothing more satisfying as an entrepreneur than building something from the ground up. It's the true American dream and a small part of what makes our country so great," he says.
A decade later, The GREENway Cleaners on Tustin St. stands as a testament to the power of entrepreneurship, providing loyal customers with environmentally-friendly dry-cleaning and alterations.
Naber, an Orange native and the son of Jordanian immigrants, earned degrees in international business and finance from California State University, Long Beach. He dove into the world of entrepreneurship after graduating, quickly finding his niche in businesses requiring rescuing.
Naber and his uncle, John Naber, approached the future home of GREENway in 2007 to see if the owner wanted to sell, but the man wanted a price the pair didn't consider reasonable.
Instead, Naber opted for a dry-cleaning business in Long Beach and continued operating a dry-cleaning delivery service he started right out of high school.
Though he enjoyed owning the Long Beach business, Naber longed to return to Orange. When he heard that the Old Towne business was available, he jumped at the opportunity. He soon discovered that taking over wouldn't be easy.
"When I took over, the business was in disarray. There were clothes everywhere. Every single object in the store was covered in dust. There was old machinery that hadn't been used for a while and garbage all over," says Naber.
The landlord had been receiving angry phone calls from customers whose clothes had been left behind by the previous owner. Naber began tracking down those customers to make sure they received their orders.
Despite the neglected state of the store, Naber knew the need remained high for a quality dry-cleaning business in the area.
During renovation and installation of new equipment to prepare for the grand opening, a man drove up in a green Mercedes Benz and walked in with a shopping bag full of clothing.
"You guys open yet?" he asked.
John Naber, Mike Naber's uncle and silent business partner, knew that between his nephew's business savvy and the prime location, GREENway would be successful.
"The store had potential—we knew that," says John Naber, owner of Naber Cleaners in Santa Ana. "It was just under the wrong care."
While some people saw the recession as a red flag for embarking on a new business venture, Naber saw opportunity. Because the previous owner had abandoned the business, Naber was able to acquire the business at no cost, and the landlord kept his rent low for the first five years.
Naber's level of customer service kept customers coming back. While five other eco-friendly dry-cleaning businesses in the area have closed down in the last decade, GREENway has thrived.
"He goes above and beyond," says David Ringdahl, owner of neighboring Ringdahl Chiropractic. "I see him bring clothes out to people in their cars, particularly if they're elderly or if they have kids in their arms."
Naber quietly celebrated his 10-year anniversary of serving the city of Orange in 2019, but that doesn't lessen the pride he feels for what he's accomplished in that time. Naber says he wants GREENway to remain a leader in dry-cleaning in the city for years to come.
"My pledge would be to maintain great customer service at the most competitive prices in the most responsible way," he says. "I want our customers to know that we will continue cleaning clothes with our environment in mind."
The GREENway Cleaners
665 North Tustin St, Orange CA 92866 / 714-744-8479