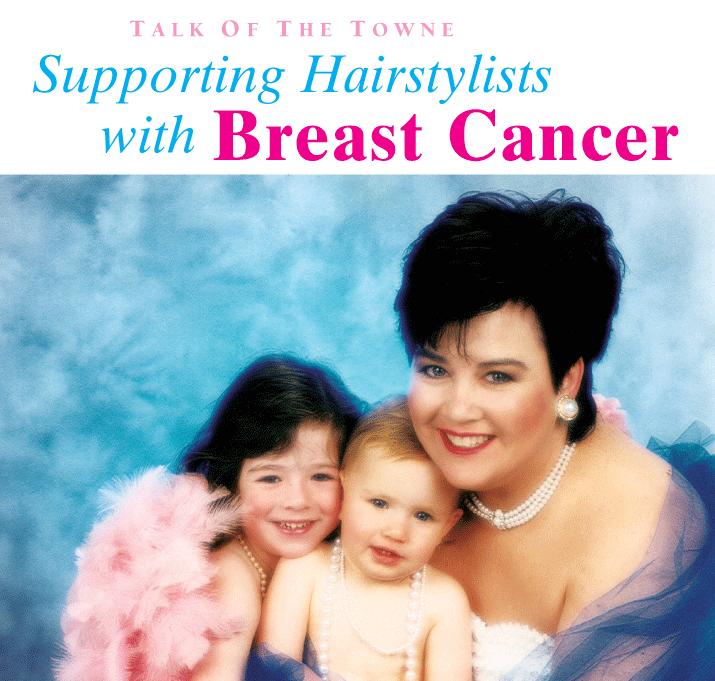 The late Jill Etzold Kester is the inspiration behind the Jill Foundation annual Cut-a-Thon, which raises funds for local hairstylists with breast cancer. Jill is pictured here with her daughters Kylie (left) and Lacey (center). Kylie followed in her mom's footsteps and is now a stylist.
The Jill Foundation Cut-a-Thon
In many professions, if you fall ill from a severe health condition, you have paid sick time and medical benefits to support you. For most hairdressers, there is no safety net.
It was the reality of this staggering financial burden that inspired the annual

Jill Foundation Cut-a-Thon

, which will be held this year during Breast Cancer Awareness month on

October 7

. Since 2010, The Jill Foundation has granted a total of $28,700 to 16 hairdressers fighting breast cancer.
"Hairstylists are generally self-employed, and they're not paid when they're not working," says Derek Benson, a friend and former client of Jill Etzold Kester, who had the initial idea for the nonprofit.
Kester was diagnosed with breast cancer in 2004. She'd been hosting a Cut-a-Thon at the salon she worked at, Artistic Hair, with owner Barbara Nolasco. The proceeds were donated to the American Cancer Society, but Kester wanted to benefit a more niche audience.
"Before she died, Jill and I had a conversation about why we were sending the money raised to the American Cancer Society, instead of starting our own foundation," says Nolasco. "We decided that we wanted to donate the money to local hairdressers with breast cancer instead."
A week after the 2004 Cut-a-Thon, Kester lost her cancer battle. Compelled to carry out Kester's wish, Nolasco approached Benson about kickstarting the foundation. The pair spent years building the nonprofit, officially gaining their 501(c)(3) status in 2010, with help from the American Cancer Society.
The Jill Foundation hosts a Cut-a-Thon every year, with additional money coming from smaller fundraisers and other salons. The Cut-a-Thon is their biggest event. Around six to eight salons usually participate every year, and Benson hopes to expand that number.
Crystal Husband, owner of Crystal's Hair Salon in the Plaza, started participating six years ago, and encourages everyone to engage with the mission. "Bottom line, everybody needs their hair cut, and everybody knows a hairdresser," she says. "We're all affected by breast cancer."
The Jill Foundation's goal hits close to home for Husband, who has lost many to the disease, including customers and girlfriends. Three friends are currently in treatment.
When a hairdresser with breast cancer is granted money to help defray medical and other costs, the foundation's executive board members hand deliver the check to the donee, usually at her salon, which raises awareness with other hairdressers and clients.
"The best part is when Derek and I take checks to hairdressers," says Nolasco. "We see how thankful and appreciative they are. Even though it's just a small amount of money, it's so helpful to them in their time of need."
Some recipients have even found a way to give back to the Jill Foundation, like Adriana Lopez, who brought Cut-a-Thon to Amore Salon in Laguna Niguel, where she's worked for 34 years. Lopez was first diagnosed with breast cancer in 2012, and has since undergone three surgeries.
"Being a part of The Jill Foundation has been great, because I've been able to give back and bring awareness to other stylists and the community itself," she says. "I want to let the community know that this is happening, and that we're here to support other stylists through this journey."
To support The Jill Foundation and its purpose, head out to any participating salon on October 7 for a $20 minimum donation haircut and shampoo, or enter in a raffle. Benson also encourages recommending the Cut-a-Thon to your own hairdresser and reaching out to businesses wanting to donate raffle prizes. If you know of a hairdresser in need, the foundation also wants to hear from you.