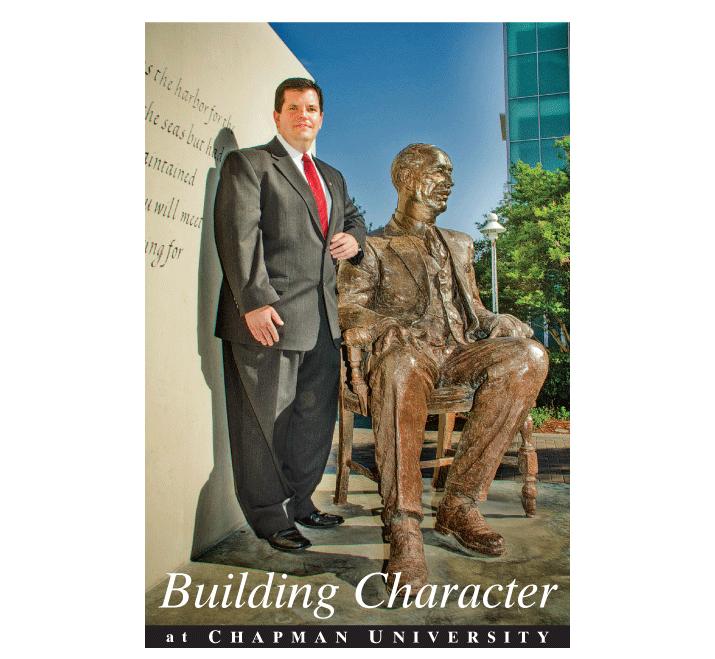 David B. Moore
When David Moore was a camp counselor in the late 1980s, he had an experience that in many ways prepared him for his work today as Chapman University's Director of Planned Giving.
"We stopped for lunch at a spot outside of Santa Fe, New Mexico known as Echo Canyon. About 30 boys were exploring the area and yelling into the canyon, so the other camp counselors and I didn't notice when four of them decided to scale the canyon wall," says Moore. "By the time we spotted them, they had reached a perilous location and weren't moving."
Tensions high on the ground and the mountain, Moore and another counselor climbed to the boys. "The kids were frozen with fear, made worse by the crowd of people staring up at them," recalls Moore. "We coached them down one step at a time, and everyone reached safety with no mishaps."
Planned Giving Journey
While planned giving isn't a physical journey, it can be overwhelming for donors, who may need a substantial amount of guidance for what can be a complicated process. "There are a number of tax-wise options made possible through charitable gifting tools, but most individuals simply don't know where to start and are unfamiliar with the rules and terminology when it comes to estate and legacy planning," says Moore, who assists individuals with estate planning tools such as bequests, charitable gift annuities, charitable remainder trusts, gifts of property and charitable lead trusts. "It's my job to help donors take one step after another until they get where they want to go."
Moore takes his role guiding potential donors seriously, but realizes the need for discretion. "When you do your will and plan your giving, you face your own mortality. In part because of this, many people take time to complete the process," he says. "I never want to rush them, and I'm not trying to sell a product. The most important aspects of this position are relationships and creating win-win situations for everyone."
According to donors such as Christine Cross, who with her husband Lon recently completed a $10 million bequest commitment for need-based scholarships, Moore does a good job of offering assistance without pushing.
"David is very gentle and not at all overbearing," says Cross. "He introduces you to the challenges and needs of Chapman only at a rate at which you are able to accept what he's telling you. He doesn't overwhelm you with facts and figures and is never a hardcore salesman. Rather, he is trustworthy and a good listener. David internalizes what you're saying so he can better understand your desires and help you realize your legacy."
Home in California
Born and raised in Austin, Texas, Moore shares that he grew up feeling geographically misplaced. "I'm fifth generation Texan, but always felt like I should be living somewhere else," says Moore, who does not possess a Texas accent. After graduating from Texas State University-San Marcos, he worked as assistant director of alumni affairs for the school until he attended a conference in Baltimore, Maryland where he found a job in alumni relations at the University of Maryland, Baltimore County (UMBC). During his time there, he also held positions in annual giving and major gifts. In 2004, he spotted a posting for what looked like the ideal position at Chapman, so he applied, interviewed and was hired.
"I hadn't planned on leaving Maryland, but I was thrilled to find a position representing such an incredible match for me," says Moore, who quickly became impressed with Chapman's sense of community. "Within a week of arriving, two different alumni invited me to their homes for dinner," he recalls. "That personal connection made a huge impression on me and continues to do so."
Moore held the position of director of alumni relations at Chapman for 4 ½ years before transitioning to his present position in 2008. "With my background in fundraising, ongoing relationships with alumni and my understanding of Chapman's history, planned giving was the perfect fit," says Moore, who earned a master's degree in organizational leadership from Chapman in 2009 and who oversees the Charles C. Chapman Heritage Society. The society honors those who have made a planned gift.
Select to view David's weekly Chapman Legacy e-mail blast. »
Endowment Council
Dean of the School of Law, Tom Campbell, comments on how well-suited Moore is for his position at Chapman. "David's strengths are his personal charm, attention to detail and creativity," says Campbell. "An example is the Endowment Council he established that meets at the Law School every quarter—which is a brilliant concept. He invites estate planning attorneys from Orange and surrounding counties, and we discuss recent developments in federal and state tax law, with emphasis on the taxation of trusts, estates and gifts. He includes a presentation from a Chapman student or faculty member. The event offers a useful service to the estate planning attorneys, who are positioned to recommend charitable gifts to the university."
For Moore, there is only one drawback to his work in planned giving. "I enjoy building close relationships with the donors," he says. "When they eventually pass, it is very emotional for me. But I get my strength from ensuring that their legacies are fulfilled and their wishes are honored in a way that would be meaningful for them."
Charles C. Chapman Sculpture
Visitors to Chapman University are welcomed by a statue of the school's founder, Charles Clarke Chapman. California sculptor and public artist Raymond Persinger created the statue of Fullerton's first mayor and relative of John Chapman/aka "Johnny Appleseed." The wall behind the bronze statue is inscribed with Chapman's advice to his grandson about how to live one's life.