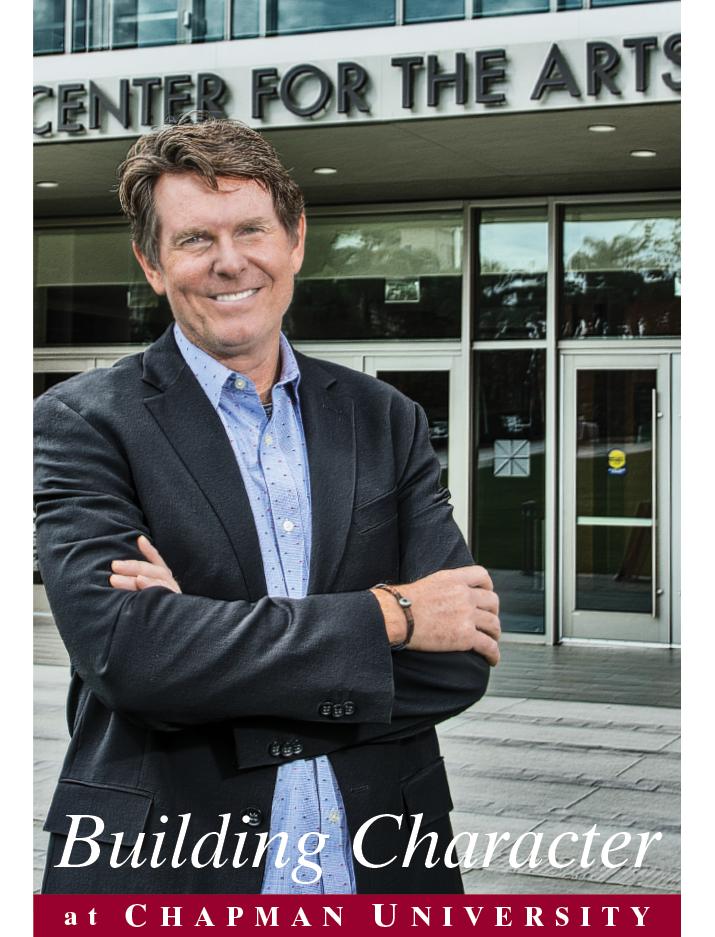 John Benitz
You know those movie scenes when the star meets someone or makes a discovery and just knows that destiny has arrived? John Benitz has experienced this at least twice in his lifetime.
"The first time I knew 'this is it' occurred when I met my wife, Maria. Within 20 seconds, I knew she was the one," says Benitz, chair of the Department of Theatre in the College of Performing Arts at Chapman University.
The second time Benitz had such an epiphany occurred when he interviewed for a position as an acting teacher in the theater department at Chapman in 2006. "During the interview, I immediately connected with the faculty and fell in love with the campus."
In addition to teaching acting, Benitz joined the university to build a bridge between the film school and theater program. "When I started, Marion Knott Studios had just opened," he says. "I was trained in classical theater and had also acted and directed in Los Angeles, so I was just what they were seeking."
Benitz has built a strong bond between the film school, currently ranked as one of the top ten film schools in the world, and the theater department, also considered a top training program. This includes creating the school's interdisciplinary Bachelor of Fine Arts in Screen Acting, offered cooperatively with the Dodge College of
"The BFA in Screen Acting has been highly successful and popular," says Benitz. "We offered the degree for the first time in 2008 and had our first graduates in 2012. This year, the acceptance rate was only seven percent. The degree is one of the most competitive on campus."
Discovering Acting and Directing
Benitz was born in Fulton, Missouri, where he lived until 15. He then moved to Colorado and attended a small private high school in Colorado Springs. "There I discovered theater," he says. "The school was progressive and encouraged students to be entrepreneurial and create and design. It was an awakening for me."
The first play Benitz appeared in at high school was "The Music Man." He filled in for another actor and only had two weeks to memorize his lines, but enjoyed himself. "I loved rehearsing and performing. The first time I appeared on stage, it was so exhilarating."
Benitz's directing debut also occurred in high school. "My friend Karen Alexander found the little book, Teenage Romance: Or How to Die of Embarrassment, by Delia Ephron (sister of Nora Ephron). We created a stage play out of it."
That experience proved a positive one, and Benitz continued to act and direct throughout high school and college. He attended Sarah Lawrence College in New York, where he earned a Bachelor of Fine Arts. There he enjoyed the same creative freedoms as he had in high school.
"I was given the chance my senior year to direct the fall main stage show normally directed by faculty," says Benitz. "The play was 'Children of a Lesser God.' That was a seminal moment for me."
Benitz went on to earn his Master of Fine Arts from Brandeis University in Boston. Then he moved to Los Angeles in 1991 to act, although he also did some directing and writing, including the award-winning documentary, "Children of the Struggle." The film depicted the struggle for black voting rights. It aired on PBS station KQED for three years and is still shown in high schools and colleges.
Desire to Teach
In 2002, Benitz added teaching to his repertoire. "My wife and I decided to get married and have kids (they now have three). Unbeknownst to me (at the time), I'd gotten my master's degree, because deep down I wanted to teach." Prior to joining Chapman, he was an adjunct professor in Upstate New York for two years.
Benitz feels that his acting experience helps his directing, and both pursuits enable him to be an effective teacher and department chair. As chair, he oversees department operations, as well as academic and faculty affairs, and serves as artistic director of the theater production season.
"I show actors that a good performance is key and help them explore roles," he says. "I'm also open to exploration on the part of the actors, because it's a collaborative process. Similarly, as department chair, I make my vision and priorities known and then give the faculty room to do as they see best."
When it comes to teaching, Benitz enjoys watching the students as they explore and create. "I love giving them latitude to discover their own gifts and acting as their guide for the exploration," he says. "It makes my day when they experience success."
Actress, singer and director Leah McKendrick is one such student. She studied theater at Chapman and has appeared on television shows, such as "Criminal Minds," and in movies, such as "Bad Moms" and "The Girl in the Green Dress." She also directs and writes films, including the 2017 thriller "M.F.A.," for which Benitz was a consulting producer.
"I love John's work," says McKendrick. "He trusts actors. He doesn't coddle. He's tough and brutally honest, and when he says he's proud, he means it. I think it's really special that I create feminist, very female driven work, and one of the great champions in my life and career is a man. It makes me feel good about the female actors going through Chapman's program, and it makes me feel good about the world!"
If All the Sky Were Paper
Among the plays Benitz has directed is one close to home. "If All the Sky Were Paper" is a dramatic adaptation of personal letters written during wartime—dating from the Revolutionary War to current conflicts, such as Iraq. The letters belong to the Center for American War Letters at Chapman University.
The play had its beginnings in 2007, when Benitz read in National Geographic about the mission of Andrew Carroll, a writer and historian collecting war letters, who has since become the Founding Director of the Center for American War Letters.
"I was fascinated with this guy (Carroll), who traveled around the world, including into war-torn areas, to collect letters, which are essentially first accounts of history," says Benitz. "In 2008, I emailed him suggesting a play depicting the dramatic material in the letters that would humanize the war experience."
Benitz directs the play, which premiered in 2010. In 2014, he was awarded two grants that allowed them to take the play to a wider audience. "If All the Sky Were Paper" has appeared throughout the U.S., including The Kirk Douglas Theatre in Los Angeles and the Kennedy Center Terrace Theatre in Washington, DC. Well-known actors who have appeared in the play include Laura Dern, Annette Bening, Peter Strauss, Gary Cole, Mary Steenburgen, Common, Brad Hall and Ken Howard.
"I have enormous respect for John as a director," says Carroll. "He has helped bring the voices of the letter writers to life. It wasn't an easy task from a creative standpoint, but he gets the overall spirit of the project and was able to weave everything together to create a cohesive narrative that resonates."
Select to view upcoming plays and performances in Chapman's theater program.