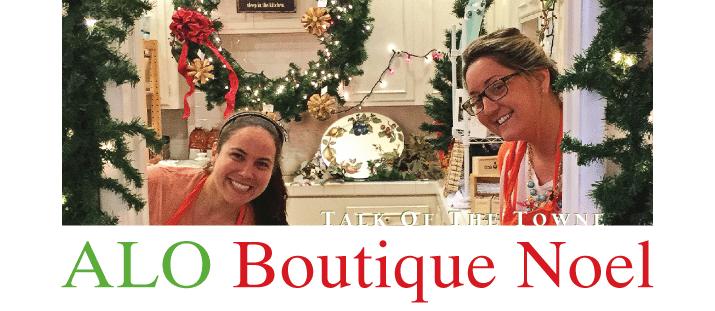 With fall on the horizon, no doubt you've at least thought about the end of the year and the holidays. The folks at the Assistance League® of Orange (ALO) are dedicated to helping you complete your shopping list early, which is why every October they hold the ever popular Boutique Noël.
Many of the ALO's approximately 370 members pitch in to transform their 102-year-old chapter house into a winter wonderland for the event. For five days, shoppers come to Old Towne from near and far to enjoy the high-quality, one-of-a-kind gift items available at the boutique.
"Boutique Noël is well-known for unique gift items, many of which are handcrafted," says Pam Carlson, chairperson of the 2016 Boutique Noel and an ALO member. "In addition to finding great holiday gifts, you get a chance to connect with local artisans. Shopping at the event also helps the Orange community, as all net proceeds go back into ALO philanthropic programs that provide services to those in need."
Products available at the Boutique are distinctive, offering you a chance to impress your family and friends with out of the ordinary gifts they can treasure. To give you an idea of the variety of items to expect at the boutique, here we highlight three merchants.
A Room to View
Susie Hoertz of A Room to View specializes in home décor, as well as gifts for girls. "My product line is a combination of great finds, as well as my own designs," says Hoertz. "Most of the embellishments on apparel and accessories are my designs, fine-tuned with the help of my graphic artist."
Products include scarves and holiday shirts for adults, as well as a children's line focused on accessories, including Wubbanub pacifiers, Lulujo bamboo and cotton muslin swaddlers and bath toys. Hoertz is a big fan of natural products manufactured in the USA. Her stocking stuffer lip balms and skincare products contain no paraben, gluten, petroleum, GMOs or any harmful chemicals. Also made in the USA is the Govino Classic wine series she carries featuring shatterproof, bpa/bps-free recyclable bottles.
Hoertz has participated in Boutique Noel since 2008, because she believes in the cause. "The boutique truly helps local families, and the women involved in the ALO are great leaders, who set a strong, charitable example."
Pacific Mountain Woodworks
Pacific Mountain Woodworks is a custom woodworking company run by Carol Graupensperger, with her husband, Dan, and their sons, Jacob and Rob. The family operates out of a shop in orange handcrafting items such as cheeseboards and trays, tables, chairs, stools, benches, plant stands, frames, balance boards, cutting boards and serving trays.
2016 is the talented family's fourth year participating in the event. "The boutique is a great venue to showcase our products and allows us to contri- bute to a well-respected philanthropic organization," says Graupensperger.
Country Stitching
Alice Calagna, owner of Country Stitching, enjoys creating and sewing fun pillows, tea towels and other fabric items. "I like to create products that make people feel happy or blessed or remind them of special times and favorite holidays," says Calagna. "I enjoy trying to find the perfect ribbons to match my fabrics and then finishing the items off with cute buttons or charms."
Calagna has participated in Boutique Noel for about eight years, and it is one of her favorite shows. "I like that ALO members are so hardworking and dedicated to raising money to give back to so many children's groups that really need our help," she says.
Boutique Noel takes place at the ALO chapter house, 124 S. Orange St. Days and hours are: Oct 19, 4-8 pm; Oct 20-Oct 21, 9 am-6 pm; Oct 22, 9 am to 4 pm and Oct 23 from 11 am - 3 pm. For more information, visit www.alorange.org.