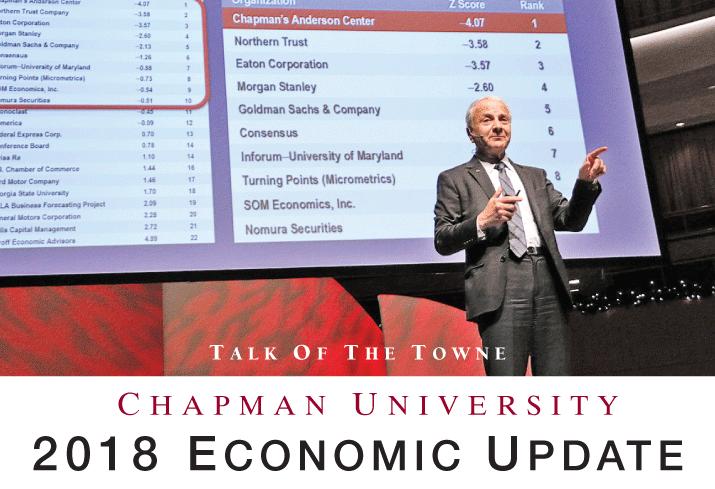 Chapman University 2018 Economic Update
Orange residents may not be aware that we live just down the street from an economic center that has made history for 40 years. At the A. Gary Anderson Center for Economic Research at Chapman University (ACER) established in 1978, some of the greatest minds in economics have worked to create Chapman's well-regarded Economic Forecast.
The annual forecast, presented each December with an update in June by former University president, Jim Doti, shares projections about the economic health of the economy over the upcoming year. The June forecast checks in on the forecasts made in December. Year after year, Chapman's Forecast proves to be one of the most accurate in the nation.
To predict the state of the economy in the nation, state and county, economic experts at the center use the proprietary Chapman Econometric Model that grew out of a class project four decades ago.
The accuracy of Chapman's Forecast is one reason that Taylor Kincaid, who is on the real estate team, Garcia Kincaid Group with RE eBroker, Inc. with his sister, Heather, enjoys attending the Forecast.
"It's reassuring to know that Chapman has a good track record—especially when it comes to hearing about the future of the economy and specifically the real estate market," says Kincaid. He was heartened to discover at the Economic Forecast in December 2017 that unemployment was low and the economy should remain fairly steady in 2018.
"Aside from the housing tax bill, which will result in less tax savings for homebuyers, and the fact that housing inventory is low, there weren't really any negatives," says Kincaid. "The Forecast gave no indication that property value appreciation would decline in the near future."
Old Towne resident and local business owner, Dan Jensen, appreciates the accuracy of the Economic Forecast and that it lays out the state of the economy over the following year.
"The Forecast allows you to be forewarned, in case you need to make any changes in what you're doing with your business or personally," says Jensen, who owns with his brother, Paul Jensen, Old Towne's Jensen Building, which houses popular destinations such as Haven Gastropub and Kimmies Coffee Cup. "It's definitely worth attending the Forecast if you live or work in Orange County."
The June mid-year Economic Forecast Update will be held on Thursday, June 21, at Chapman University's Musco Center for the Arts. There will be a reception at 2 pm and the conference begins at 3 pm.
More information: www.chapman.edu/research/institutes-and-centers/anderson-center/economic-forecast/index.aspx.