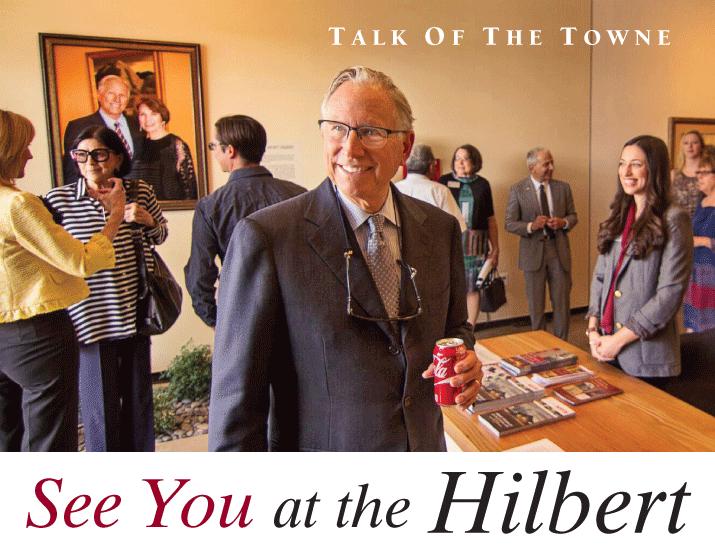 It isn't every day that a museum opens in your own backyard featuring the work of topnotch artists depicting scenes from nearby landmarks. Such is the case with the newly opened Chapman University Hilbert Museum of California Art.
Displaying California Scene paintings generally not seen anywhere else, the recently opened Hilbert Museum features the work of iconic Golden State artists, whose paintings highlight scenes from life throughout the state, including Southern California, during the early 1900s to the late 1980s.
Located in Old Towne across the street from the train station, the museum, which opened at the end of February, has met with great enthusiasm, says Natalie Lawler, Assistant Collections Registrar and Preparator for the Hilbert Museum of California Art and the Escalette Permanent Collection of Art for Chapman University.
"Everyone who visits is so happy and glowing," says Lawler. "The unofficial count is 50 to 60 visitors a day and about 150 visitors on Saturdays. A true asset to the community, the museum is well located next to the train station and near many great restaurants and shopping opportunities in the Plaza. Older people who visit the museum recognize the places depicted in the paintings and many have personal connections to those places, while younger generations are learning about some important times in California history and how the state's landscape has changed."
Denise Weyhrich is an Old Towne installation artist, retired Chapman University graphic design professor and co-founder of Seeds Fine Art Exhibits. She discovered that the art featured at the museum hits a "tender spot" in her heart.
"Growing up in Los Angeles as the daughter of generations of architects, these are fine paintings that reveal our California past, and at the same time these artists offer fond memories," she says. "At Otis Art College, where I attended for a time, Elin Jane Waite (Art Director of Westways magazine) taught all about California Scene painters, such as Rex Brandt, Emil Kosa Jr., Noel Quinn and Jack Laycox, and their colorful stories and styles, which had become engrained into my DNA during childhood," says Weyhrich. "Forget the French Impressionists—at home Phil Dike was my childhood favorite."
Irene Matthews is a retired Orange English teacher and art enthusiast. She also found that the Hilbert Museum conjured up good memories for her. "Something about seeing the paintings of where you've been takes you to another level," says Matthews, a longtime resident of Old Towne. "You view the scenes in the paintings and realize, Oh, my goodness, I've been there! The museum is so rich in history and the artwork is absolutely breathtaking. The facility is also a goldmine for teachers and parents who want to teach kids about California history."
Janette Peterka, who co-owns Peterka Insurance Marketing in Orange with her husband, Dan, also has connections to subjects in the California Scene paintings. "I grew up close to San Dimas and have always been drawn to Millard Sheets's 'San Dimas Train Station.' I've driven by that location so many times and can imagine exactly that scene back in time. That the paintings illustrate so vividly a time in California history makes them particularly interesting. The museum contains a beautiful representation, and the layout and flow are excellent. We are most excited that this type of art is contained all in one museum."
The Hilbert Museum is open every Tuesday-Saturday from 11 am to 5 pm and closed on Sunday and Monday. Entrance is free, as is parking, which is adjacent to the museum building at 167 North Atchison St., Old Towne Orange (across from Ruby's and the train station). For more information, visit www.chapman.edu/arts/hilbert-museum.aspx.