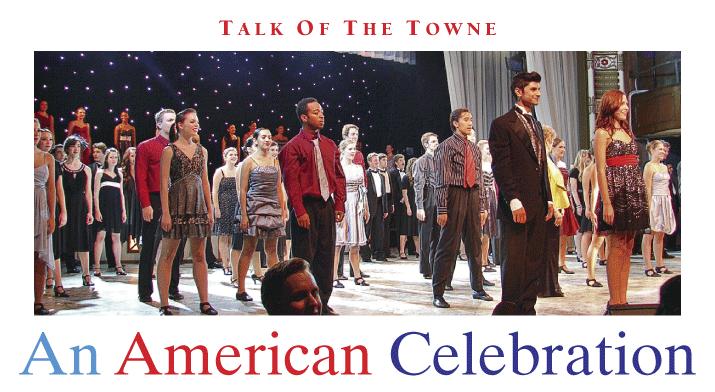 Every time Barbara Parker attends an American Celebration event and the performance comes to a close, the Chapman '64 alumna wishes that the show wouldn't end.
"American Celebration is mesmerizing and absolutely wonderful," says Parker, a committee member for opening night of the wildly popular, fully-staged Broadway-style singing and dancing extravaganza, which is backed by a live orchestra. "Two years ago I sat next to a couple who regularly attend Broadway show openings, and they said they'd never seen anything better than the Chapman performers."
In its 31st year, the American Celebration to be held on November 2nd and 3rd is Chapman University's largest single annual fundraising event, with proceeds going to Chapman's Scholarship Fund. "The second night of the show known as Gala night is the largest one-night fundraising gala in all of Orange County in terms of money raised," says Chapman's Director of Communications and Media Relations, Mary Platt. "For the past two years, Gala night has broken the $2 million mark, and overall the event has raised more than $20 million for the Chapman scholarship fund."
More than 200 students audition for about 75 spots in the themed show each year, says Dale Merrill, Dean of the College of Performing Arts and artistic director and producer of American Celebration for the past seven years.
Junior Mandy Dray performed in the show her freshman and sophomore years and will audition again this year. She has found the show to be the most rewarding experience in her 19 years of dance. "American Celebration is my favorite concert in which to perform," says the singer and dancer, who is majoring in dance performance. "It is such a great learning experience and we have so much fun-especially when we hit the stage in our flashy costumes and perform under the bright, exiting lights. I love knowing the audience is experiencing a fun night of wonderful entertainment and that we're raising money for scholarships."
Dance major and junior Chelsea Henriques performed in last year's show and comments, "American Celebration is a great opportunity to perform with students in different departments and break away from the norm of what we usually do in class."
For Merrill, showcasing the talents of all students in the College of Performing Arts is his goal with American Celebration. "The departments of theater, music and dance have few opportunities to work together, and this is a magnificent opportunity to collaborate," he says.
This year's show theme is "Making Stars," and the guest of honor is actor Richard Dreyfus, who will be honored with a Lifetime Achievement in the Arts. "Besides being a well-acclaimed actor who starred in movies like 'American Graffiti,' in recent years Dreyfus has made it his mission to encourage young people to appreciate American history and civics, and what better way to do that than with a traditional American Broadway Review show," says Merrill, who notes that the cast will perform a "rip-roaring tribute" to Dreyfus, singing "Yankee Doodle Dandy" from the musical "George M!" "It's going to be a big, upbeat show, and people are sure to leave singing and dancing."
Tickets for opening night, which includes an elegant dessert after the show, are $50. The black-tie Gala Night features a lavish evening of dinner and dancing after the show and tickets start at $2,000.
View information on tickets for opening night