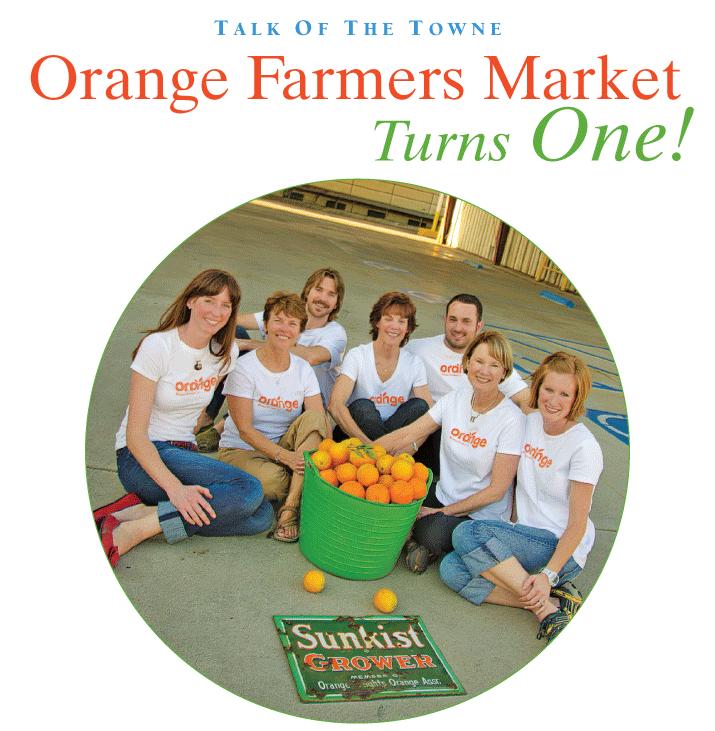 Every Saturday morning, longtime Orange resident Anke Vogelvang leaves her house and walks around the corner to the Old Towne Orange Farmers and Artisans Market. There she does her weekly shopping.
"I love going to the market," says Vogelvang, who has lived in the area for 36 years. "I buy my food for the week, like my cauliflower, Brussels sprouts and cookies. I also enjoy the music, and I love all of the people, including the vendors."
The friendly, personalized atmosphere of the farmers market is what makes the experience unique, agrees Cliff Kane of Kane's Family Farm, which sells mushrooms and avocadoes at the market. "Unlike some farmers markets, which are just a bunch of tables piled with produce, the Old Towne market has personality and reminds me of what markets used to be like," says Kane. "As a vendor, I really enjoy getting to know the customers and discussing food with them."
Quality local products and a small-town, friendly vibe is what the founders of the Old Towne Orange Farmers and Artisans Market aimed for when they opened a year ago, says Megan Penn, board president for Orange Homegrown, Inc., the group of Orange locals that founded the market.
"Someone is on hand to greet you when you walk into the market, and you can enjoy complimentary coffee and pastries thanks to Sodexo, Chapman's food service company," says Penn. "For many people, the market is a community event and gathering spot."
Over the past year, Orange Homegrown has built up a market that features farm-fresh products from a wide variety of local growers, including organic producers, and they regularly hold special events, including cooking demonstrations from area chefs such as Diego Velasco, Co-Founder of the Memphis Group and head chef at the Memphis at the Santora Restaurant Bar.
"One of the qualities that attracts me to the Old Towne Orange Farmers and Artisans Market is the small-town sense of community," says Velasco. "I like seeing familiar faces from week to week, meeting new people and vendors and spending time with the growers and artisans to hear them passionately talk about their products and their crafts," he says. "Buying locally and eating regionally ensures quality, seasonal produce and helps support local economies. And for me as a chef and restaurateur, as well as someone who upholds those values in the home/family kitchen, farmer's markets such as this one continue to inspire our cooking and the food choices we make every day."
The market held a one-year anniversary celebration on Saturday, May 5th. T-shirts were given to the first 100 people who walked through the gates. There were gift baskets, as well as music by EXene Cervenka and Michelle Mangione, a cooking demonstration by raw food chef Kirsten Gum and face painting for the kids. The market is held every Saturday from 9 am to 1 pm at Chapman University's historic Villa Park Orchards Packinghouse lot on the corner of Cypress and Palm avenues. For more information, visit OrangeHomeGrown.org.