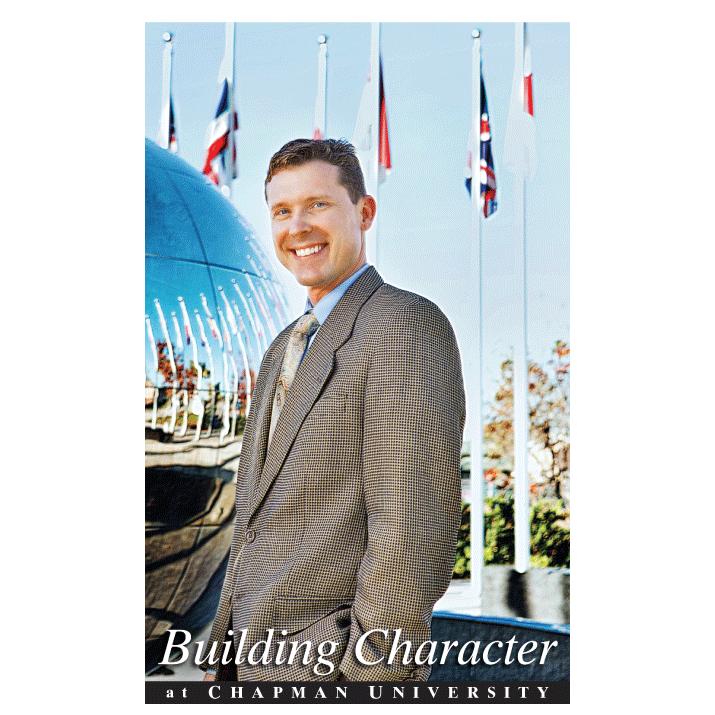 Guy Hinrichs
Even though it was a required activity at his elementary school, Guy Hinrichs remembers the satisfaction he experienced visiting a convalescent hospital as a third grader.
"It made me feel good to smile at all of the very ill people in the hospital beds and have them smile back at me," says Chapman University's Director of Special Events. That experience and the fact that his parents and grandparents instilled in him from a young age the importance of giving back inspired him to join the Key Club in junior high school. A part of Kiwanis International, the student-led program teaches leadership through community service.
"I found the Key Club with its various activities, such as holding car washes to help underprivileged children and singing to the elderly at Christmas time, to be very rewarding, and I also enjoyed working with other students as a team toward a common goal," says Hinrichs. "You learn a great deal about yourself and broaden your horizons when you step out of your comfort zone and help others."
So when Hinrichs found himself at Chapman University in 2003 orchestrating the many events the school holds to raise funds for scholarships, he felt that in a sense, he'd come full circle.
"At the time, the position was manager of special events, and I thought the job working on events for scholarship fundraising was just what I'd been working toward," says Hinrichs, who left a position in guest relations at Disney where he'd worked for 12 years. "After the interview at Chapman, I was so excited I floated out the door."
Over the course of the next several years, Hinrich's position took on more responsibility as the university experienced phenomenal growth. In 2009, he was promoted to director of special events, which meant expanded responsibilities and management. Today Hinrichs oversees the execution of a wide variety of large-scale university events, including the American Celebration, featuring one of the largest fundraising galas in Orange County in terms of money raised, the nationally recognized Economic Forecast and the Chapman 5K.
With every event he coordinates, Hinrichs is aware that he represents the university and he takes that responsibility to heart. "The Key Club and working at Disney trained me well to represent the university and interface with many different people during the process," he says. "Those experiences also taught me the importance of teamwork. I thrive in a group environment and appreciate the different perspectives and ideas that come from such an atmosphere."
Sandy Quinn is president of the Richard Nixon Foundation and has known Hinrichs for more than 20 years. "Events are a means to an end–to create a memorable guest experience–and Guy is good at it," he says. "He has a knack for organization and operations and terrific people skills. Special events take extraordinary planning and attention to every detail, and Guy recruits and puts into play a big organization of Chapman folks to organize and execute the various university programs."
Chapman's president James Doti also praises Hinrich's ability to connect to the larger community with engaging events.
"Event planning is very important, because it gives the university its public persona," says Doti. "It takes a creative individual like Guy to juggle so many elements. For example, overseeing all the details of a 500-person outdoor event, including the people, food and entertainment, and then finding out that it's going to be windy, would drive most people to become so stressed they'd become dysfunctional, but Guy deals with such situations with equanimity and a smile on his face."
"A case in point is the recent Winterfest, which involved a light show, fireworks and snow machines that mesmerized everyone and went off like clockwork. Guy makes things look so natural and perfect people leave feeling good about the event and Chapman, not realizing that a major production took place and it was all masterminded and overseen by Guy and his team."
Chapman's Executive Vice President of Advancement Sheryl Bourgeois agrees. "Guy is a consummate professional - always calm under pressure, amenable and gracious, no matter how challenging the situation or problem. And he is Chapman's version of Walt Disney. He is always coming up with new ways to wow us. You never know what he will do or how he will top the last production. Each and every event is better than the last."
Hinrichs grew up during the 1980s in Redlands, which like Orange had its start in the late 1800s. His childhood community has many older homes, which attracted him to Old Towne, where he has lived for 13 years. His most recent home is a 1915 transitional style house that he is restoring.
In his free time, Hinrichs enjoys volunteering with the Old Towne Preservation Association (OTPA), where he serves on the board and is the communications chair. "I like working with the group," he says. "And of course it's great to give back to the community."
Global Citizens Plaza
Honoring former U.S. Secretary of State Colin Powell, the Ambassador George L. Argyros '59 Global Citizens Plaza and Julianne Argyros Fountain were dedicated as part of the Global Citizen Gala in 2009. The plaza and fountain are surrounded by 64 international flags representing countries that Chapman's students hail from or Chapman study abroad program destinations. Considered one of the most beautiful spots on campus, the Citizens Plaza will serve as an eastern gateway for the Marybelle and Sebastian P. Musco Center for the Arts, which is scheduled to open Spring 2015.