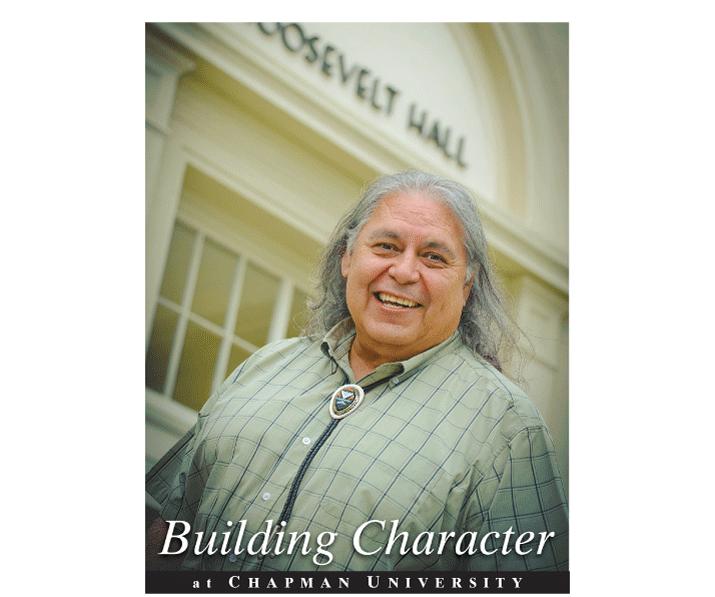 Dr. Paul Apodaca
In the mid–1950s, when Paul Apodaca opened up his history book at Tustin Elementary school and read that California Indians were extinct, the Native American Indian felt understandably puzzled. Thinking about the Indian reservations he regularly visited with his family throughout California and the Indian friends he played with every day, Apodaca had an epiphany that would shape the rest of his life.
"I realized that the history books painted a picture different from the facts," says Apodaca, Associate Professor of Anthropology and American Studies at Chapman University, who specializes in American Indian studies, Folklore and Mythology and is former Editor of the Journal of California and Great Basin Anthropology.
"Many pieces of the puzzle that made up Orange County and California were missing from my school history books, including the stories of Indians, Hispanics, blacks, Asians and women," recalls Apodaca. "The fact is that California and Orange County have always been culturally diverse. This state has the most American Indians in it. There are a total of 104 reservations here, with 32 in Southern California."
Apodaca spent his formative years during a pivotal time in Orange County history when the county clung to its agricultural roots while entering the second half of the 20th century and the technological advances, such as the aerospace industry, that would soon follow at warp speed. Coloring Apodaca's illustrious career–which spans over 40 years and includes teaching at UCLA and 17 years as curator of the Bower's Museum California and Orange County History collections as well as their Folk Art and American Indian collections–are his childhood experiences. It was during his early years that Apodaca met the families and individuals who made the county what it is today, encountering names such as Yorba, Nisson, Sepulveda and Griset.
"As a kid, while I listened to the growers, ranchers and Indians on the reservations, I came to realize, and was able to document years later as I worked at the Bower's Museum, how many of those people shaped Orange County as we know it today," says Apodaca, who also watched Frank Tallman fly out of the Orange County airport and enjoyed informal airshows there by legendary test pilot Paul Mantz. He recalls the history of the airport includes its use by Howard Hughes and Amelia Earhart.
Most of Apodaca's work has focused on ethnography (study and recording of human cultures). He has ferretted out the stories from those who have lived the life and shared his findings through archiving, writing and teaching. His major research work has focused on the Cahuilla Indians in the Coachella Valley.
Apodaca, who plays multiple musical instruments, has spent the last thirty years working with the Cahuilla helping them to revitalize their music traditions and record their "Bird Songs," which are a body of mythical songs that chronicle the tribe's migration from a place of mythical creation to their present home. Apodaca has successfully saved a substantial number of these songs, which have traditionally been handed down orally and could have been lost forever.
A consequential part of Apodaca's work helped make the Smithsonian Institution National Museum of the American Indian a reality. Apodaca was a founding consultant on the project. He and other interested parties succeeded in facilitating the opening of the museum on the National Mall in Washington D.C. in 2004. Apodaca also wrote and performed the musical score for the 1985 Academy Award–winning documentary, Broken Rainbow, which exposed the U.S. government's plans to remove Navajo and Hopi Indians from reservations, leading to abandonment of the project.
"Paul is an excellent professor and public speaker, who has made a valuable contribution by teaching people what it means to be an American Indian today," says Ron Steiner, director of graduate programs at Chapman University Law School, who specializes in American Indian law. "He is also a true scholar in the sense that he makes a substantive contribution to our warehouse of knowledge."
For Apodaca, gathering information about folk culture is a moving experience. "I feel privileged to talk to people and record their history, emotions, communities and landscapes," says Apodaca, who is currently working on two books that share his various findings.
While he enjoys studying the past, Apodaca also relishes looking toward the future, which he does as a teacher. "My greatest hopes and legacies are with the students, who are tomorrow's leaders. My ability to share information and perspective with them will hopefully help them make good decisions for us all," says Apodaca. No doubt having Apodaca as a teacher, the students are getting a much more complete perspective than they ever would from a textbook.
Roosevelt Hall
Originally part of the Orange High School Campus, Roosevelt Hall is named after James Roosevelt, son of Franklin Delano Roosevelt, who served the university throughout the 1970s and 1980s. James Roosevelt's popular Enterprise Hour program in the late 1970s featured guest speakers addressing cultural views of business concerns of the day.
Previously known as Founders' Hall, the 12,280–square–foot building was completed in 1928 and is listed in the National Registry for Historical Buildings. Today Roosevelt Hall houses the offices of the Dean of Wilkinson College and the Sociology, Political Science and History departments. The building also features a display containing artifacts from the Whitehouse, including a set of pens donated by James Roosevelt's widow, which were used to sign various legislations passed during the Johnson and Kennedy administrations.