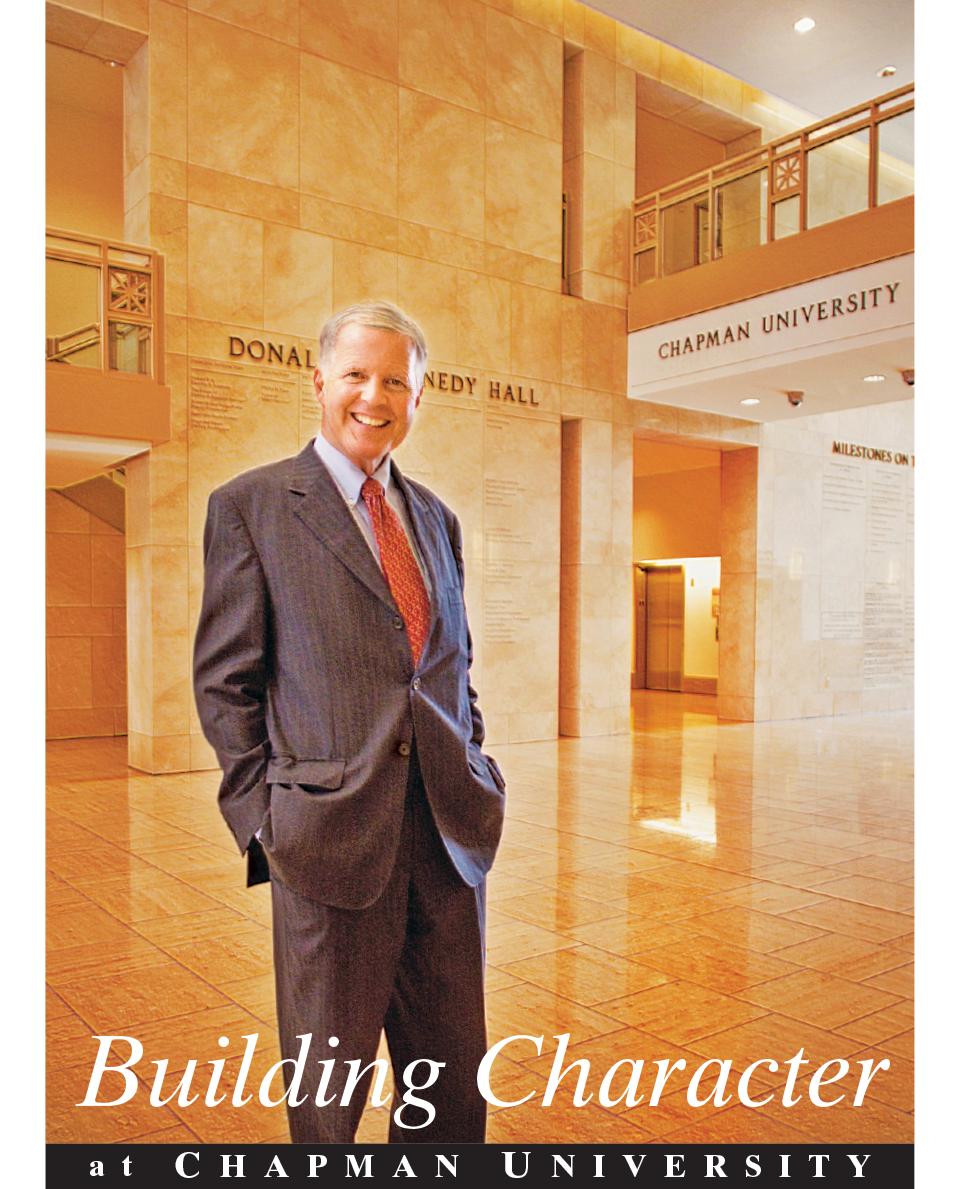 Dr. Tom Campbell
Growing up in Chicago in the 1950s under the watchful eye of seven older siblings, parents and a grandmother, Chapman's Dean of the Law School, Tom Campbell, counts himself blessed many times over. "My home life consisted of a nurturing environment focused on academics and cooperation, which taught me the importance of studying and working hard and the power of getting along and sharing," says Campbell, a former California U.S. congressman and state senator, whose father is the late Hon. William Joseph Campbell, an FDR-appointed Chief Judge of the United States District Court."
There was no sense of a lone wolf in my family," says Campbell, a Harvard Law School magna cum laude graduate, who came to Chapman in January 2009 as a visiting professor and was appointed dean of the law school in February 2011. "If you did well, everyone was proud and happy, and if you had a setback, they would try to cheer you up. This sense of community and the idea that you should use your skills and talents to help those in need was instilled in me by my parents, who came of age during the Great Depression."
View Campbell's illustrious career in education and politics and you see the mark this spirit of cooperation for the common good left. Prior to joining Chapman, he was the Bank of America Dean and Professor of Business at Berkeley's Haas School of Business. During his time there from 2002 to 2008, the business school moved from 15th to 2nd on The Wall Street Journal's national ranking. Since joining Chapman, Campbell has forged strong ties between the university and Orange County's legal community, expanded employment opportunities for law students, increased the size of the school's LLM program and established the Business Law Emphasis Program.
At least once a year, Campbell and his wife Susanne, who also works for Chapman as Assistant to the Chancellor for Special Projects, travel to Africa and volunteer their time teaching university courses in business, international finances and law. And in the political arena, Campbell is known for sticking to his unwavering beliefs.
Local philanthropist and Chapman Trustee Doy Henley has known Campbell since his political days, when during his two-year term as state senator he was named "most ethical state senator" by the California Journal. "Tom is an admirable and honorable man. Serving in Congress is a challenge for an individual with such high integrity, but he did a great job," says Henley. "He also has an extraordinary understanding of finance, which served him well as director of the California Department of Finance for former Governor Schwarzenegger. Sometimes politics and good public policy conflict, but Tom dealt with such issues with style and dignity. As dean of the law school, he's in the perfect position to influence students to make ethical decisions."
Associate Dean for Student Affairs and Administration at the law school, Jayne Kacer, agrees. "Tom has done a superlative job as dean, setting a standard of civility, thoughtfulness and professionalism that allows him to serve as a positive role model for students, as well as staff and faculty. He is devoted to the well-being and success of the students, which is clear from the town hall meetings he holds every month and the fact that he seems to remember the name of every student he meets."
As an educator, Campbell is able to draw from a rich well of experience, which makes for practical teaching. In order to illustrate how the legislative and administrative branches of government are often more effective than the judicial branch at correcting wrongs, he uses as an example the 1998 Food Bank Relief Act, which he authored.
When individuals receiving food from Second Harvest chose to work in exchange for the donations they received, the Department of Labor interpreted an existing law to mean that the amount of groceries the recipients received constituted less than minimum wage and stopped the organization from letting the food recipients work. Initially, Campbell resolved this administratively and then sought a permanent resolution by presenting the issue to Congress. A simple one-sentence bill passed that said that the Fair Labor Standards Act does not apply to those who receive food for volunteering their time at a food distribution center.
Also an author, Campbell delves into the various branches of government in his book, Separation of Powers in Practice (Stanford University Press, 2004). In the book he looks at the advantages and disadvantages of each branch of government and the various public policy issues for which each branch is best suited.
Chapman's Chancellor Daniele Struppa comments on how Campbell's breadth of knowledge benefits the university. "Tom is a well-respected scholar and visible in the community, which elevates Chapman's reputation. His position on delicate issues is clear, and yet he never comes across as intransigent. While he is strong in his views, he has the rare capacity of understanding why other people may differ, always assuming that their position is the reasonable outcome of a different set of assumptions. He respects both the assumptions and the outcome, while vigorously fighting for his own point of view."
No doubt Campbell's father, the judge, would be proud.
The Pralle Clock Tower
Known as Pralle Tower, the 90-foot clock tower at Chapman's Kennedy Hall, is named for Robert and Helga Pralle, longtime supporters of Chapman University. The late Bob Pralle served as a university trustee for 18 years. Opened in 1999, the picturesque tower continues to hold the correct time and serves as a refuge for doves.