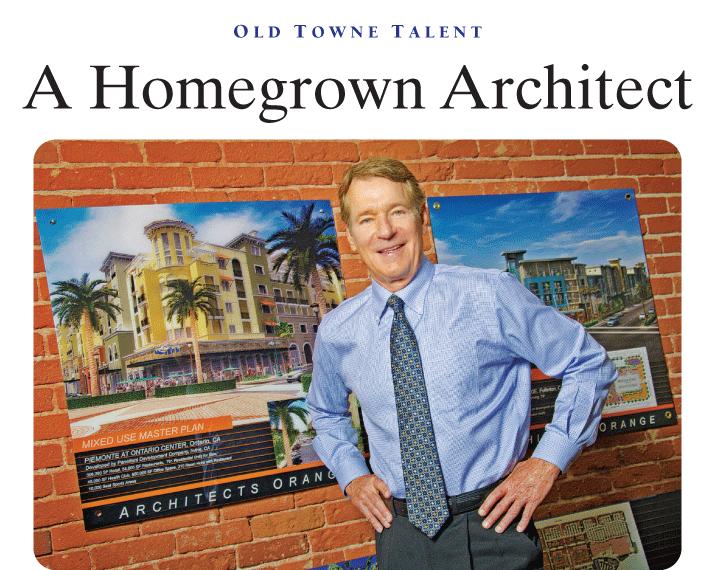 Old Towne Orange
native
Jack Selman
has provided architectural services from his Plaza–based office since 1974.
Architects Orange
is an award–winning firm specializing in retail, residential and mixed–use projects.
Architect Jack Selman first opened his doors in 1974 in the historic Barger building across from Watson Drugs in Old Towne. A few years later, he purchased the building at 144 North Glassell Street, where his firm has been based ever since.
Today, Architects Orange is a full–service architectural, master planning and design firm that specializes in retail, residential and mixed–use projects. Landmark projects in the local area include St. John's Elementary School and Orange Lutheran High School, plus several large residential projects in uptown Orange.
Architects Orange also boasts award–winning projects across the nation and internationally, including in South Korea and China.
Attending Orange High School, Jack recognized that he had an aptitude for architecture from an early age. He has lived in Orange all his life. When he was growing up, he frequented places like Fike's Hamburgers, Buster Brown's Shoes, Watson Drugs and Soda Fountain and the Orange Movie Theater. After earning his degree in architecture from the University of California at Berkeley, he returned to Old Towne to work for an architectural firm in the Plaza before opening his own business.
"When I bought our office building on North Glassell, it was actually condemned," said Jack. "I rehabilitated the building with seismic upgrades and added a stairway on the other side for an entrance."
Jack's father founded Selman Chevrolet in the 1940s, originally located just three blocks from the Circle. Now located on Tustin and Chapman, the dealership was taken over by Jack's brother and is currently being run by his nephew.
"We have four generations living in Orange," Jack said. "Ironically, my nephew at the dealership is currently my client. I am providing architectural design services for the remodel of the dealership. We're starting construction this summer. It will have a really nice look by next year."
Jack raised his family in a historic home on Shaffer Street in Old Towne Orange. Now residing in Lemon Heights, Jack and his wife Cindy are the proud parents of two daughters, Alycia and Ashley, and have two grandchildren, Cody and Makenzi. Jack met Cindy when at Orange High School.
"I was on the football team and she was a former cheerleader who came back for the homecoming game," he recalled. "She gave me a big hug and congratulated me after the game on my game–winning pass. Then we started dating."
Although he has no plans to retire in the immediate future, Jack is nevertheless laying the groundwork for his colleagues to take the helm.
"I've managed to develop five really great partners who are carrying the load here at the office to forge ahead for the future," Jack said.
"We are fortunate that we have the time and expertise to pass it on to the next generation. I didn't want to sell the firm and retire. I really enjoy it. I like being involved. It's a passion. My goal over the next five years is to rely more on my partners and spend more time with my wife traveling. The transition we're going through is working out very well."